Saharah the camel is a traveling salesman of fine rugs and elusive flooring and wallpaper. A returning NPC of the Animal Crossing series, Saharah's job hasn't changed much in Animal Crossing: New Horizons. What has changed is their inventory, including animated and interactive flooring and wallpaper.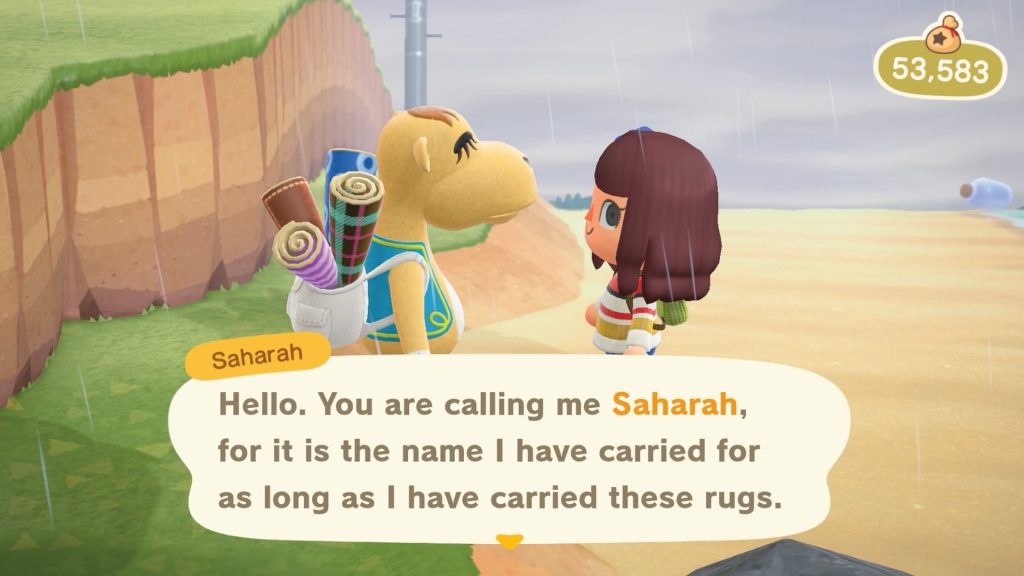 Items Saharah sells
Everyday, you have a chance of Saharah being the special NPC that visits your island. If you spot the poetic camel, they will offer the following items for sale:
| | |
| --- | --- |
| Items | Cost |
| Small Rug | 1,000 Bells |
| Medium Rug | 1,500 Bells |
| Large Rug | 2,000 Bells |
| Mysterious Wallpaper | 3,000 Bells |
| Mysterious Flooring | 3,000 Bells |
Saharah will only have one design of each item per visit. You can buy multiples if you wish, but if you're looking to complete the entire Nook Shopping catalog, you will have to be a big repeat customer.
Earning Saharah Tickets
There is a plus to buying Small, Medium, and Large Rugs as Saharah now distributes and accepts exchange tickets. Buying any of these rugs will also come with ticket(s). Collect five tickets and you'll be given the option to exchange them for either Mysterious Wallpaper or Flooring. 
| | |
| --- | --- |
| Items | Exchange Tickets with Purchase |
| Small Rug | 1 |
| Medium Rug | 2 |
| Large Rug | 3 |
Note: The Mysterious Wallpaper and Mysterious Flooring that are offered via Exchange Tickets are different designs compared to what Saharah is selling that day. In order to get more tickets, you can purchase multiples of Small, Medium, and/or Large Rugs. Saharah will warn you that you already bought that sized-rug today just in case you wanted to back out of the sale. 
Buying on other islands
If you are visiting a friend's island and Saharah is there, you can purchase any goods! You will receive Exchange Tickets as well and can use them there or save them for your island. 
More Animal Crossing: New Horizons guides
Looking for more help with Animal Crossing: New Horizons? Check out our other guides!
Leave a Comment