Step aside flowers, shrubs, and trees – there's a new category of plants to grow in Animal Crossing: New Horizons! Transform your island into a farm or keep a small backyard garden with a variety of crops.
What crops are in Animal Crossing: New Horizons?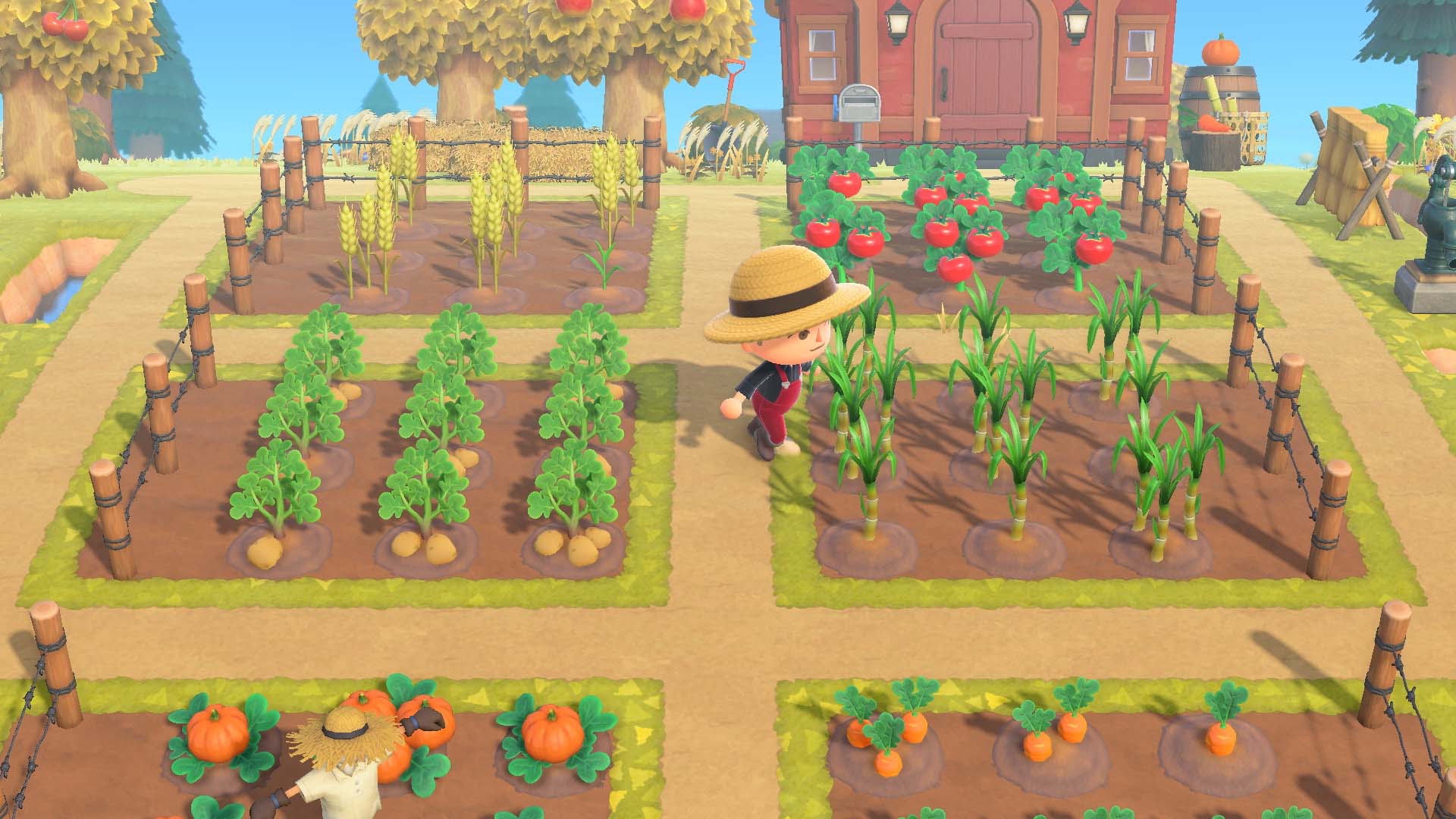 Debuting in New Horizons' "Halloween 2020" update (Version 1.5.0), growing crops was added for the first time in the Animal Crossing series! Limited to pumpkins, players could start growing their very own pumpkin patches on their island. The results? You could have grown orange, white, yellow, or green pumpkins (at random) and use them for crafting (mainly for the Spooky DIY series).
Now with the addition of cooking (part of the revamped DIY Recipes+) in Version 2.0, more crops have been added to New Horizons. With the additions, there are a total of 6 different crops you can grow on your island:
Pumpkin
Tomato
Carrot
Wheat
Potato
Sugarcane
How do I grow crops in Animal Crossing: New Horizons?
Buying starts (seeds)
Looking to craft your garden? You'll need to wait for Leif to visit your island (random chance Monday through Friday) or unlock his stall on Harv's Island to visit him at your whim. Along with selling flowers, shrubs, and weeds, he's in charge of selling the seeds for crops (referred to in-game as "starts").
Available for 280 Bells each, you can find the following at Leif's gardening stall (traveling or otherwise):
Pumpkin start
Tomato start
Carrot start
Wheat start
Potato start
Sugarcane start
Note: During October, pumpkin starts are available daily at Nook's Cranny (in the cabinet). Timmy and Tommy sell the starts for 280 Bells each. During this month, Leif will drop the price of his pumpkin starts to 140 Bells each.
Planting crops
Just like planting trees, you'll need a shovel. Dig a hole, open up your inventory and find the crop start you want to plant. Select it and select the "Plant" or "Plant 1" option. You can also plant the item itself instead (like fruit for fruit trees) if you have them.
Taking care of your crops
No matter if you water your plants or not, your newly planted crops will mature in four days. Each planted crop can produce 1, 2, or 3 individual byproducts. This isn't random and requires the following:
Crop that produces 1: No watering.
Crop that produces 2: Some watering (not daily) once planted.
Crop that produces 3: Daily watering once planted.
For those looking to maximize on crop production, water your crops daily!
Harvesting and Regrowing
Once fully grown, your crops are able to be harvested. Once plucked (stand in front of the plant and press the "Y" Button), crops will revert to their Day 2 form and regrow to produce more!
Watering rules still apply here! So if you want a crop to yield 3 of its produce, then make sure you water it.
Special Note: Pumpkins
One thing to note about pumpkins is that there are 4 color varieties – orange, yellow, white, and green. There are no specific color pumpkin starts (i.e.: orange Pumpkin Start), thus growing pumpkins will lead to a surprise on Day 4.
Of the four varieties, orange pumpkins are the most common.
What can I use crops for?
A number of DIY and Cooking Recipes require Pumpkins, Tomatoes, Carrots, Wheat, Potatoes, and Sugarcane as ingredients. If you want to craft, customize, or cook these recipes, you'll need a bountiful harvest of each.
For all Cooking Recipes, you can check out our cooking guide to see what ingredients you'll need for 141 different dishes.
Plus, if you buy at least three different crop starts from Leif, you'll unlock the DIY Recipe for the veggie basket. In order to craft the item, you'll need one each of the following produces: tomato, carrot, potato, orange pumpkin, wheat, and sugarcane.
More Animal Crossing: New Horizons guides
Looking for more help with Animal Crossing: New Horizons? Check out our other guides!
Leave a Comment