Animal Crossing: New Horizons' massive Ver. 2.0 update has added a returning feature from New Horizons' predecessor, New Leaf: ordinances! These let you change up aspects of your island to suit your playstyle. Even when one of Animal Crossing's big draws is how real-time the entire experience is, these small and optional tweaks get every player closer to living their best life. Now they're back and ready to make island living that much sweeter!
What ordinances are available in Animal Crossing: New Horizons?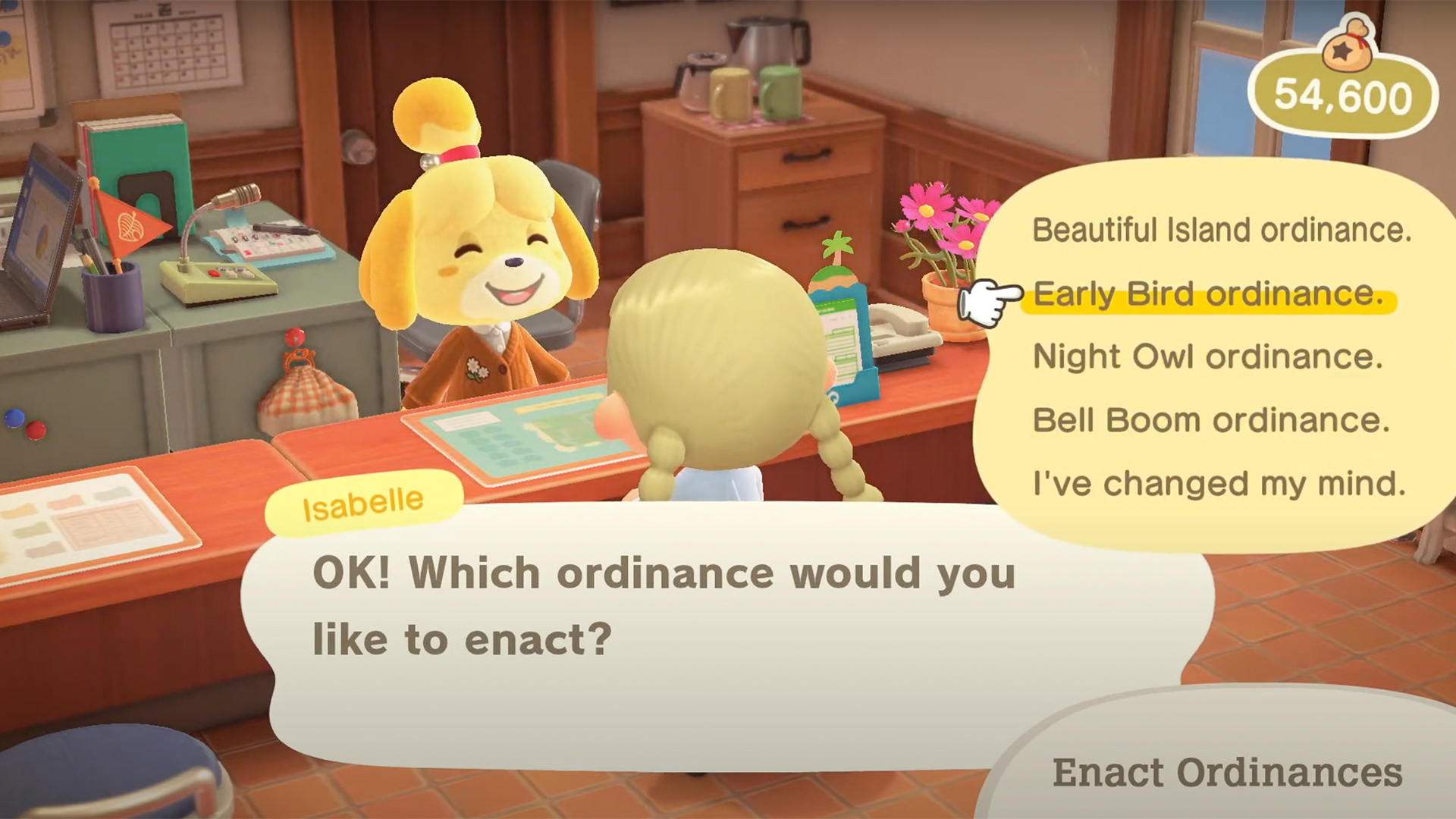 There are four ordinances to choose from:
Beautiful Island ordinance

Early Bird ordinance

Night Owl ordinance

Bell Boom ordinance
How do I enact an ordinance in Animal Crossing: New Horizons?
You can enact an ordinance by speaking to Isabelle as Resident Services. She'll offer the option so long as you're playing on Animal Crossing: New Horizons Ver. 2.0 or later. In Animal Crossing: New Leaf, enacting an ordinance cost 20,000 Bells but could be canceled for free. If you were to enact and then cancel an ordinance, you'd need to pay another 20,000 bells to put it back into effect.
What do ordinances do in Animal Crossing: New Horizons?
Each ordinance has a unique effect, which we'll be describing below. This includes what it does, and players that might want to consider enacting them.
Note that for now, the specifics are based on Animal Crossing: New Leaf. While we won't know fine details until the update is live on November 5th, based on the shared names across games, we feel confident in our descriptions. 
Beautiful Island ordinance
Best for: The extra neat and tidy, and those who don't play often but hate cleaning up when they do.
The Beautiful Island ordinance will help keep your island pristine and encourage villagers to chip in with maintaining the aesthetic. They'll water plants more often, and flowers won't die naturally. Plus, hybrids will appear more often!
Past that, the rate of weed growth will go down, and time traveling has no effect on the state of things in terms of appearance. In New Leaf, junk would also stop appearing when you fish, but due to certain DIYs depending on those items we're not sure if that'll be the case in New Horizons.
Early Bird ordinance
Best for: Anyone regularly awake before the sun, and those who like to check in on things before they head to work or school.
With an Early Bird ordinance active, villagers will wake up and start roaming town earlier than they would normally. Even Sisterly villagers will get in on this shift, although they're still the latest to rise. 
While that's nice, the real benefit is that stores will open a few hours earlier, as well! Now you can check in on Nook's Cranny and Able Sisters extra early. This may also have an effect on visiting merchants and those that set up shop on Harv's Island, although this isn't confirmed.
Night Owl ordinance
Best for: Anyone who laughs at the idea of circadian rhythm and those who typically get home late.
The Night Owl ordinance is the Early Bird's counterpart. Now villagers will stay up later and stores will add a few extra hours to the end of their working day. Of the two time-based ones, it definitely feels beneficial even if all you need is a little extra time to sell turnips before they go bad. It's also worth noting that this doesn't affect when the stores open — they'll start business at their "normal" hour.
Bell Boom ordinance
Best for: Anyone who's ready to burn their island economy to the ground and live like royalty.
Bell Boom is perhaps the most interesting ordinance and one that players have the most to gain from if they're not too hung up on aesthetics (or are on top of their town's beauty). Bell Boom increases both the buy and sell price of items, meaning things will be more expensive to purchase but you'll also get more Bells for selling.
Now this won't affect everything: loans stay the same, as do services, for example. Just the price of items purchased will be affected. If you already have a nice stash of Bells to your name or are out to pay off your debt as soon as possible, Bell Boom has quite a great deal of value in the long run. For example, if you're content with your furniture but need more cash to move villagers' houses, it'll be your best bet. 
The multiplier on both buying and selling seems to be 1.2x. This means a fruit that sells for 100 Bells will now net you 120. Over time, it's the only ordinance that can actually pay for itself! That said, if the benefit of adjusted times are better for you or you're ready for a shopping spree, you might want to keep this one off.
More Animal Crossing: New Horizons guides
Looking for more help with Animal Crossing: New Horizons? Check out our other guides!
Leave a Comment