Ever since Animal Crossing: City Folk (Wii), Pavé the peacock has made a yearly appearance to party, dance, play games, and celebrate in colorful and bright ensembles. This is a holiday of indulgence and Pavé is changing the holiday's rewards in Animal Crossing: New Horizons, but one thing is for sure is that you'll still read plenty of  "Viva Festivale!" cheers.
What, where, and when is Festivale?
Festivale is the Animal Crossing equivalent of Mardi Gras and/or Carnival, but with a "Rated E for Everyone" feel. The holiday doesn't have a set date and changes each year, usually taking place in either February or March. Due to this, Festivale's date is always changing and currently, we only know its 2021 date – Monday, February 15th.
To see Pavé visit your island, you'll need Animal Crossing: New Horizons' Version 1.7.0 installed, that the current version reads as Version 1.7.0a on the title screen (this slight difference means that Nintendo has activated the event on its servers), and that the Resident Services' permanent brick-and-mortar building has been unlocked. With this completed, Pavé will be dancing away from 5 a.m. in-game time for 24 hours (5 a.m. until the next day). In the case of 2021, that means you'll spot the jubilant peacock on Monday, February 15th, at 5 a.m. until Tuesday, February 16th, at 5 a.m. (your time).
How does one partake in Festivale? In the wise words of Pavé, "There is no right or wrong. There is only Pavé." Oh, and catching feathers, crafting Rainbow feathers, exchanging feathers for furniture.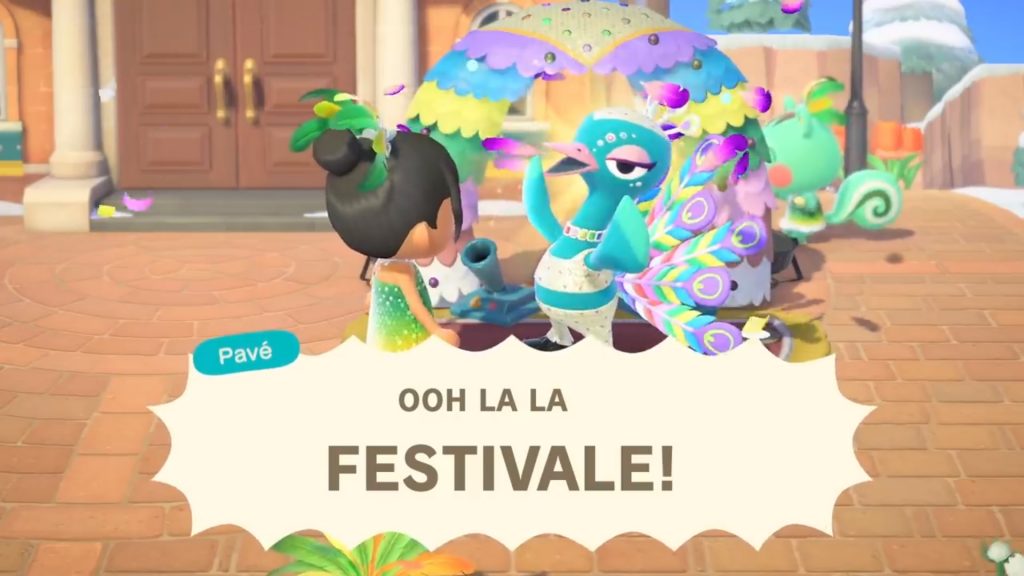 Pavé's Rewards & Festivale Furniture
Chat with Pavé and he'll explain the Festivale holiday as well as bestow a DIY recipe that will allow you to make Rainbow Feathers (this is important). Essentially, different colored feathers will fall from the sky on your island (similar to Cherry Blossoms and Snowflakes) and you'll need to catch them with your trusty bug net and then trade them to Pavé for Festivale Set furniture items.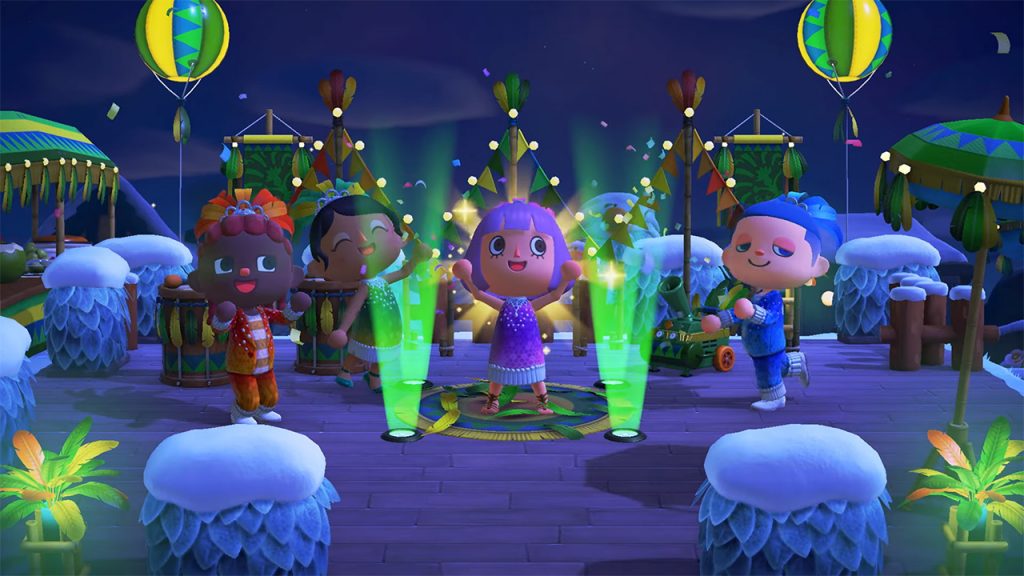 Viva Festivale!
With that explained, it's time to hunt for Green, Red, Blue, and Purple feathers. Once you've obtained at least three feathers of a single color, you can chat with Pavé again and trade them for a random piece of the Festivale Set furniture. There are 9 furniture items that can be obtained this way and each has a total of five color variants – Green, Red, Blue, Purple, and Rainbow. To collect them all, the best way is to trade three feathers of a single color all stacked together (or one feather in the case of Rainbow feathers – but hold onto those) since you'll be guaranteed a Festivale Set furniture item in that color (i.e.: trade 3 Green feathers and receive a Green Festivale Furniture item). If you're having trouble finding some of the common feathers, make sure to chat with your fellow residents! You might be in luck and trade for Green, Red, Blue, and Purple feathers!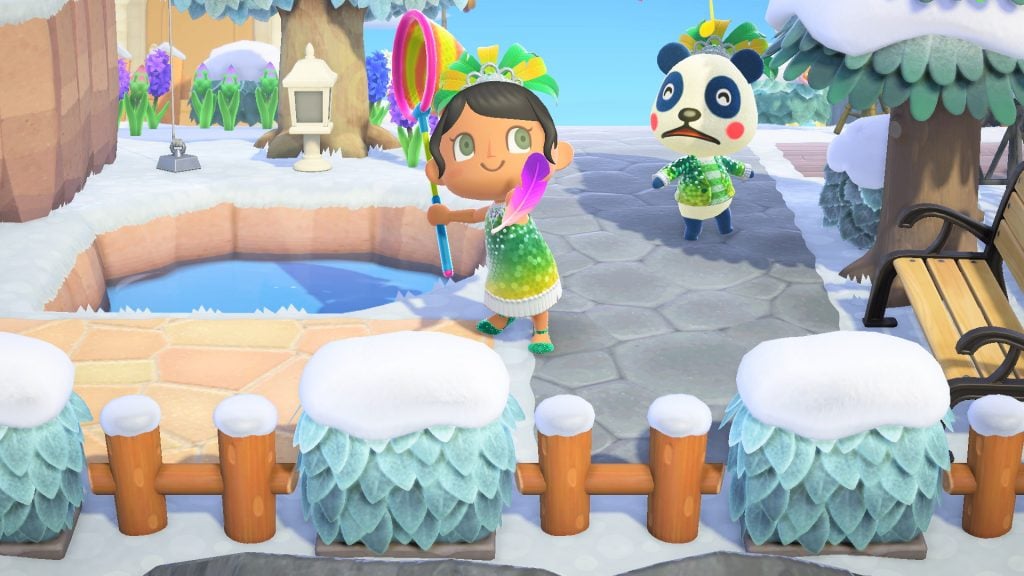 Rainbow feathers are rare, so if you're having any trouble finding them on your island, it's time to head to a DIY workbench with Green, Red, Blue, and Purple feathers in hand (you'll need at least one of each to make one Rainbow feather). These colorful feathers have a few uses, including obtaining the "ultimate Festivale reward" – the Festivale Float. After obtaining all 9 furniture items, Pavé will mention he has one more gift and it requires a trade of 3 Rainbow feathers. Unlike the rest of the items in the Festivale Set, the Festivale Float doesn't have any color variations.
Make sure to keep any excess feathers, even after the holiday is over. You can use Rainbow feathers to alter the color of 9 of the Festivale Set furniture items (1 or 2 Rainbow feathers depending on the Festival Set item you want to customize).
Pavé isn't the only NPC handing out items from the Festivale Set. You may have seen these pieces being sold at Nook's Cranny! Starting February 1st, Timmy and Tommy will be selling one of the nine furniture items via the seasonal spotlight item space. This is only available if you've aided Timmy and Tommy in upgrading their store.
Festivale Balloon Lamp: 4,000 Bells
Festivale Confetti Machine: 5,000 Bells
Festivale Drum: 2,100 Bells
Festivale Flag: 1,300 Bells
Festivale Garland: 4,000 Bells
Festivale Lamp: 1,500 Bells
Festivale Parasol: 2,500 Bells
Festivale Stage: 6,000 Bells
Festivale Stall: 3,000 Bells
Plus, Timmy and Tommy will also have the Viva Festivale Reaction Set available for 19,800 Bells. With this, you'll learn the following reactions: Confetti, Feelin' It, Let's Go, and Viva.
Festivale Attire from the Able Sisters
Timmy and Tommy aren't the only ones carrying Festivale goods! The Able Sisters will carry Festivale outfits and headwear accessory starting on February 1st – Festivale costume (2,600 Bells each), Festivale tank dress (2,600 Bells each), and Festivale accessory (2,240 Bells each) are available in red, green, blue, and purple.
Other Festivale related items
Maracas! This item can add some extra shaka-shaka to your Viva Festival party. You'll find the orange and yellow pair in the Nook Shopping app's Daily Selection. Also, you might already own your own pair thanks to Nintendo, as this item was sent to players via the in-game mail system after installing the Version 1.7.0 update.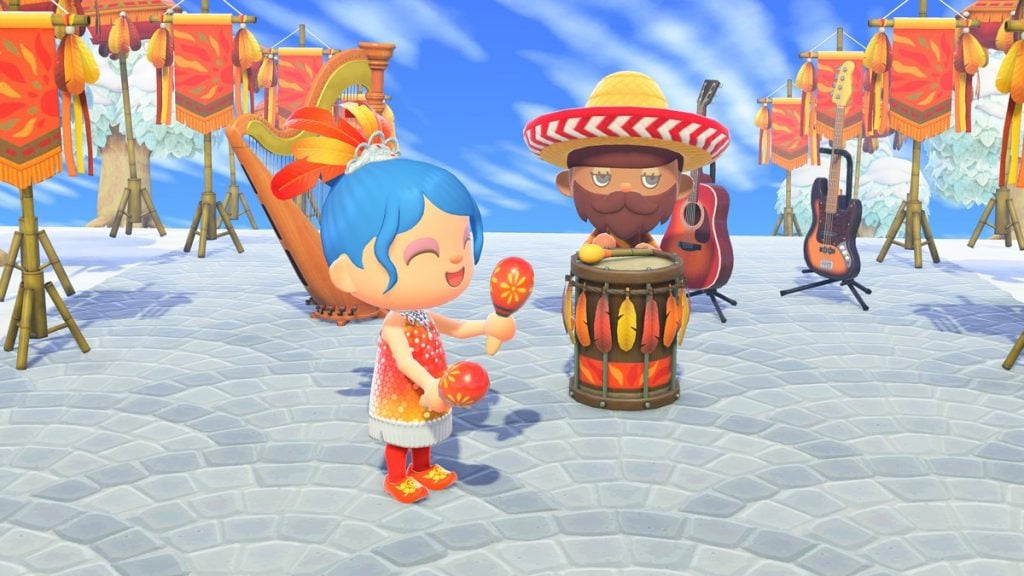 Item images and information are from the fantastic ACNH Spreadsheet and its associated Discord channel.
More Animal Crossing: New Horizons guides
Looking for more help with Animal Crossing: New Horizons? Check out our other guides!
Leave a Comment