Fishing tourneys have had a small makeover for Animal Crossing: New Horizons. With a new host, new system, and new prizes, here's a guide breaking down what to expect when your island is hosting this seasonal event.
When does the Fishing Tourney happen?
Fishing Tourneys in Animal Crossing: New Horizons are held the second Saturday of every January, April, July, and October from 9 a.m. – 6 p.m. your local island time. 
In-game, the message board outside of Resident Services will have a posting announcing the tournament dates a week prior. The day of, either Isabelle or Tom Nook will include the Fishing Tourney in the island's daily announcements, as well as make an island wide announcement at 9 a.m. 
C.J., the host of the Fishing Tourney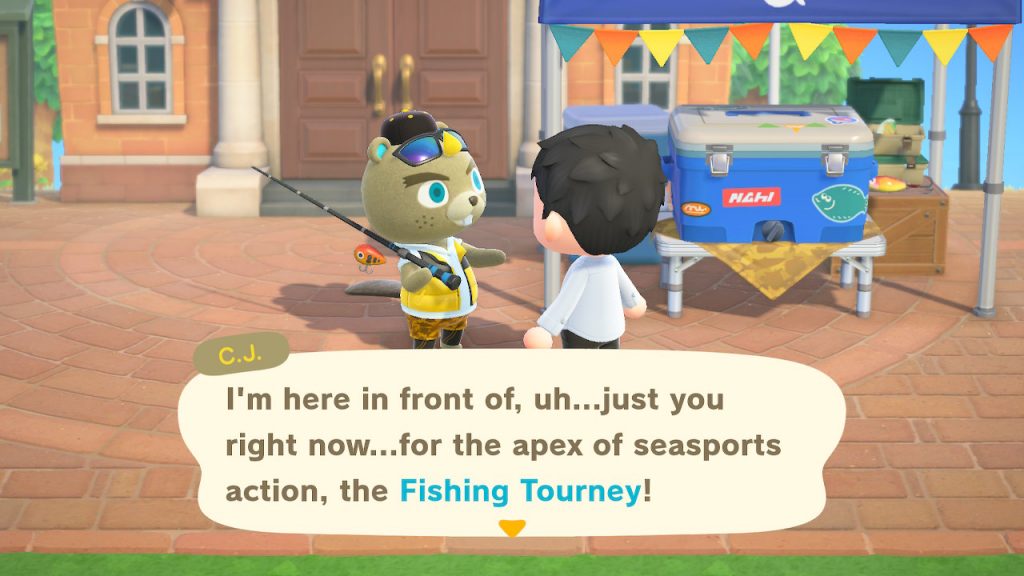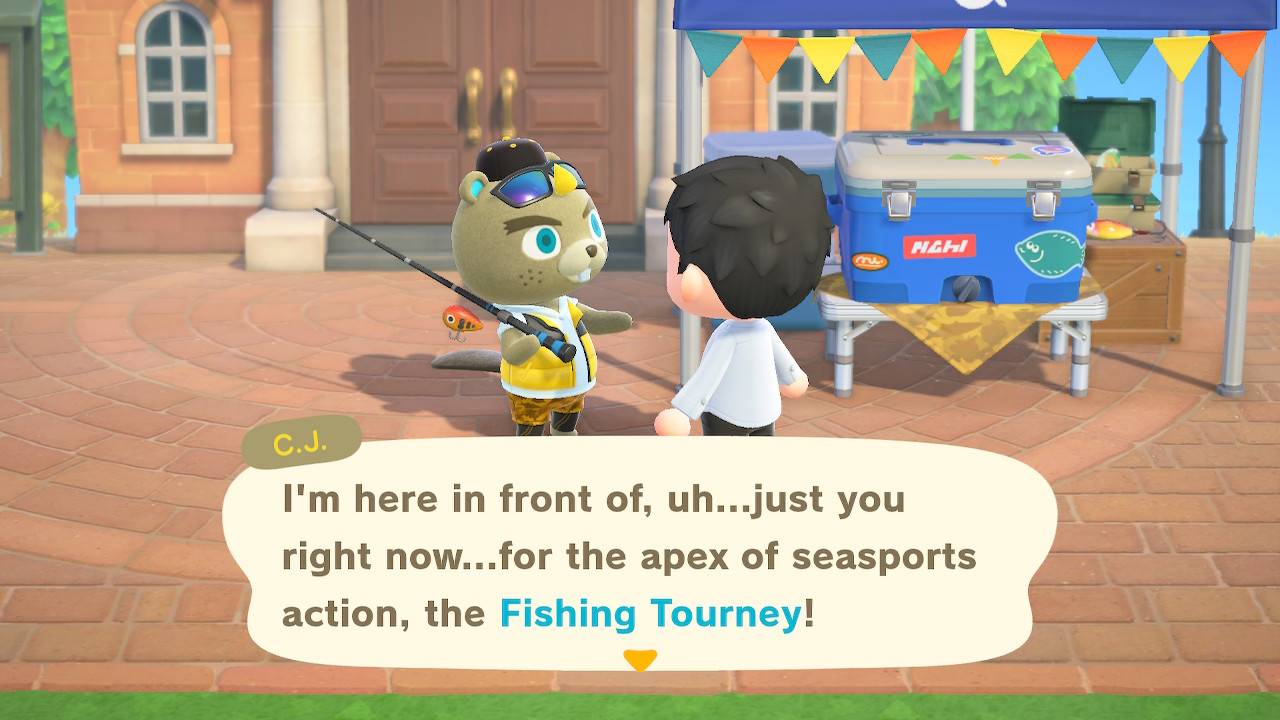 The ultimate fish expert and streamer is taking over hosting duties from Chip. With C.J.'s preference on buying fish to show off to his followers, this version of the Fishing Tourney will have you ranking in Bells. 
Talking to C.J. he'll explain the rules of the tournament and give you your first casting session for free. After that, all entries are 500 Bells.
How the Fishing Tourney works
Simply, you'll have 3 minutes to catch as many fish as you can. If you catch at least 3 fish, you'll earn a point bonus. Each caught fish is worth 1 point and securing the "3 fish" point bonus will earn you an extra 2 points.
These points will add up throughout the day. 
Co-op play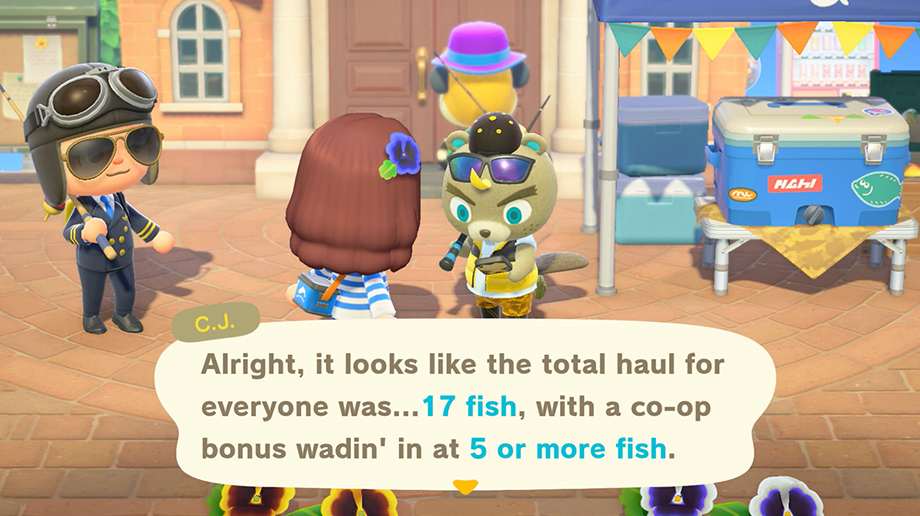 With any seasonal event, the more the merrier! Whether you have multiple people sharing an island or opening the gates at Dodo Airlines for visitors, all can partake in the Fishing Tourney. C.J. has also thrown in a co-op bonus, waives the 500 Bells fee, and counts all fish that is caught by all players during the 3 minute session. 
For best results, have one player volunteer to talk to C.J. once all participants have their fishing spot secured. After the conversation is finished the timer begins. Point bonuses are stacked, which means the solo "catch at least 3 fish" bonus is stacked on top of the co-op bonus (for two players, it was to catch at least 5 fish.) For example, in a test run I was able to get the following results:
Player 1 caught 9 fish

Player 2 caught 8 fish

C.J. counted the fish total as 17 fish (17 points)

Co-op bonus of 5 or more fish was achieved (2 points)

Solo bonus of 3 or more fish was achieved (2 points)

Total is 21 points for both players
Any points that haven't been used to redeem items (see Fish Swag Haul section) will carry over with the player to their island IF their fishing tournament is active on their island.
Note: I tested having two visiting players compete in a few fishing rounds. During some of our runs, we encountered lag with fish not instantly appearing after using bait. Due to this and inputting the command to reel in our fishing pole, the fish would disappear. In order to amend this problem, we had all non-residents leave, close the gate at Dodo Airlines, and reopen the gates for visitors to return.
Using fish bait
The quickest way to rack up points is to use fishing bait (crafted from manilla clams). Carry at least a stack of 10 when you participate and always use it if any other seasonal events coincide with the Fishing Tourney (Bunny Day water eggs: I'm looking at you). 
List of fish swag
You can trade 10 points to C.J. for a random Fishing Tourney item. The following items are part of this collection:
Item
Anchor Statue
Fish Doorplate
Fish Pochette
Fish Print
Fish Rug
Fish Umbrella
Fish Wand
Fish-drying Rack
Fish-print Tee
Fishing-rod Stand
Fresh Cooler
Marine Pop Wall
Tackle Bag
There is a chance that you can receive style/color variants, but this might be tied to exchanging points on other islands. In my playthrough, I received the same version of any duplicates C.J. gave me.
Selling fish to C.J.
All fish you catch during your 3-minute Fishing Tourney sessions will be transported to C.J.'s cooler. After each timed catch-a-thon, you have the option to take the fish out of the cooler and/or sell them to C.J. for 1.5 times their usual selling price. No need to take everything out of the cooler to sell your scaley haul — just talk to C.J. and he'll ask if you want to clear the cooler by selling everything to him.
After participating in at least one session, C.J. will also buy fish that you've stored prior to today as well as any fish caught outside of the Fishing Tourney.
Fishing Tourney trophies
C.J. is keeping track of points you've earned throughout the day. After 6 p.m., the top three anglers will be awarded trophies! If you're looking to take home one, you'll have to sink some Bells and time to earn enough points. When the clock strikes 6 p.m., that's it. C.J. will mail you any trophies earned. Yes, you can earn all three trophies If you sink some Bells and time to earn enough points.
| | |
| --- | --- |
| Trophy Prizes | Points Needed |
| Bronze Trophy | 100 |
| Silver Trophy | 200 |
| Gold Trophy | 300 |
More Animal Crossing: New Horizons guides
Looking for more help with Animal Crossing: New Horizons? Check out our other guides!
Leave a Comment