Animal Crossing: New Horizons puts players in charge of an entire deserted island, which they can build up (or tear down) to their heart's desire! It's the first mainline Animal Crossing game on a home console in over a decade, and while it may drive users away from Animal Crossing's mobile outing, Pocket Camp, it is throwing players of both games a bone. Players of both Animal Crossing: New Horizons and Animal Crossing: Pocket Camp will receive exclusive special items in the former! Want to know how to get your hands on these? Look no further! It's easy.
Preparations
Before we start… I have to ask: Have you actually played Pocket Camp at least once in your life? If so, great! You've passed the test. Here are the things you'll need for this process:
Get the device you run Animal Crossing: Pocket Camp on. It doesn't matter what type of mobile device you have — an iPhone, an Android phone or tablet, or an iPad — as long as you play the game on it! You just need to snag the game via the iOS or Google Play store
Make sure your Pocket Camp game is linked to the same Nintendo Account you use to access the Nintendo eShop on your Nintendo Switch and play Animal Crossing: New Horizons.
Get the Nintendo Switch system you play Animal Crossing: New Horizons on.
Make sure both your iOS/Android device and Nintendo Switch are connected to the internet.
What you'll receive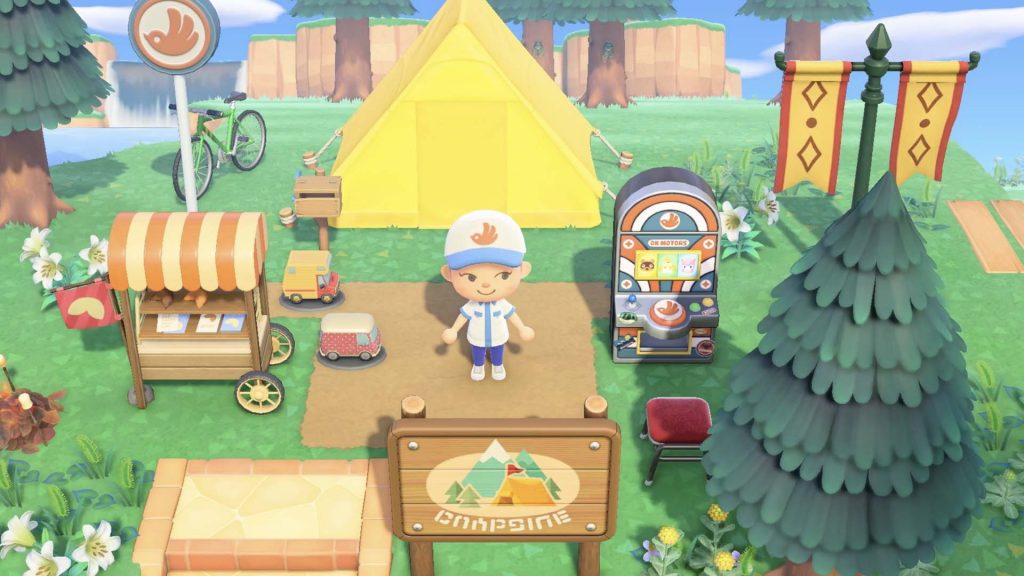 By completing this process, you'll be able snag exclusive in-game items in Animal Crossing: New Horizons via the Nook Shopping feature as well as 50 Leaf Tickets in Animal Crossing: Pocket Camp. You can check out the items you'll receive in the above screenshot, all based off items in Pocket Camp. Look at that OK Motors slot machine, or that fortune cookie tent! Those'll look great on your deserted island.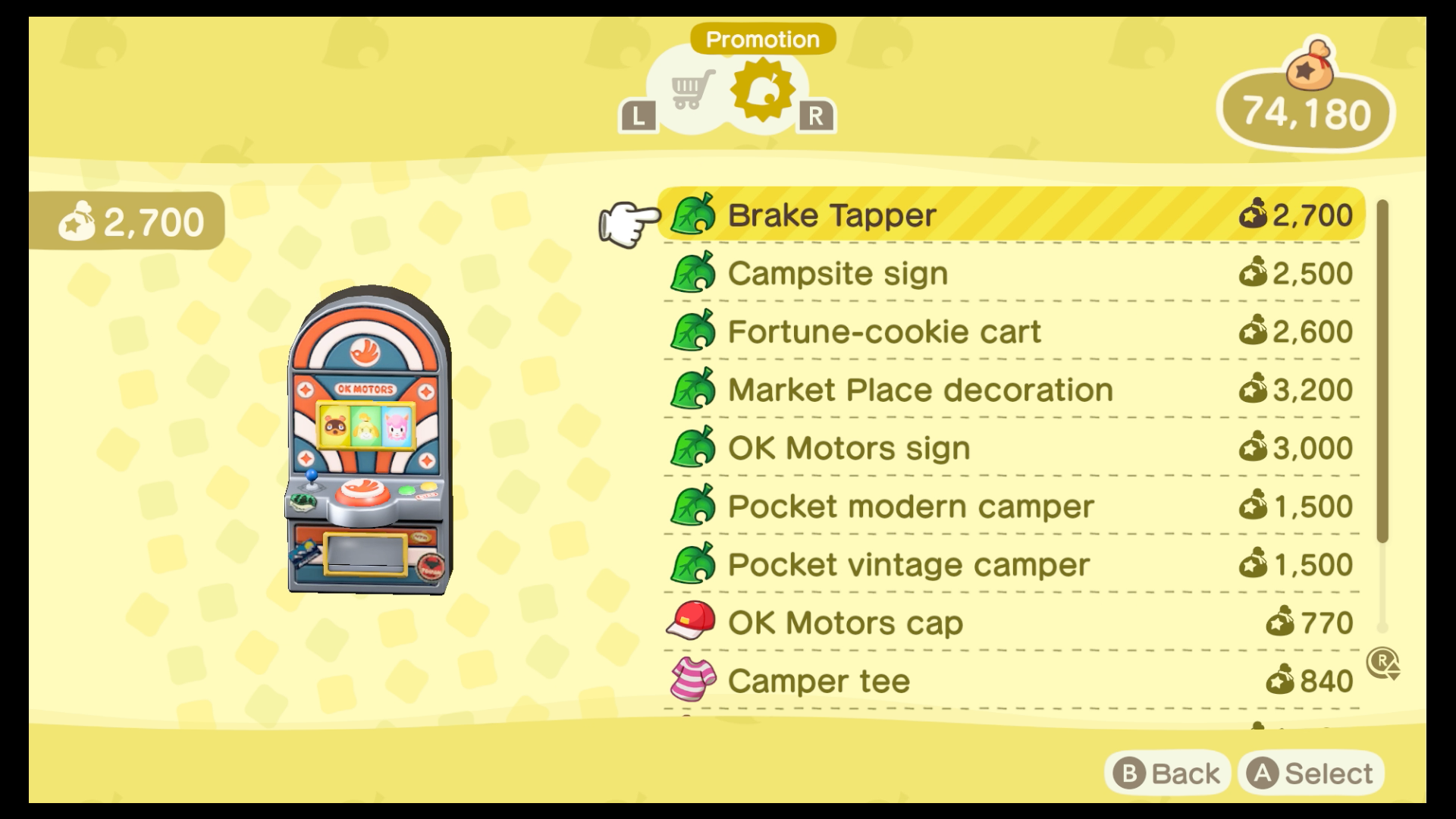 Here's the full list of items and their prices in bells:
Brake Tapper 2,700
Campsite sign 2,500
Fortune-cookie cart 2,600
Market Place decoration 3,200
OK Motors sign 3,000
Pocket modern camper 1,500
Pocket vintage camper 1,500
OK Motors cap 770
Camper tee 840
OK Motors jacket 1,500
All right, let's get started with the step-by-step instructions.
Step #1: Open Pocket Camp
Launch the Pocket Camp app on your smart device and head to "My Nintendo" via the lower-right in-game menu icon. If you're new to the game, you'll need to finish up the in-game tutorial and progress far enough into the game that you're able to visit recreation spots and design your campsite. At this point, the My Nintendo menu will unlock.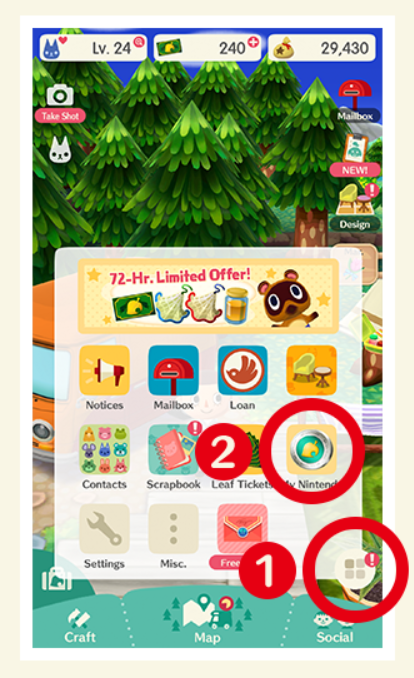 Step #2: Link your Nintendo Account
If you've already linked your Nintendo Account to your game, you can go ahead and skip this step. If not, then you'll need to hit "Create/Link Nintendo Account" on the box that appears and then follow the on-screen steps to link your Nintendo Account. Please ensure the account you're linking belongs to you and not anyone else! Don't have a Nintendo Account or not even sure what the heck that is? No worries: Check out Nintendo's official guide to creating a Nintendo Account.
Step #3: Get your download code
On the My Nintendo screen, head to the "Rewards" tab and then find the reward called "Animal Crossing: New Horizons Special Order Ticket + 50 Leaf Tickets." This is what you'll need to get your in-game New Horizons items, plus those sweet, sweet Leaf Tickets for use in Pocket Camp. This reward is free and won't cost you any Platinum Points.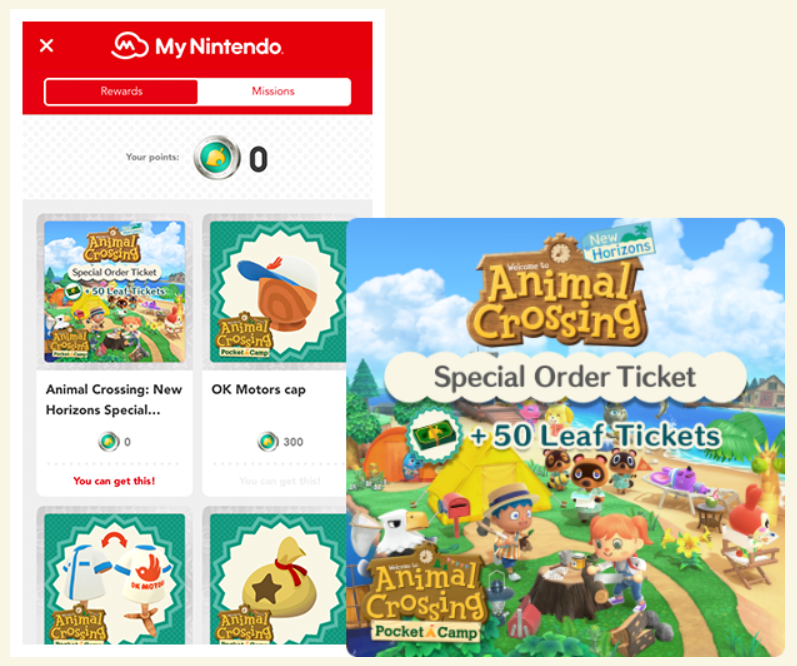 After redeeming this reward, you'll be given a 16-digit download code. This is what you'll use to get your items on your Switch. Write this code down! Or, y'know, just keep your game open.
As for your 50 Leaf Tickets, those will automatically be sent to your mailbox in Animal Crossing: Pocket Camp. Also, if you lose the slip of paper you wrote your code down on, or the game crashed or something, no worries! You can head back to the My Nintendo rewards screen to view it at any time.
Step #4: Enter your download code on your Switch
Now grab your Nintendo Switch console and turn it on. Go to the Nintendo eShop via the Home menu and launch it. Select the account you use (or plan to use) to play Animal Crossing: New Horizons. Once you're in the eShop, select "Enter Code" on the left side of the screen and enter your 16-digit code.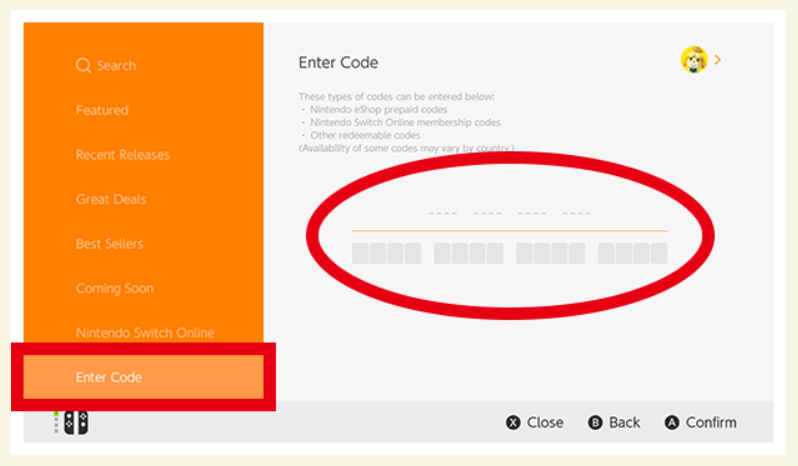 Step #5: Get your in-game items!
Make sure your copy of Animal Crossing: New Horizons is up-to-date (that is, make sure it has the latest software version update installed). After that, boot up the game and head to Resident Services to use the Nook Stop machine. Head to "Nook Shopping" and then "Promotions" to order your special items. Please note that you'll need to make some progress in the game before you're able to use the Nook Stop.
---
That's it! Easy, right? Now you can add a bit of Pocket Camp fun to your island getaway!
More Animal Crossing: New Horizons guides
Looking for more help with Animal Crossing: New Horizons? Check out our other guides!


Leave a Comment