The free spirit, artist hippie dog Harvey has given up RV life in Animal Crossing: New Horizons. Embracing the creative-side of island life, he's established an artist collective studio on his own private island! It's very exclusive and invitation is required, so how do you get Harvey to extend one?
How to unlock Photopia
Once you've been tasked to build three new houses on your island, Harvey may appear. Here at Nintendo Wire, we've seen the laid-back spaniel visit when a third villager is moving in to completing the furniture requests for the new houses. Harvey will appear wandering your little slice of paradise. He'll be walking all over your island, so if you don't see him near Resident Services, hit the beach or your grove of fruit trees. After talking to him, you'll unlock the option to fly over to his island via Dodo Airlines.
Traveling to Harvey's Island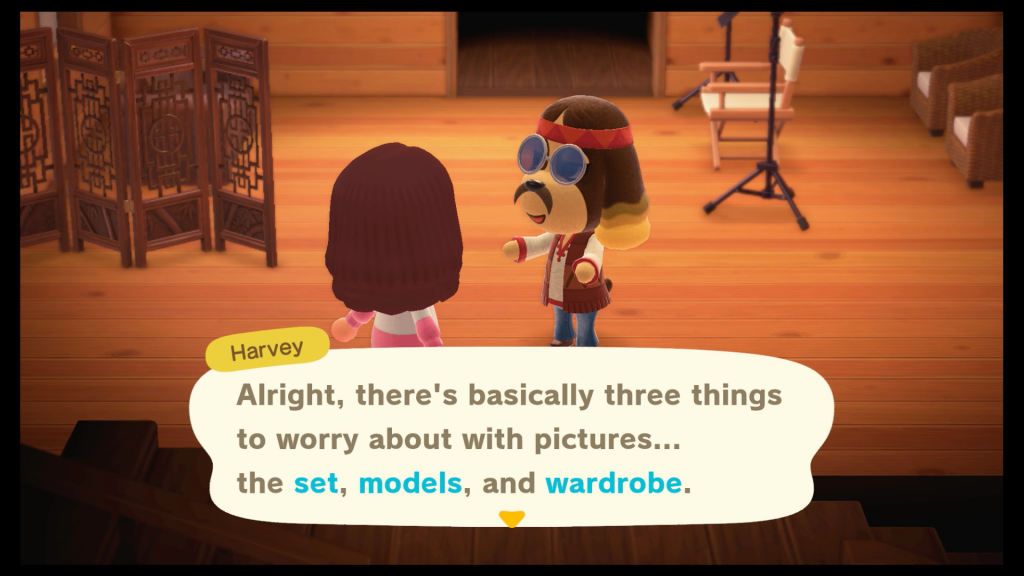 On your first trip to Harv's Island (Harvey's Island), Harvey will give you a tour of his artistic grounds, dubbed Photopia. Six rooms are available to customize for the perfect photoshoot set, but before you can run off and be a shutterbug, you can ask how everything works.
Sets
Similar to decorating at home, you press the down button on the left Joy-Con. Don't worry about having to haul all your furniture over from your island as Harvey lets you instantly access your Nook Shopping catalog. You won't be able to add any of these pieces to your inventory, as you're just borrowing them for a snap. The other plus is that all customization options are available, regardless if you have customized the island back home or not. In a way, you could almost treat this as making mock designs for your abode back home.
Models
Tired of selfies? It's about to get quite merry, then! Up to 10 models can be summoned for your photoshoot. Which characters do you have access to? The entire Animal Crossing amiibo line! … Ok, nearly. Some characters have yet to be added in the game, but for the most part you have over 300 different villagers to choose from.
What if you don't have any amiibo? You'll be limited in your animal villager picks, as Harvey will let you take photos with villagers on your island. They will be found under the Resident tab (purple cat icon) when you're designing the room. Whoever you summon to Photopia, you can drag and drop them like furniture onto your set. Standing, sitting, laying down – you can have them interact with furniture that you've placed. They will also be able to emote, but you will be limited to your Reactions library. 
Wardrobe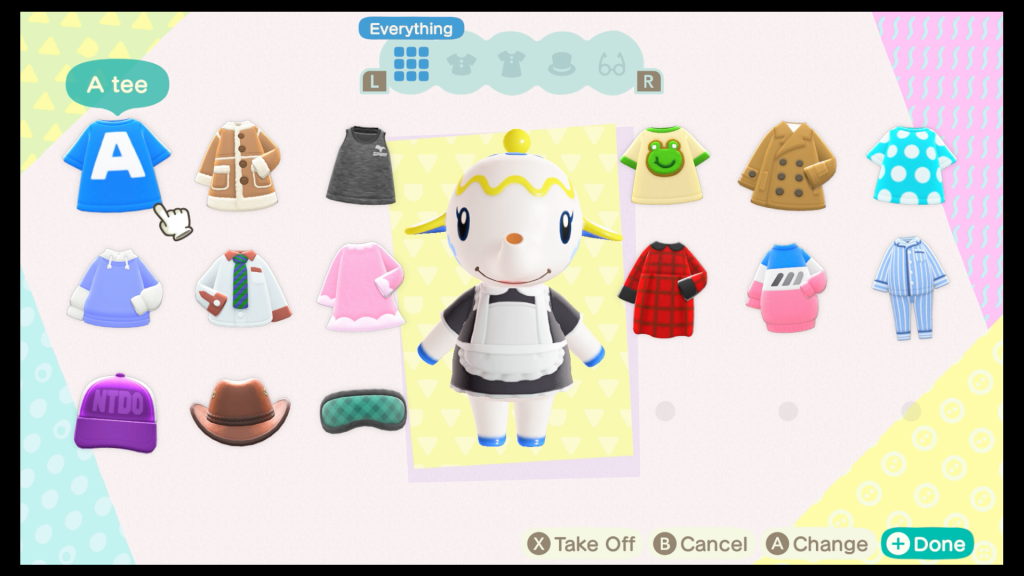 Similar to sets, the Nook Shopping catalogue is here for your borrowing pleasure. When you have selected a character, a yellow T-shirt icon may appear on the right side of the screen. Press "X" and you'll enter a dress up section where you can style them as you see fit! 
Keep in mind that certain characters will not have access to this feature, and as of this writing it seems to be any of the core-NPC villagers (Isabelle, Label, etc.). 
Snap away! #Photopia
There are two ways to take photos – the Nook Phone Camera or the Nintendo Switch screenshot button. The pros of the Nintendo Switch screenshot button is that you can freely take pics, unlike the Nook Phone Camera app. Yes, you have a slew of photo filters and frame options, but you can't freely edit your set with this app open. 
Regardless, both methods will send your photos to the same spot, your Photo folder on your Nintendo Switch.
Ring, ring! One more thing
Oops! Harvey knew he was forgetting something! He'll give you a phone call the moment you leave DAL office. Amiibo that have been scanned have a poster associated with them. Regardless if you were able to get them into your latest batch of photos or not, you can purchase the posters for 1,000 Bells each via the Nook Stop's Nook Shopping section.
More Animal Crossing: New Horizons guides
Looking for more help with Animal Crossing: New Horizons? Check out our other guides!
Leave a Comment