A returning feature to Animal Crossing: New Horizons is the campsite, which made its debut in Animal Crossing: New Leaf for the Nintendo 3DS. At the campsite, visitors will arrive semi-frequently, and those that do arrive will have the opportunity to move to your island as a regular resident. Want to know how to unlock the campsite in Animal Crossing: New Horizons? Keep scrolling!
Unlocking the campsite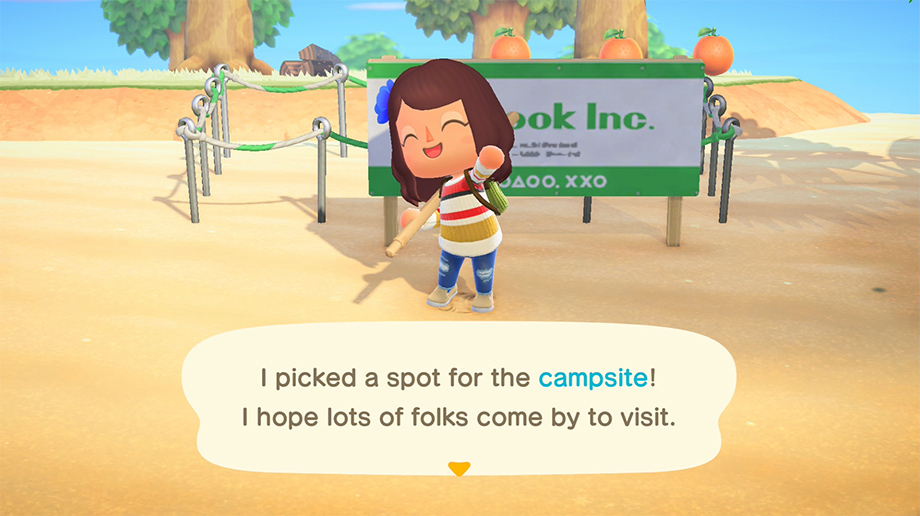 To unlock the campsite, the first thing you'll need to do is upgrade the Resident Services building. Now that Resident Services is all brick-and-mortar, Tom Nook is eager to assign his Resident Representative more tasks. If you keep asking Mr. Nook "What should I do?" at his new Island Construction work desk, you'll eventually broach the topic of tourism. What's the best way to get more visitors to the island? There's no hotel located on your island and Tom Nook loves to stay within budget. Going back to basics, you'll be pitching another tent, but with a glamping twist.
Tom Nook will send you a campsite construction kit DIY recipe to your Nook Phone. With the recipe in hand, you'll need the following ingredients and then to make a bee-line to the nearest crafting workbench:
15 wood

15 softwood

15 hardwood 

15 iron nuggets
After building the campsite construction kit, you now have to pick where it'll be built on your island. Just like picking land for businesses, villagers residences, and your home, you'll follow the same process and parameters of claiming the plot. 
With the land selected and having it fenced off with a Nook Inc. sign, head back to Mr. Nook and tell him the good news!gu and Isabelle can't wait to announce it during the daily island broadcast.
How the campsite works
At random, one villager may visit and use the campsite at a time. The game will force a visitor during its grand opening week so that you'll be familiar with how the campsite works (and also force you to invite this villager to live on your island). Villagers using the campsite can be chatted with. You may also get prompts from them to craft items they want as well as accepting (or denying) their request to move to your island.
How to invite animals to move to your island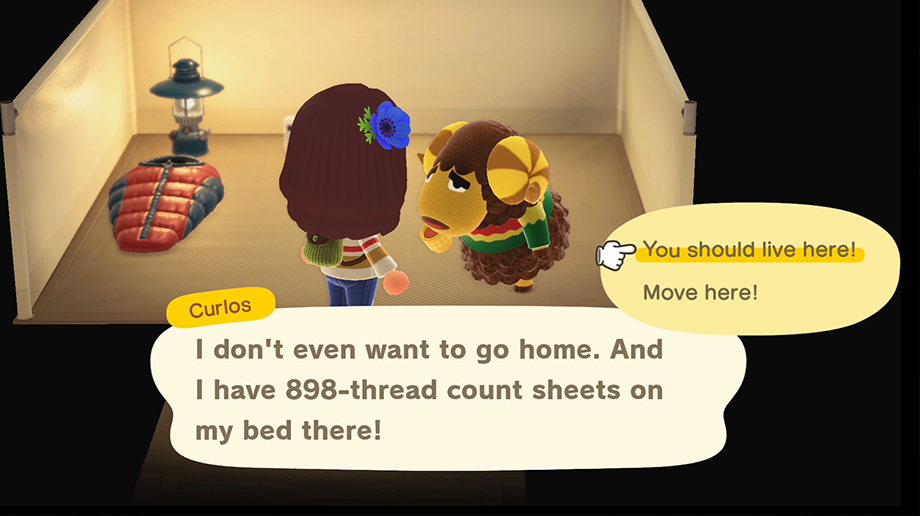 The main draw of the campsite is that it gives you the power to decide who moves to your island. Each animal that camps there has the opportunity to be invited by the player to place down roots in your island getaway. Typically, the camping animal will ask to play a game with you before agreeing to the move. However, this isn't always certain, and you can only invite campers to live on your island if you meet two conditions:
You have an open housing plot for them to move to.
You have less than 10 villagers on your island — unless you're willing to kick one of your existing villagers out.
Even if you have the max of 10 villagers on your island, you'll still get campers. However, you'll need to kick out one of your current villagers in order to have the camper move to your island. Unlike with campers you invite via amiibo (detailed below), the animal that will be kicked out will be chosen at random.
How to invite campers using amiibo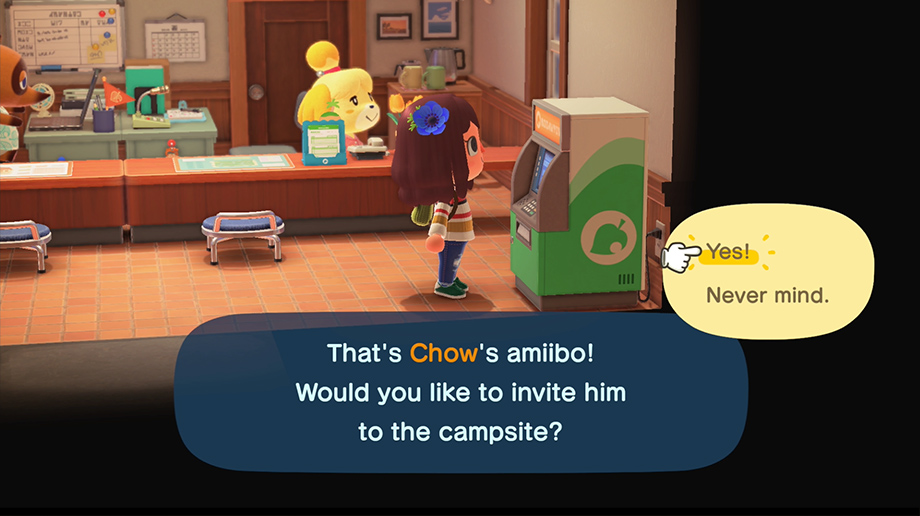 Now that the campsite is built, the Nook Stop will have a new feature – scanning amiibo! Once per day, you can scan an amiibo card and invite a villager to visit. Your campsite must be unoccupied and not all amiibo cards are compatible with this feature. Here are the amiibo cards compatible with this feature:
Villager amiibo cards (ie. not special characters like Tom Nook and Isabelle) from Series 1, Series 2, Series 3, and Series 4.
All amiibo cards in the Welcome amiibo series.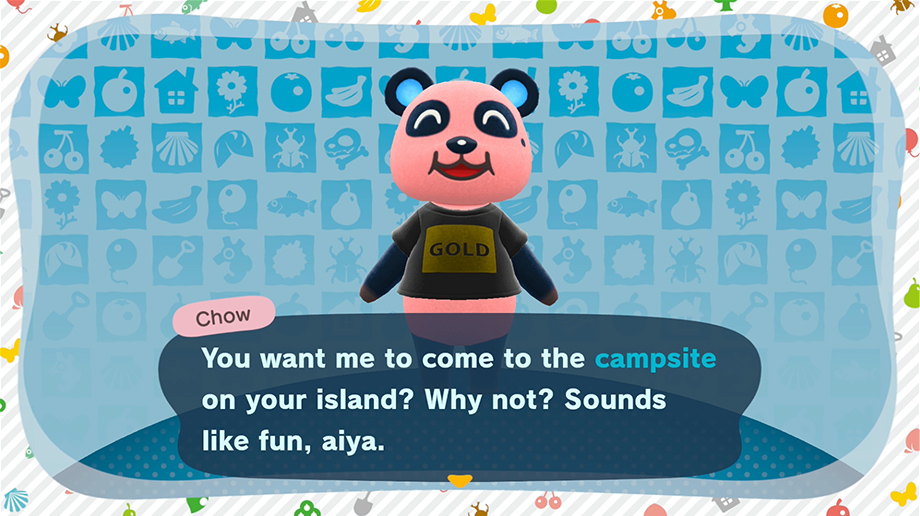 If you're trying to get a specific villager to move to your island with the aid of an amiibo card, you will have to invite them to come to the campsite multiple times.
Each vacation trip to your island the villager will request a specific item to be made. If you don't have the recipe to craft the item, they will also give it to you. Setting the groundwork for a brand new friendship, completing this request will prompt the villager to bring up the topic of moving to your island. Even if you agree, they will turn down the invitation. In order to gain their confidence, you will have to keep inviting them back via the amiibo card over the next few days. Based on fans sharing their experiences with the campsite, this can take at least three times.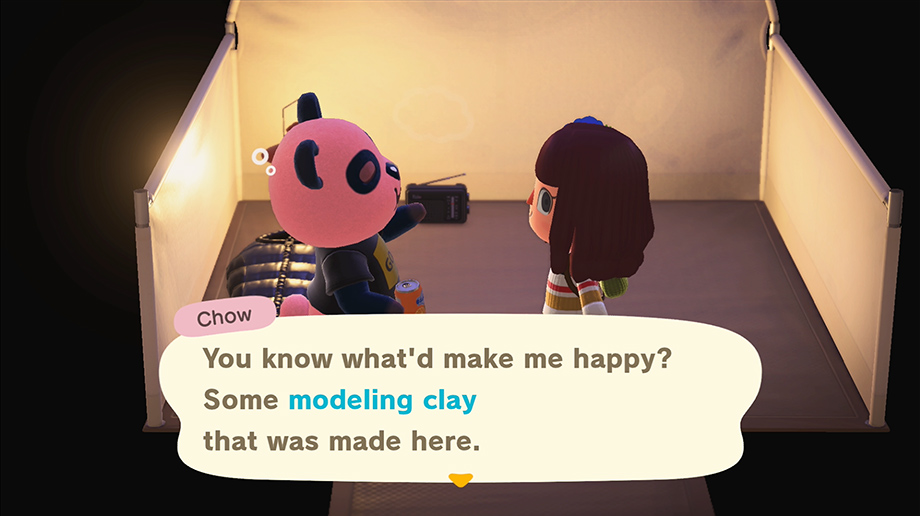 Once they've committed to living the island life full-time, you will have to either have a home plot available for them to move into or kick out one of the ten residents already living on your island. With amiibo, you have the choice of which existing villager you want to kick out. Note: There has been a glitch associated with kicking out villagers via this method. While patched in Version 1.1.3, some players were still experiencing some errors.
More Animal Crossing: New Horizons guides
Looking for more help with Animal Crossing: New Horizons? Check out our other guides!
Leave a Comment