The ability to make patterns has been a beloved staple of the Animal Crossing franchise. Now as we journey through the latest installment, Animal Crossing: New Horizons, we can customize in more ways than we thought possible! 
During the first week of the game's release, a hot design idea that spread throughout the community was using the new Face Paint option. The big million bell scheme? Eyebrows. Yes! It sounds simple, and just about anyone can draw their own. Warning, there's a bit of editing involved, but the end result is totally worth it.
Custom Designs app
In order to get your very own eyebrows for your character, you'll need to head to your NookPhone and open the Custom Designs app. A basic design template is needed for any Face Paint-centric design. Pick which design you want to change and select "Change Design" from the menu that pops up. From there, you'll enter New Horizons' active design UI.
Some housekeeping rules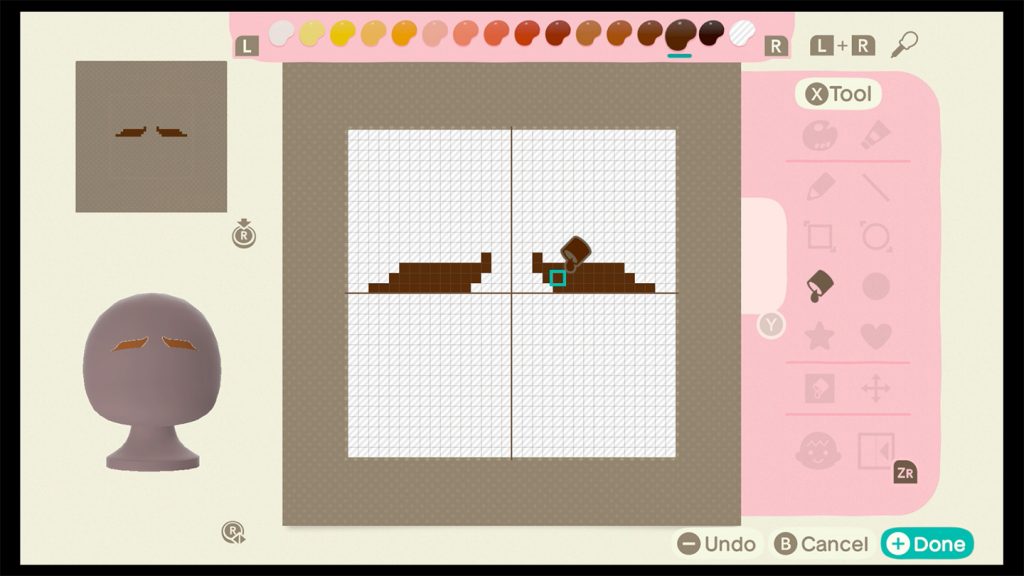 Before you start drawing any lines, you'll need to do the following:
Fill in/Color in the entire canvas with the transparent color (which is the white/gray lines paint blob next to black). Don't forget to remove the red guidelines!

Click the R-stick to shuffle through to the head model.
Once accomplished, it's time to experiment! Keep in mind the following design rules:
Top half of the canvas is assigned to your character's forehead. 

The bottom half of the canvas is active in only certain areas. Refer to the head model on the left. The preview is active and will change simultaneously with what you draw.
Thick, thin, bushy, unibrow — whatever your desire, have at it! Don't fret if it's not exactly looking the way you want, as this is a work in-progress. When you're at a good point to try on your new pair brows, save and name the design.
Try on, change, and repeat
You can wear your eyebrows one of two ways – applying the design via the Custom Designs app or interacting with a mirror furniture item. The Custom Designs app method is the quickest, but changing up your full look will present an up-and-close view of your villager's face. This is key because your design could clash with your hair style and/or eyes you have picked out!
It's touch and go, but with a little finessing, you can have a brand-new look!
More Animal Crossing: New Horizons guides
Looking for more help with Animal Crossing: New Horizons? Check out our other guides!
Leave a Comment