Happy Pokémon Day! During today's Pokémon Presents, it was reiterated that not only will Pokémon GO and Pokémon Scarlet and Violet will be able to connect to one another, but that the feature was made available today.
Trainers can send Postcards to Pokémon Scarlet and/or Violet once a day and get different bonuses for each game. For Pokémon GO, that slippery little coin hunting Pokémon, Gimmighoul, will finally be catchable.
Get all the details with our guide below:
Pokémon GO – Pokémon Day 2023 event (Roaming Form Gimmighoul)
Begins: Monday, February 27th, 2023 at 7 a.m. PT | 10 a.m. ET
Golden PokéStop bonus (no Golden Lure Module needed) Ends: Tuesday, February 28th, 2023 at 7 a.m. PT | 10 a.m. ET
Note: Gimmighoul will be available after Pokémon Day.
Pokémon debuts – Roaming Ghimighoul and Gholdengo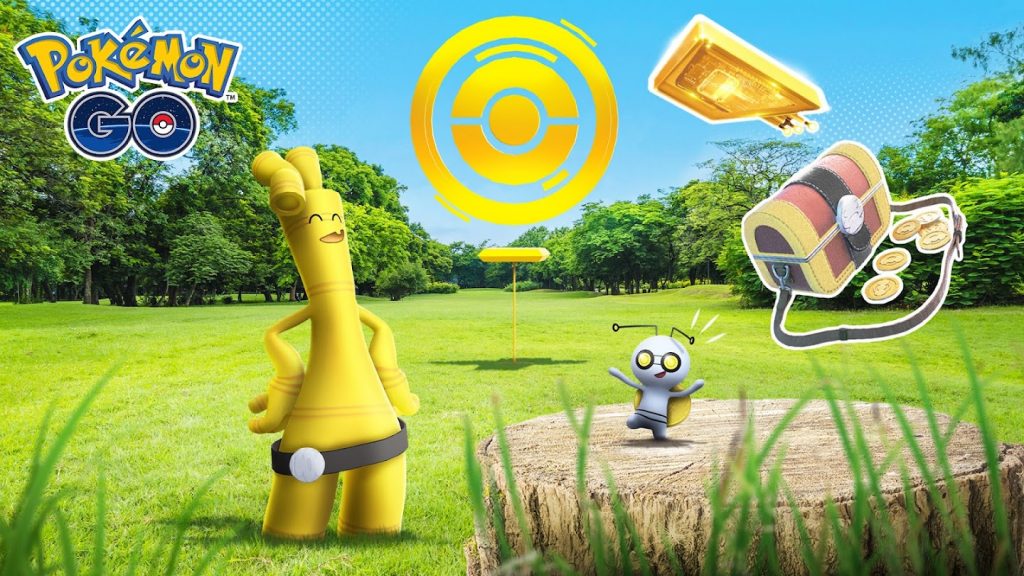 After debuting last year, Gimmighoul is now catchable in Pokémon GO under specific conditions. You can find Gimmighoul (if you're really lucky) at Golden PokéStops. For easier spawns, you can connect your copy of Pokémon Scarlet and/or Violet to Pokémon GO and use the new Coin Bag item to summon Gimmighoul (similar to Meltan and the Mystery Box).
If Trainers catch at least one Gimmighoul and also collect 999 Gimmighoul Coins, they'll be able to evolve their Gimmighoul into Gholdengo.
Event Bonuses
PokéStops will randomly turn into Golden PokéStops without the need for a Golden Lure Module to celebrate this new feature
Free Gold Box in the game's Shop that'll give Trainers 9 Gimmighoul Coins
Event Boxes
The following box will be available:
Gold Box (Free, for a limited time only): 9 Gimmighoul Coins
Catching Roaming Form Gimmighoul
Similar to Meltan in Pokémon GO, Trainers will have to connect their Nintendo Switch to their Pokémon GO account and have a copy of Pokémon Scarlet or Violet. You can follow the steps in our How to connect Pokémon Scarlet and Violet to Pokémon GO guide. Once completed, you can do the following:
In Pokémon GO, go to your Item Bag (Poké Ball Icon -> Items) and select the Postcard Book.
Once open, select a Postcard.

The region the Postcard was sent will decide which Vivillon pattern will appear in Pokémon Scarlet or Violet (for 24 hours).
If you have no Postcards in your Postcard Book, you'll have to pin a Postcard. To do so, you must have a Friend in Pokémon GO that has sent you a Gift. Before opening the Gift, select the pushpin icon on the bottom right-hand side.

Select the icon in the bottom right-hand corner (a circle with three horizontal lines). You'll be given the option to either Send to Nintendo Switch or Delete the Postcard.
Select Send to Nintendo Switch.

Note: You'll still have the Postcard in your Postcard Book in Pokémon GO.

Select Yes on the "Do you want to send this Postcard to a Nintendo Switch?" confirmation screen.

You'll be asked to not turn off your smart device or have it enter sleep mode during this process.

Once confirmed, a Searching for Nintendo Nintendo Switch screen will appear.
Now, switch over to Pokémon Scarlet or Violet.
Once the game has loaded, go to Poké Portal -> Mystery Gift -> Connect to Pokémon GO -> Connect to Pokémon GO.
If successful…

Pokémon GO: You'll get a confirmation screen stating that the Postcard has been sent.
Pokémon Scarlet and/or Violet: You'll get a Mystery Gift animation stating that Vivillon with an unusual pattern has appeared and you've received 50 Gimmighoul Coins plus an additional item (i.e.: 5 Ultra Balls, 5 Super Potions, etc.).

Pokémon GO: If this is your first time sending a Postcard, you'll also get a screen saying that the Coin Bag is now available.

Now, the Coin Bag will be found in your Item Bag (Items) under the Trainer Boosts section (which contains Icenses, Star Piece, Lucky Egg, and the Mystery Box).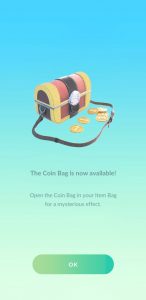 Coin Bag
Selecting the Coin Bag in your Items, you'll be given the option to "Open" it. When you open the Coin Bag, Roaming Form Gimmighoul will appear around you (and only you) for 30 minutes. The Coin Bag can be only opened once per day (resets at midnight your local time), and require a "charge" of sending a new Postcard to Pokémon Scarlet and/or Violet.
Golden Lure Modules
After sending multiple Postcards (the number of Postcards has yet to be confirmed) to Pokémon Scarlet and/or Violet, Trainers can receive a Golden Lure Module (it's assumed it'll be active for 30 minutes). This particular Lure Module will allow Trainers to turn a PokéStop into a Golden PokéStop. When a PokéStop is transformed into a Golden PokéStop, the following bonuses are activated for that PokéStop:
Chance to collect Gimmighoul Coins from the PokéStop
If you're "extremely fortunate", you may encounter a Roaming Form Gimmighoul
Can receive more items compared to a typical PokéStop spin
Evolving Gimmighoul to Gholdengo
Just like in Pokémon Scarlet and Violet, you'll need 999 Gimmighoul Coins to evolve Gimmighoul into Gholdengo. Luckily, you can get Gimmighoul Coins in the following ways:
Catching Roaming Form Gimmighoul (via Coin Bag and/or Golden PokéStop catch encounters)
Making a Gimmighoul your Buddy Pokémon and walking with them to earn Gimmighoul Coins (as there won't be Gimmighoul Candy in Pokémon GO)
Transferring Roaming Form Gimmighoul (unconfirmed)
Spinning Golden PokéStops (either during this special 24-hour event and/or via using a Golden Lure Module on a PokéStop)
Stickers
There will be an assortment of event-themed stickers featuring Gimmighoul. You can get them by spinning PokéStops, opening Gifts, and/or purchasing them from Pokémon GO's in-game shop (with PokéCoins) during the event.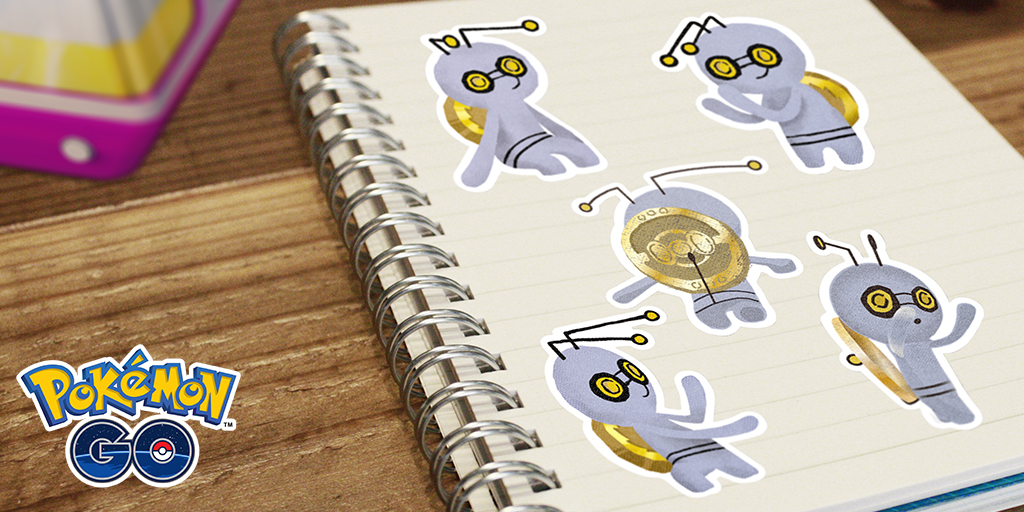 Avatar Items
New avatar items themed after Gimmighoul will be released during this event. They will be available for purchase (with PokéCoins) via the in-game shop. These avatar items will still be available to purchase after the conclusion of this event.
The new avatar items are the following: Gimmighoul Hat and Gimmighoul Glasses.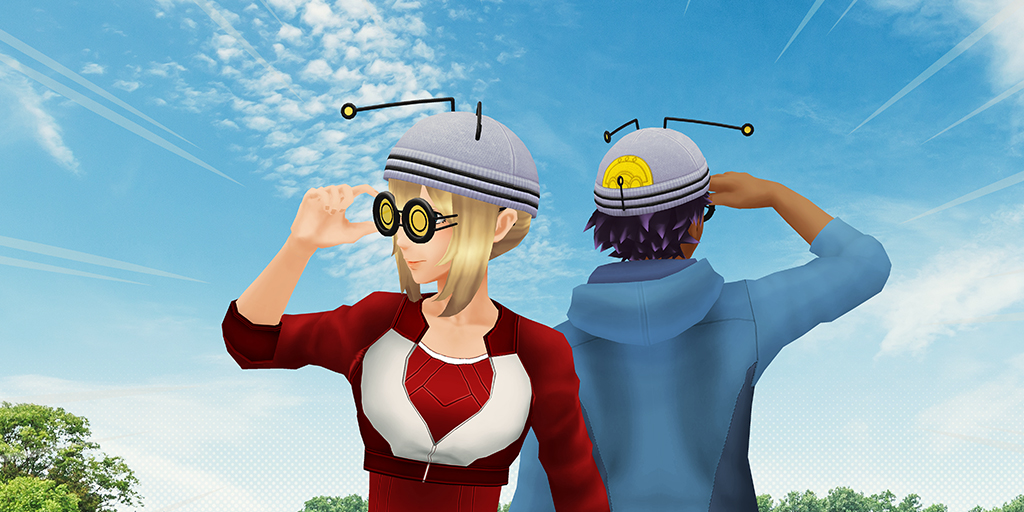 Twitter Campaign – RT to win Gimmighoul Hat or Gimmighoul Stickers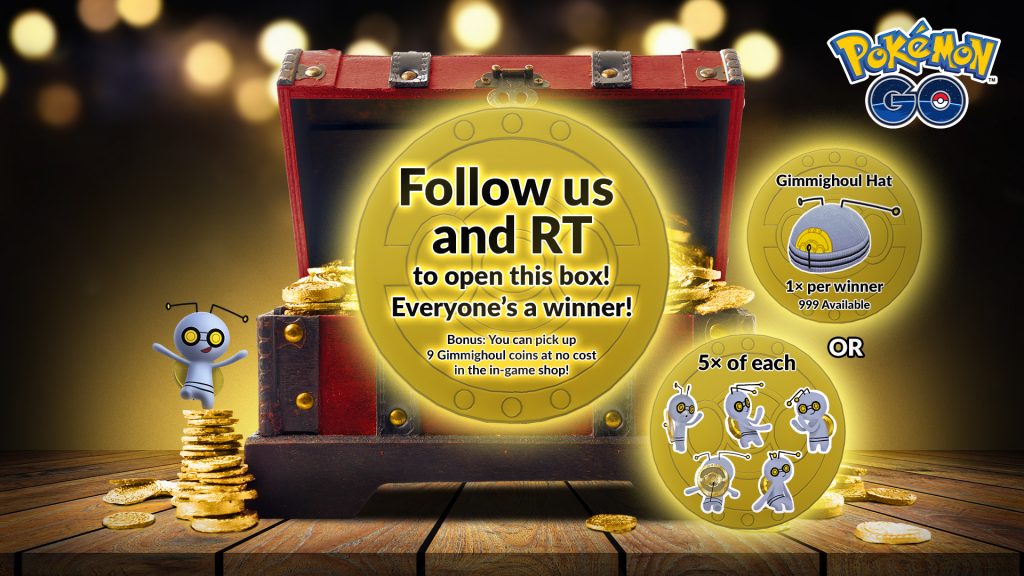 If Trainers are following the official Pokémon GO Twitter account and quote retweet this tweet with #GOGimmighoul, they'll be replied to and receive a Direct Message. Replying back to the Direct Message, they'll receive a unique code to redeem via the Pokémon GO offer redemption site. Trainers can either win the Gimmighoul Hat (Avatar Item) or a Sticker Pack of the new Gimmighoul Stickers.
More Pokémon GO guides
Looking for more help with Pokémon GO? Check out our other guides!
Leave a Comment