People like to dine in every now and then, and your army in Fire Emblem Engage is no exception. Cafe Terrace will technically be available from the Somniel's opening in Chapter 3, but you won't have access to its Cooking function until Chapter 6. By preparing meals, you can raise stats and strengthen the relationships in your army, even procuring packed lunches for the battlefield.
You can cook once between battles. Whoever's on cooking duty is randomized. You'll pick two members of the army you want to dine with – preferably characters that have a Support with one another, as both the characters you'll eat with will gain Support points both with Alear and each other. 
After picking the characters, you'll see a huge menu of potential dishes to make, each of which will raise particular stats and have different ingredients to add on top. Conveniently, the dishes both of your chosen characters like will be placed at the top, with their distaste (mutual or solitary) growing as you scroll down. Foods marked with a sparkly icon and words like "Expert" or "Capable" are ones your chef is particularly adept at. After you pick a dish, you'll be given a chance to add ingredients, all of which increase the chance of making a high-ranking meal. This includes a "Rare Ingredient" option which can cause the whole thing to sink or swim.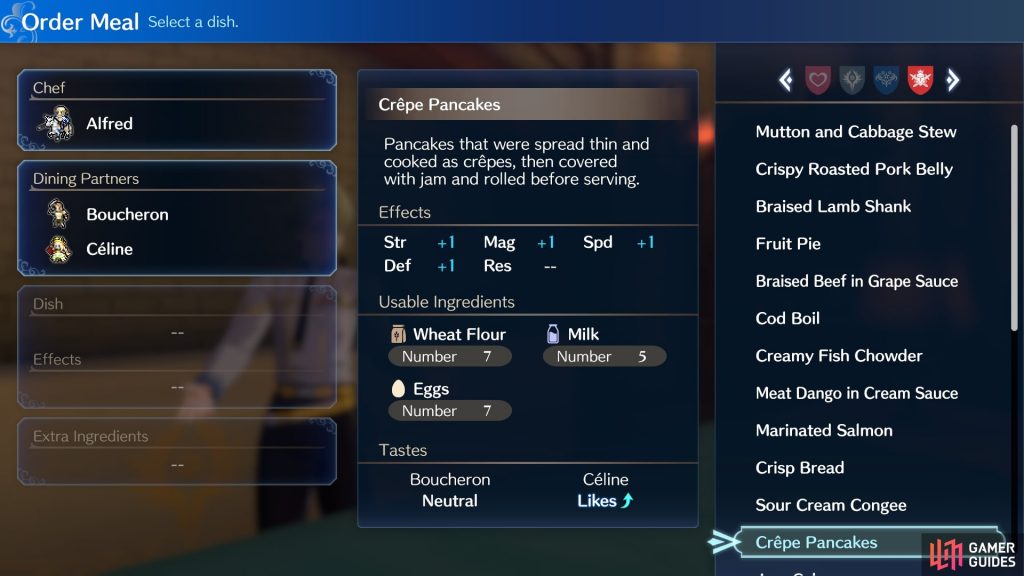 When all this is finally done, your characters will eat. Assuming you prepared well and got a bit lucky, you'll get a high ranking meal, temporary stat buffs, and lines from your allies expressing their pleasure. In turn, if you make something rancid, they'll comment on how bad it is (which is usually pretty funny). If the meal was average to great in quality, then the chef will pack up leftovers into a lunchbox. Characters during battle can consume this to restore HP. You can only have one lunchbox at a time, however – if you don't use it in battle and return to the Cafe to eat, you'll throw out your unused leftovers. Don't be wasteful!
Need more help Engaging? Check out these guides:
More Fire Emblem Engage guides
Looking for more help with Fire Emblem Engage? Check out our other guides!
---
Banner screenshot source: BenFM
Leave a Comment