Shantae: Half-Genie Hero
Console: Nintendo Switch
Availability: Digital (eShop) exclusive
Genre: Platformer, Action, Adventure, Indie
North American Release Date: May 8th, 2018
Japanese Release Date: May 8th, 2018
European Release Date: May 8th, 2018
ESRB Rating: T
Supported Play Modes: TV, Tabletop, Handheld
No. of Players: 1 player
Nintendo Switch Online Support: Save Data Cloud
File Size: 2.8 GB
amiibo Compatibility?: No
Demo Available?: No
Developers: WayForward
Review Score: 9.0


Synopsis
Shantae embarks on her first full HD adventure! When a mysterious crime wave sweeps Sequin Land, it's up to Half-Genie Hero Shantae to save the day! Use Shantae's devastating Hair-Whip Attack to send monsters flying, or Belly Dance to transform into a more powerful creature form! Topple the masterminds behind each criminal caper and prepare for the ultimate showdown against Shantae's arch nemesis: the bodacious buccaneer Risky Boots!
Feel the beat with over 150 different HD Rumble events!
Shantae's trademark moves return! Dance to transform into all-new and classic creatures, or summon magical attacks! Over a dozen dances to discover in all!
New Relic System allows players to unlock new powers and customize moves for Shantae and her many forms!
Conquer arcade-style action stages that unfold into a full world to explore. Fast action and quest-style exploration rolled into one!
When Shantae's story ends, you're just getting started! DLC Modes introduce new characters, levels, and bosses!
Huge Bosses, humorous dialogue, and the wonderfully weird Shantae cast return, now in fully animated HD!
Other Versions
At least one other version of this game exists, like an original release, alternate version, port, re-release, remake, or remaster. Click a game below for more information.
Shantae: Half-Genie Hero – Ultimate Edition
Downloadable Content
$7.99
These fabulous outfits aren't just for show – they also provide Shantae with three new arcade-style play modes! Bounce off walls, throw stars, and teleport with the Ninja Costume; beat the life-draining heat by collecting sunscreen in the Beach Costume; and lay down the law with your pellet blaster and block-shifting ability using the Mighty Switch Force-inspired Officer Costume. Indulge your passion for fashion while testing your mettle with this chic and challenging DLC!
$7.99
When Shantae falls prey to dark magic, only her friends can save her! Swap between Shantae's BFFs Sky, Bolo, and Rottytops in this thrilling new mode as you fight through the Nightmare Realm's remixed locales (including three brand-new levels) using skills like Bolo's spring grapple, Sky's egg toss, and Rottytops' brain-munching to beat baddies, solve puzzles, and rescue the half-genie hero. It's all possible with the power of friendship!
$9.99
Download this exciting new storyline featuring the bodacious buccaneer, Risky Boots! Play the role of the villainous pirate queen as she travels Sequin Land in search of the components she needs to crush Sequin Land once and for all! Collect Pirate Gear, solve brand new puzzles, and battle your rival, Half-Genie Shantae in a final showdown like no other! Don't miss out on this epic new installment of Shantae: Half-Genie Hero!
Latest News and Articles
Guides
More from This Series
You might be interested in some more games from this series. Click a game below to learn more!
Shantae and the Pirate's Curse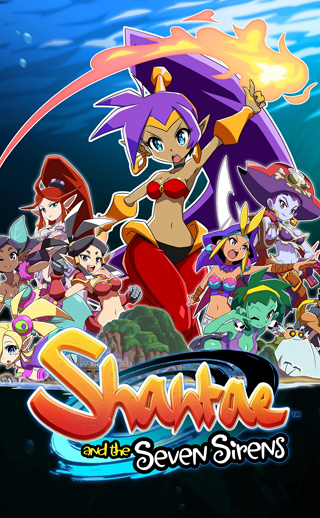 Shantae and the Seven Sirens
[crfp]