Welcome to the Nintendo Wiretap! Each day the team here at Nintendo Wire works tirelessly to bring you the best, most relevant late-breaking Nintendo news this side of the Mushroom Kingdom. To help make ingesting all these meaty stories easier than Kirby hopped up on Miracle Fruit, we've compiled a handy list of noteworthy announcements and general industry happenings regarding the Big N in the last 24 hours. Without further ado, here's a few things we've picked up over the wire for today:
KAMIKO BEAUTIFULLY GRACES THE SWITCH WITH STYLE
Ben Fruzzetti — shrine maiden maniac and pixel prodigy — explored the shinto-inspired scenery of Kamiko's demon infested world this week. Find out if this bite-sized action experience packs a serious punch or leans to hard into the fists of nostalgia.
Read more: Review: Kamiko
SQUID SISTERS STORIES' THIRD CHAPTER TUGS THE HEARTSTRINGS
Callie and Marie continue to air out their dirty laundry online for all the world to see with the third chapter of the melodramatic Squid Sisters Stories.
Read more: Chapter 3 of Squid Sisters Stories inks its way online
HEY! PIKMIN'S VOYAGE THROUGH THE SECOND DIMENSION HAS POTENTIAL
A recent, invite-only event in New York allowed a lucky few to get their hands on the newest entry in the Pikmin series, Hey! Pikmin for the 3DS. Check out both GameXplain and IGN's hands-on previews to see just how smoothly Olimar and company make the transition from real-time strategy game to 2D platformer.
Watch here: Hey! Pikmin hands-on preview
Watch here: IGN dives 9 minutes into Hey! Pikmin
THE NEW NINTENDO 2DS XL LOOKS GORGEOUS
While at the New York event, those over at GameXplain got their hands on a New Nintendo 2DS XL and snapped a few size comparison photos for your viewing pleasure. Surprisingly, it turns out the two dimensional system is almost as big as the Switch (sans Joy-Cons)!
Read more: New images of the New Nintendo 2DS XL
YUP, STILL GORGEOUS
IGN's Jose Otero was also in New York this week to check out the New Nintendo 2DS XL, providing yet another side-by-side comparison video of the portable system versus its 3DS counterpart.
Watch here: IGN breaks down the New Nintendo 2DS XL
NEW MIITOPIA FOOTAGE DELIGHTS
The upcoming 3DS mashup of Find Mii and Tomodachi Life is proving how wonderful Mii friends can be in a new Miitopia gameplay video from IGN.
Watch here: Reggie Fils-Aimé stars in new IGN Miitopia footage
TAPU KOKO PLUSH SWOOPS INTO POKÉMON CENTERS
The Pokémon Center website added the Melemele Island guardian deity, Tapu Koko, in plush form! Don't forget that the Pokémon Sun & Moon Guardians Rising TCG expansion releases today, too.
Read more: Pokémon Center update: Tapu Koko plush appears
FIRE EMBLEM ECHOES LIMITED EDITION UNBOXING
The Nintendo Minute team unboxed the sold out Fire Emblem Echoes Limited Edition. Explore all of the amazing goodies that lie within in the video below.
Watch here: Fire Emblem Echoes Limited Edition Unboxed by Nintendo Minute
NINTENDO SWITCH'S SCREEN KICKS THE 3DS' BUTT BY A LANDSLIDE
Technology nerd Erica Griffin recently reviewed the specifics of the Nintendo Switch screen. See how the portable console fared in our brief rundown below, or feel free to watch her video review in its entirety.
Watch here: Nintendo Switch's screen as rated by Erica Griffin
SPRING MAN AND NINJARA DUKE IT OUT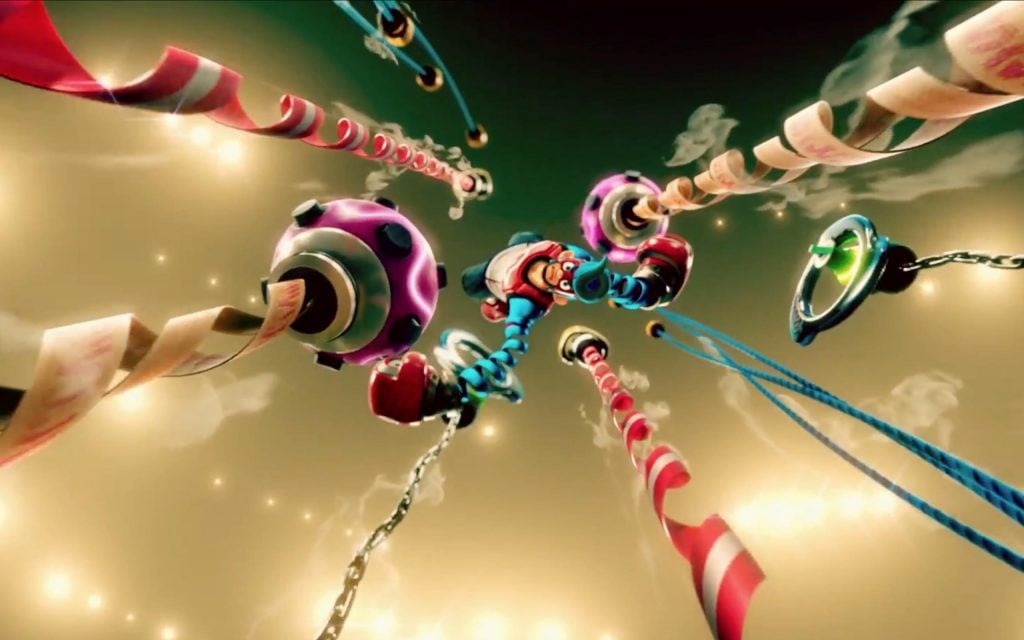 The official ARMS Japanese Twitter account released a minute-long gameplay clip focusing on a tussle between Spring Man and Ninjara.
Watch here: New ARMS footage shows Spring Man vs. Ninjara
STAY HYDRATED WITH A DRIP FEED OF NEW EVER OASIS INFO
It's been awhile since we've heard from Nintendo's upcoming RPG adventure, Ever Oasis. That all changed today with the release of a new trailer, shedding some light on its story and various gameplay elements.
Read more: (Video) Ever Oasis – Intro Trailer
THE DESERT-DWELLING DUNGEONS OF EVER OASIS
Still craving more Ever Oasis news? A hands-on video from IGN provides some insight into the nitty gritty details of questing in this charming desert-dwelling adventure.
Watch here: Watch a quest unfold in new Ever Oasis footage
RISKY BOOTS: FULL-PIRATE ANTIHERO
The next wave of Shantae: Half-Genie Hero stretch goals and DLC have been detailed in WayForward's latest KickStarter update. Check out all the sashaying details hitting up the game later this summer.
Read more: Shantae: Half-Genie Hero gets an 'update of evil'
GAMESTOP EXCLUSIVE MIDNIGHT FORM LYCANROC DISTRIBUTION ANNOUNCED
The UK's Pokémon Sun & Moon Lycanroc distribution is making its way across the Atlantic later this month. Be sure to take a trip to your local GameStop between May 15th and June 5th to secure your code for the manic midnight wolf-mon.
Read more: Sun, Moon Lycanroc distribution announced for US
PIMP YOUR SUPER MARIO RUN KINGDOMS
With less than a week to go in the Super Mario Run x Mario Kart 8 Deluxe event, Nintendo announced that the Super Mario Run community collectively managed to unlock the second to last in-game gift, the Mario Kart Statue. The Switch Statue is within reach!
Read more: Mario Kart Statue Added to Super Mario Run

That's all for today! For all your future Nintendo news, stay plugged in to Nintendo Wire.
Leave a Comment