Super Mario Bros. Wonder has arrived! As with its predecessors in the 2D Mario Bros. series, Wonder is packed with hidden items and secret areas within each level. Some of these are more challenging to discover than others. The Stage Leaping Smackerel isn't too difficult to figure out, but as with all water levels, it can be a pain in the butt from time to time. Don't fret though — I'm here to guide you to the locations of both Wonder Seeds in this level if you're stuck like I was!
Wonder Seed 1 – Leaping Smackerel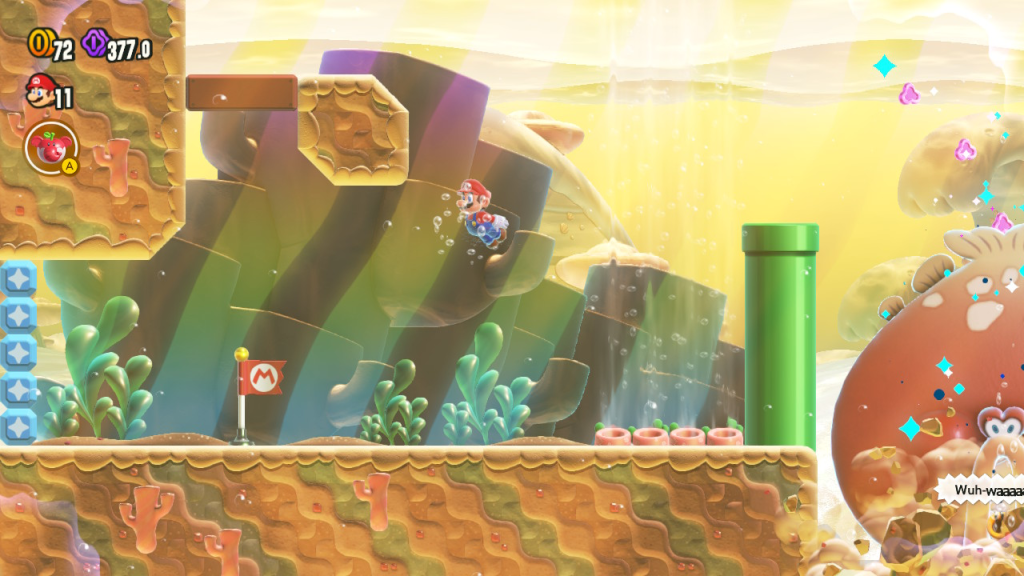 To maximize your chances of success, I highly recommend obtaining and equipping the Dolphin Kick Badge before embarking on this level. While not mandatory, having this Badge can significantly ease the challenges in this stage.
When you reach the midpoint of the stage, you'll encounter a small ledge positioned directly above the flagpole with a blue flower. A simple touch is all it takes to unleash the power of the Wonder Flower! Once this newfound power is activated, you'll spot a colossal Smackerel diving to the bottom of the stage. Swiftly follow its path, but be sure to maintain a safe distance.
Periodically, the Smackerel will break off sections of the stage, revealing shiny golden coins. Your goal is to collect five of these coins to obtain the Wonder Seed. As you approach the end of the stage, you'll need to lure the giant fish into breaking the blocks surrounding the trapped coins. (This is where the Dolphin Kick Badge comes in handy!) Once you've gathered all five golden coins, the Wonder Seed is yours to claim!
Wonder Seed 2 -Leaping Smackerel
Once you get the first seed, simply finish the level. You will get Wonder Seed 2 for your troubles.
For more Super Mario Wonder guides, stay tuned to Nintendo Wire all weekend-long!
More Super Mario Bros. Wonder guides
Looking for more help with Mario Wonder? Check out our other guides!
Leave a Comment