Welcome to the Daily Wiretap! Each day the team here at Nintendo Wire works tirelessly to bring you the best, most relevant late-breaking Nintendo news this side of the Mushroom Kingdom. To help make ingesting all these meaty stories easier than Kirby hopped up on Miracle Fruit, we've compiled a handy list of noteworthy announcements and general industry happenings regarding the Big N in the last 24 hours. Without further ado, here's a few things we've picked up over the wire for today:
NES CLASSIC EDITIONS SELL OUT INSTANTANEOUSLY
Best Buy received one final push for the soon-to-be discontinued NES Classic Edition this morning. Unsurprisingly, the miniature nostalgia box sold out instantly, ending in huge disappointment for many die hard Nintendo fans who had camped out since the break of dawn. Check out the insanity in the link below where we tally some of the highs and lows of fellow hunters' experiences.
Read more: NES Classic Editions sell out instantly during today's Best Buy restock
PUYO PUYO TETRIS IS DANGEROUSLY ADDICTIVE
Ricky Berg — master of falling block puzzles and shameless Yoshi's Cookie supporter — emerges from his month-long gaming coma spent absorbed in the crossover puzzler Puyo Puyo Tetris. Check out his full review to see whether or not all the pieces fall in the right place.
Read more: Review: Puyo Puyo Tetris
NINTENDO WIRE IS GIVING AWAY TONS OF COOL STUFF
There's still time to enter our Mario Kart 8 Deluxe giveaway for your chance to win a free copy of the souped-up racer when it releases this Friday! Don't forget about the many Hylian hero figures on tap for intrepid amiibo hunters who maybe missed out on pre-orders.
Enter here: Nintendo Wire's current giveaways list
PLAY AN 8-BIT VERSION OF BREATH OF THE WILD RIGHT NOW
Inspired by Nintendo's reveal that many of Breath of the Wild's core concepts were tested in an 8-bit version of the game, Micropig Gaming lovingly set out to recreate the fully playable legendary adventure in glorious pixelated fashion.
Read more: Fan recreates Breath of the Wild's 8-bit engine
LEAGUE OF EVIL PLOTS FOR WORLD DOMINATION ON NINTENDO SWITCH
The retro styled platformer League of Evil, originally created for iOS, is planning to take over Nintendo Switch consoles! Prepare for 140+ levels of platforming bliss sometime in the (hopefully) near future.
Read more: League of Evil coming to the Nintendo Switch
JAPANESE GOOGLE PLAY CATCH POKÉMON FEVER
Special themed Pokémon GO Google Play cards were announced for release in Japan featuring the huggable mug of everyone's favorite thunder shocked pocket monster, Pikachu!
Read more: Pokémon GO Google Play Cards coming to Japan
BECOME A TRUE POKÉMASTER WITH THIS LIFE-SIZED POKÉ BALL HOLSTER
Bandai announced the release of life-sized Poké Balls that can be holstered to your hip later this year in Japan. While originally intended for foul-mouthed businessmen (for some reason), these breath mint laden Poké Balls are sure to prove a cosplayer's dream at future conventions.
Read more: Bandai releasing life-sized Poké Balls that can be holstered and hold breath mints
A MORSEL OF NEW ARMS DETAILS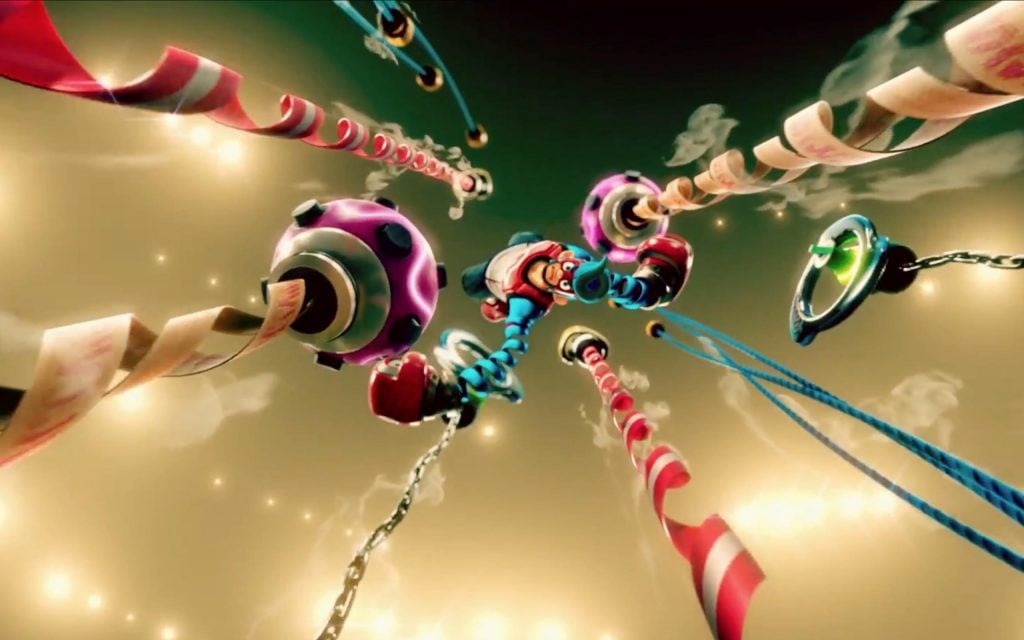 More ARMS news continues to trickle in as we come closer to stepping into the ring on June 16th. The official Japanese ARMS Twitter account shared more assets and animations for the vibrant brawler, giving focused attention on one of its equippable means of punching and alternate character skins.
Read more: ARMS shows off the Chakram and reveals alternate colors
NINTENDO MOCKS YOUR PALTRY 9,999 TOADS BY INCREASING SUPER MARIO RUN'S KINGDOM CAP TENFOLD
A new update for Super Mario Run went live today, adding new buildings, increasing the amount of Toads that can live in your town and adding achievements through Google Play and Game Center.
Read more: New update for Mario Run available, bringing game version to 2.1.0
BRAVELY SECOND REACHES A NEW SALES MILESTONE
The official Bravely Second Twitter revealed that the Final Fantasy-esque RPG managed to sell 700,000 copies since its release in Japan just two years ago — all but guaranteeing a Bravely Third is surely in the works.
Read more: Two years after release Bravely Second passes 700,000 sales worldwide
TOM HAPPS GIVETH AND TOM HAPPS TAKETH AWAY
We almost had confirmation today that Metroidvania platformer Axiom Verge was in the works for Nintendo Switch. An interview between World 1-1 and game creator Tom Happs was slightly misinterpreted, leading to clarification by Marketing Specialist Dan Adelman later in the day.
Read more: Axiom Verge confirmed to be making the Switch

That's all for today! For all your future Nintendo news, stay plugged in to Nintendo Wire.
Leave a Comment