Ever since its full E3 2018 reveal, Nintendo has been supplying daily updates to the Super Smash Bros. Ultimate website. Fighter spotlights, Assist Trophies, Pokémon, new music, and more are all being shown off to get you ready for the biggest crossover around! Let's have a look at what Nintendo shared for the week of August 5th:
8/5 – The hunt is back on with Samus Aran's return!

With her power suit good to go and plenty of projecticles, Samus' return is always welcome when it comes to Smash. Now with Ridley on the scene it's going to take a certain class of bounty hunter to keep him in check, and no one can do it quite like she does. Fittingly enough, her kicking off this week could've been a hint at what genre our next new fighter hails from…
8/6 – Bomber crashes the party as an all new Kirby series item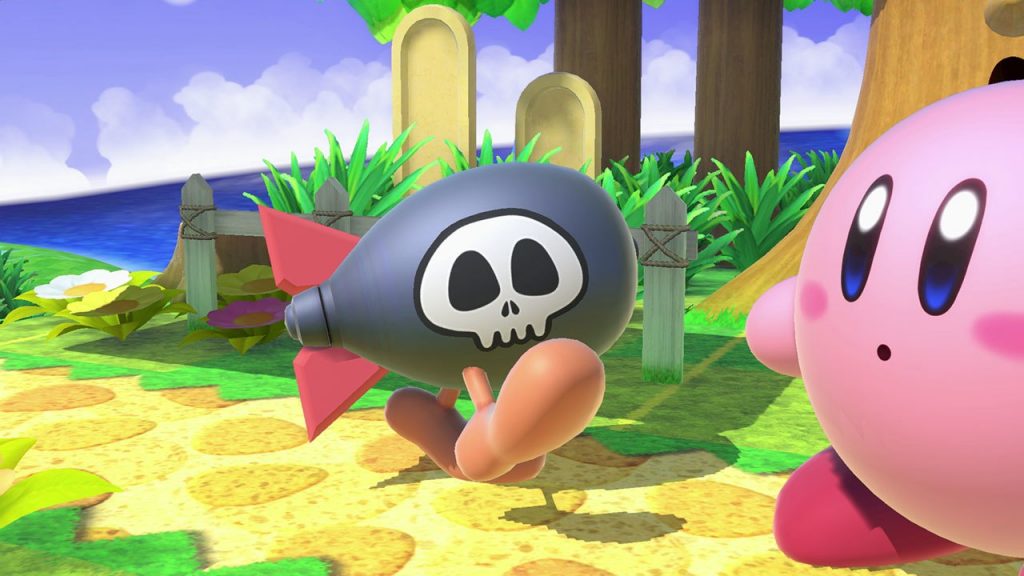 All the way from Dream Land we've got a brand new item in the form of the Bomber. This Crash giving enemy may not be copyable in Smash, but it still brings its own explosive power. By holding it up for a moment, you'll trigger a full explosion with concentrated power at the center. Since it can't be thrown, this one's going to really make a blast in multiplayer.
---
That did it for the usual, one-per day updates this week, but on August 8th Nintendo threw more Smash information at us than we could've fully predicted. Take it in all over again, or see what you (somehow) missed out on by watching the…
8/8 – Super Smash Bros. Ultimate Direct

This one kept us all on the edge of our seats as we took in every detail, every second of director Masahiro Sakurai's presentation. With some truly spectacular character reveals, staggering statements of how much content will be in the game, a wealth of new items and modes, and the game's main menu in its (almost) full glory, this was easily the most illumination we've gotten on Smash Ultimate. If you want more on each of those points, check out:
But that's not all…
After the Direct, the entire Smash Ultimate website saw an expansion, adding in screenshots and information for much of what we detailed and more. Definitely check it out for yourself, though in the spirit of things we're going to highlight a couple blog updates in particular:
New Bloody Tears / Monster Dance arrangement lives up to Castlevania's musical legacy

The first available music for the newly welcomed Castlevania series made its way to the site, giving us this Simon's Quest double feature. Bloody Tears / Monster Dance will be playable along with 33 other tracks from the series on the new Dracula's Castle stage. Sounds like in every way, Castlevania has been welcomed with open arms!
Take back the night with Simon Belmont!

With Vampire Killer in hand and a fresh design that suits his classic depictions perfectly, Simon Belmont is officially here! This is one we've been waiting for and his depiction is spot on. Best of all, he fills a role the game was lacking, that being an extra long ranged fighter. His whip goes further than any standard, non-projectile attacks in the game but leaves him open at times, making for a tradeoff that players will have to be smart about using.
Hide every banana, warn every Kong – King K. Rool is back!

Ever wanted to see a deranged, royal crocodile fire a blunderbuss at a gorilla? Because that's just a taste of what this King is bringing to Smash. Big, bad, and with plenty of tricks ups his cape, K. Rool brings not just another villain to the mix but the first Donkey Kong character addition since Diddy's recruitment in Brawl.
Best of all, we have received confirmation that amiibo of Simon, K. Rool, and the other three newly revealed characters will be available sometime in the future. You've been warned collectors, and as always we'll make sure to let you know when you can grab them via Amiibo News.

That's all for last week's (extra large dose of) news, but look forward to plenty more updates leading all the way up to Super Smash Bros. Ultimate's big release on December 7th.
Leave a Comment