Yesterday saw the release of Nintendo's financial results for the second quarter of the fiscal year ending in March 2024. Among details like an updated number of total Nintendo Switch consoles sold, Nintendo also detailed exactly how the release of The Super Mario Bros. Movie has contributed to their success this year, especially in Mario-related titles.
The Super Mario Bros. Movie made an estimated $1.36 billion at the box office, making it the highest grossing film based on a video game of all time, and the second highest grossing animated film of all time. Nintendo also believes that the success of the film has "achieved significant results in driving forward [their] strategy of expanding the number of people who have access to Nintendo IP" citing the fact that the film was estimated to have been seen by 169.84 million people around the world across audiences young and old, both with and without any gaming experience. They also point out that The Super Mario Bros. Movie was available in many regions where the Nintendo Switch is not sold, highlighting that the movie is expanding access to Nintendo IP.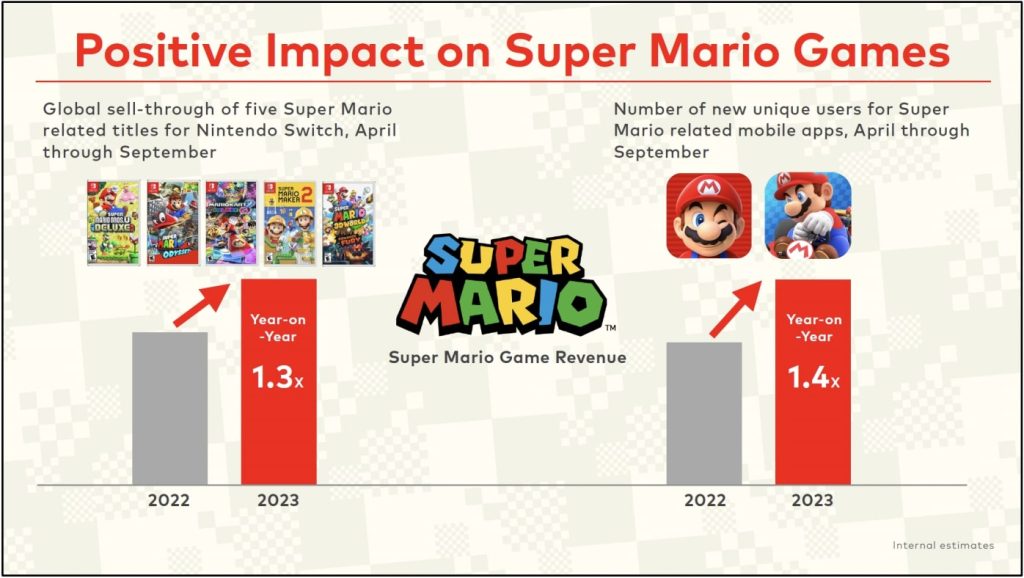 Also detailed were hard numbers showing the impact that The Super Mario Bros. Movie has had on recent business. Global sell-through of Super Mario titles increased 1.3x in April-September of 2023 vs April-September of 2022, and the number of new, unique users of Super Mario-related mobile apps increased 1.4x in that same time period.
From their financial report, it's clear that Nintendo views The Super Mario Bros. Movie as massively successful, not only financially but also as a viable opportunity to grow their business outside of video games in a way that can funnel the audience back to their video game products. I don't think it's any surprise that, in the wake of The Super Mario Bros. Movie's success, many of Nintendo's upcoming Switch releases are Super Mario-related, with Super Mario RPG, Princess Peach: Showtime!, Luigi's Mansion 2 HD, Mario vs. Donkey Kong, and Paper Mario: The Thousand Year Door all on the horizon.
I also expect that these extremely positive results have inspired confidence in other non-game ventures, which likely led to yesterday's announcement of a live-action The Legend of Zelda film. Time will tell if there is even more to come for Nintendo on the big screen, but with the success of The Super Mario Bros. Movie and the announcement of a live-action Zelda, I think it's looking likely that Nintendo will be a big name at the box office in the coming years.
Leave a Comment