It's been a big day for Nintendo's golden child – the new Bowser's Fury campaign within the Switch port of Super Mario 3D World was shown for the first time, a Mario themed Switch console as well as the second set of Super Mario Bros. 35th anniversary pins were revealed, and there was even a bit of amiibo news from the Mushroom Kingdom. The Mario news shows no signs of slowing today, as a new event has been announced for Super Mario Bros. 35, and it's a big one! 
The Super Mario Bros. 35 World Count Challenge will task players with specific missions during three events that will take place in January, February, and March. As for January's mission, it's a tall order! From Monday, January 18th, at 11 p.m. PT until Monday, January 25th, at 10:59 p.m. PT, Nintendo wants to see 3.5 million Bowsers defeated. That's a full week to stomp on some spiny royalty!
 Now, playing in the 35-player battle mode doesn't always guarantee a fight with Bowser, so to help with this gargantuan task, the Special Battle! that week will feature courses that offer additional opportunities to battle against the Lord of the Koopas.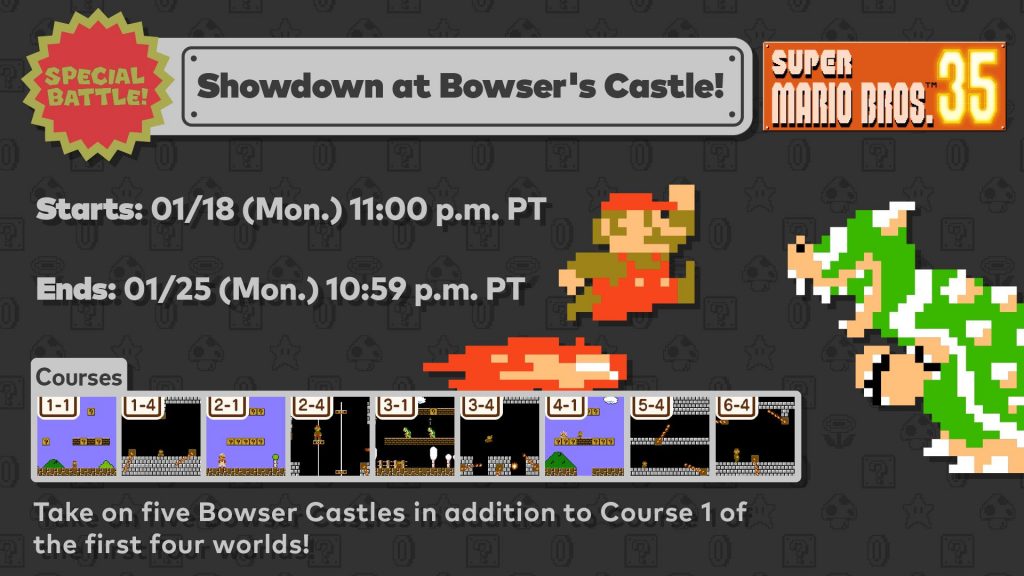 As a reward for reaching this goal, individuals who defeated Mario's arch-nemesis at least once during the event will be eligible to receive 350 My Nintendo Platinum Points — which can be redeemed for physical My Nintendo rewards! Players must also have an active Nintendo account, an active Nintendo Switch Online membership, and will need to opt-in to send their play reports for Super Mario Bros. 35 to Nintendo to earn the Platinum Points too.
Nintendo will announce the details for February and March's events in the future. Hopefully, we'll be rewarded with My Nintendo points each time! We'll be on top of that info faster than Mario can pull off a triple-jump once it's revealed, so be sure to stick around here at Nintendo Wire!
Leave a Comment