Today's Pokémon Direct revealed two upcoming paid DLC packs for last year's Nintendo Switch titles Pokémon Sword and Shield: "The Isle of Armor" and "The Crown Tundra."
The two packs will make up the Pokémon Sword and Shield "Expansion Pass," which, when purchased, will allow players to get both packs when they release.
The Expansion Pass, which developer Game Freak indicated will replace a traditional "third version" enhanced re-release of Sword and Shield (like Pokémon Yellow Version, Crystal Version, Emerald Version, Platinum Version, Black 2 and White 2 Versions, and Ultra Sun and Ultra Moon before it), will contain new locations, new and returning Pokémon, and new characters.
The Expansion Pass's content will be able to be accessed with players' existing save data — as long as they've at least reached the Wild Area.
Part 1 of the Expansion Pass, "The Isle of Armor," will launch by the end of June 2020 and will contain the new "Isle of Armor" area, new Pokémon, new clothing items, and "handy features, items, and more."
Players will journey across the titular Isle of Armor as the apprentice of a new character named Mustard, who was previously the mentor of (now former) Galar Pokémon League Champion Leon.
At the dojo Mustard runs, players will also encounter new rival characters: the Poison-Type specialist Klara (in Sword) or the Psychic-Type specialist Avery (in Shield).
Part 1 will also feature the return of Apricorns from Pokémon Gold, Silver, and Crystal Versions, Tutor Moves (including all-new moves), and the Exp. Charm item.
Apricorns in Gold, Silver, and Crystal Versions can be developed into specialized Poké Balls like the Level Ball and Moon Ball; Apricorn-based Balls already appeared in Sword and Shield but, of course, without their Apricorn bases.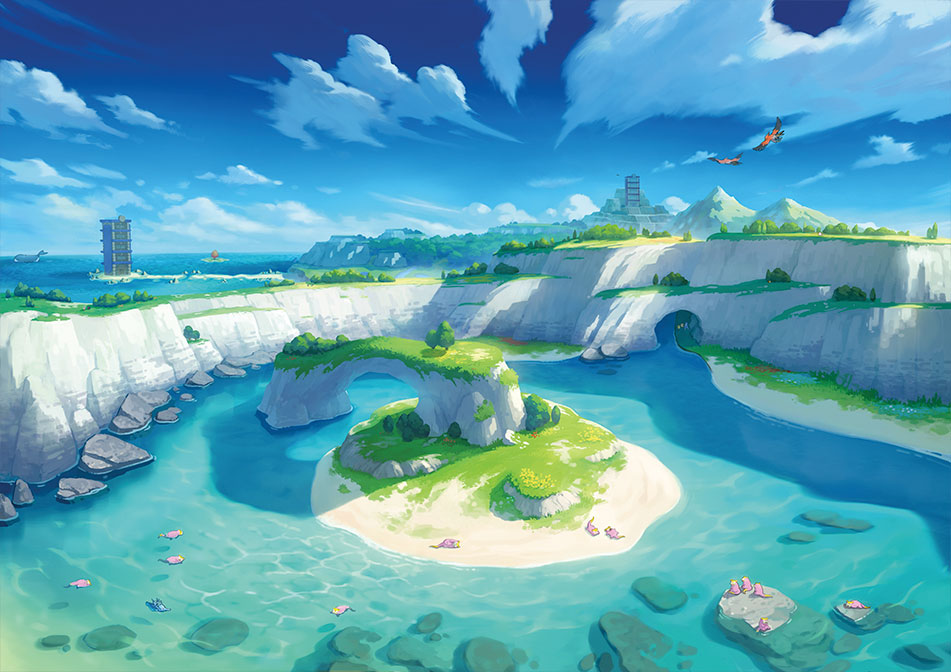 "In The Isle of Armor expansion, you'll head to The Isle of Armor, the stage of your new adventure in the Galar region. The Isle of Armor is a giant island full of environments not seen in Galar before—you'll find wave-swept beaches, forests, bogs, caves, and sand dunes! There are also plenty of Pokémon that make this island their home, living freely amid the lush natural surroundings. There's even a dojo here that specializes in some very particular training styles! You and your Pokémon will take up an apprenticeship under the master of this dojo and train hard to become even stronger."
Part 2 of the Expansion Pass, called "The Crown Tundra," will feature the new "Crown Tundra" area, new Pokémon, a new co-op play feature, new clothing items, and more.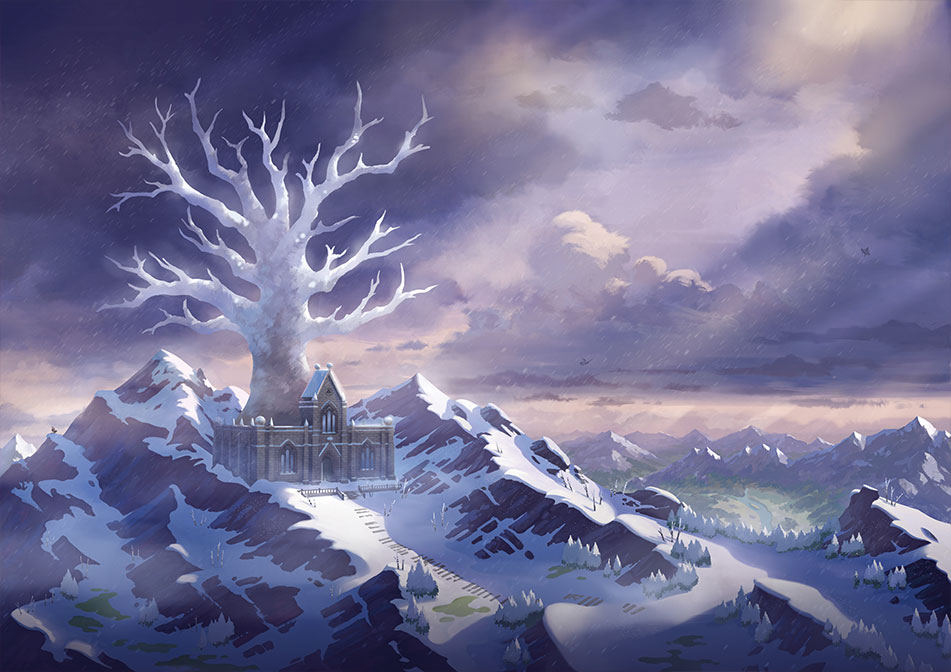 The Crown Tundra expansion is set in the snow-swept realm of The Crown Tundra. See for yourself the beautiful scenery of this shining, silvery landscape! In this frigid area, with its jagged winter mountains, people live in small communities where they support and rely on one another. A certain person will appoint you as the leader of their exploration team in The Crown Tundra. You'll then be tasked with investigating the reaches of this frozen land. And remember the Pokémon Dens that you've only been able to glimpse during Max Raid Battles? Well, now you'll be able to explore their full depths!
Both new areas will function as "open world" locations, similar to the Wild Area in the Pokémon Sword and Shield base game.
Over 100 returning Pokémon from past games will also be added as part of a free update at the same time as both DLC releases, meaning a total of over 200 returning Pokémon will be added to the Galar Poké Dex.
Volcarona, Kingdra, Magnezone, Lycanroc, Zorua, Dedenne, Azurill, and Chansey are among the returning Pokémon that will be added in the "Isle of Armor" DLC, while Beldum, Nidorino, Aurorus, Cryogonal, Garchomp, Crobat, Elekid, and Sealeo will appear in "The Crown Tundra."
Players that do not own the Expansion Pass will only be able to obtain these newly-returning Pokémon by trading with someone with the DLC or by using cloud service Pokémon Home, which releases next month.
Among the brand-new Pokémon being added with the Expansion Pass are Kubfu, Urshifu, Gigantamax Urshifu, and Calyrex — all Legendary Pokémon.
Other brand-new Legendaries, including new Regis and Pokémon apparently inspired by the Gen I birds Articuno, Zapdos, and Moltres, will be appearing, as well.
The Expansion Pass will also add Gigantamax forms for Rillaboom, Cinderace, and Inteleon, as well as a Galarian form for Slowpoke.
Galarian Slowpoke will be able to evolve into Galarian Slowbro and Galarian Slowking once the "Isle of Armor" and "Crown Tundra" DLC launches, respectively; evolving Galarian Slowpoke into these forms requires items that can only be found in these new settings.
Galarian Slowpoke will also be available in the base game starting today as part of a free update along with new characters Klara and Avery, who will make cameos prior to their debuts in the DLC.
Finally, players that pre-purchase the Expansion Pass can receive a special purchase bonus of the Pikachu Uniform Set and the Eevee Uniform Set.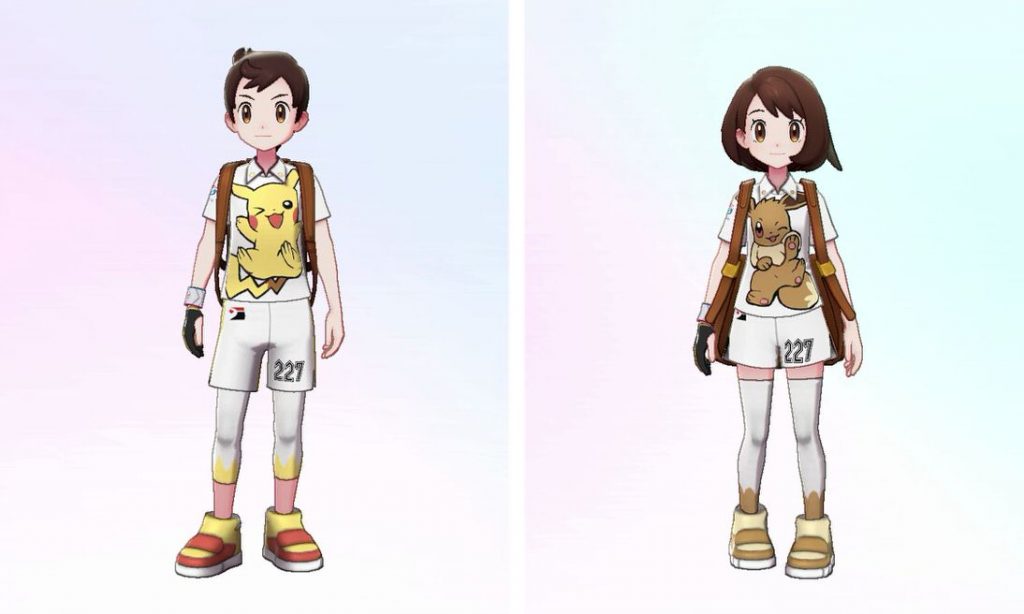 Both sets will contain five clothing items and will be accessible via codes players will receive after pre-purchase.
Those interested can pre-purchase the Expansion Pass DLC now for $29.99 USD.
Check out the full release schedule below and let us know what you think of the Expansion Pass in the comments!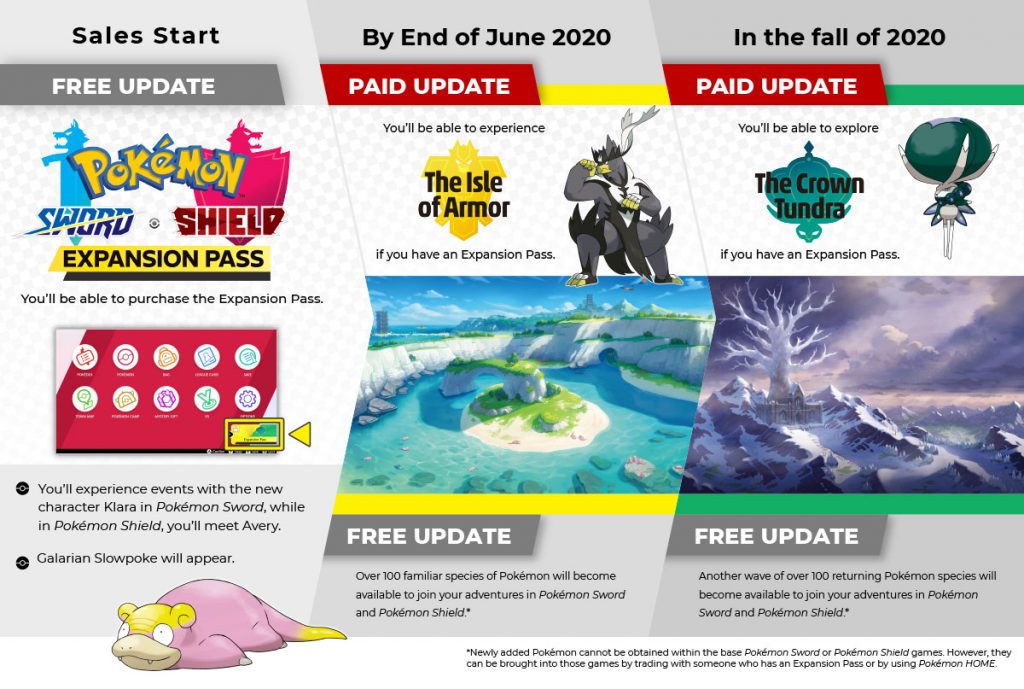 Leave a Comment