Welcome to the Nintendo Wiretap! Each day the team here at Nintendo Wire works tirelessly to bring you the best, most relevant late-breaking Nintendo news this side of the Mushroom Kingdom. To help make ingesting all these meaty stories easier than Kirby hopped up on Miracle Fruit, we've compiled a handy list of noteworthy announcements and general industry happenings regarding the Big N in the last 24 hours. Without further ado, here's a few things we've picked up over the wire for today:
GAME FREAK IGNITES OUR HOPES FOR THE NEXT POKÉMON GAME WITH A MYSTERIOUS JOB LISTING
Another job listing courtesy of Game Freak set the internet ablaze with Poké speculation for a third version of Sun and Moon hitting up 3DS systems. Despite calling for an experienced 3D asset programmer to help with development for an unspecified 3DS RPG, we're still hopeful a Switch version is simultaneously in the works.
Read more: Game Freak recruiting for a 3DS RPG
CULT-CLASSIC DOCUMENTARY THE KING OF KONG GETS SCHWIFTY
In more bizarre news, a ten-year-old documentary about the dark side of competitive gaming, The King of Kong: A Fistful of Quarters, is being adapted into a stage musical.
Read more: The King of Kong to be turned into a musical
ULTRA STREET FIGHTER II STRIKES BACK AND CLASSIC ASTEROIDS GETS PUMPED FULL OF DRUGS IN THIS WEEK'S ESHOP UPDATE
It's a week of retro revivals in this week's eShop update, with the latest re-re-re-re-release of Street Fighter II packing a serious punch, followed by Astro Duel Deluxe's asteroid-studded standoff for galactic glory.
Read more: eShop Update: Week of 5/25/17 (North America)
EEVEE ONCE AGAIN STUFFED WITH SUGAR, SPICE AND EVERYTHING NICE (AND COTTON)
Attention Poké fanatics: Eevee has been restocked at Build-A-Bear with both online-only bundles and in-store collections available for purchase. Though, let's be honest, half the fun is building it yourself, right? So go find a store near you and evolve your very own fluffy pocket pal!
Read more: Eevee is back in stock at Build-A-Bear Workshop
ANOTHER FLURRY OF ARMS NEWS PUNCHES YOUR LIGHTS OUT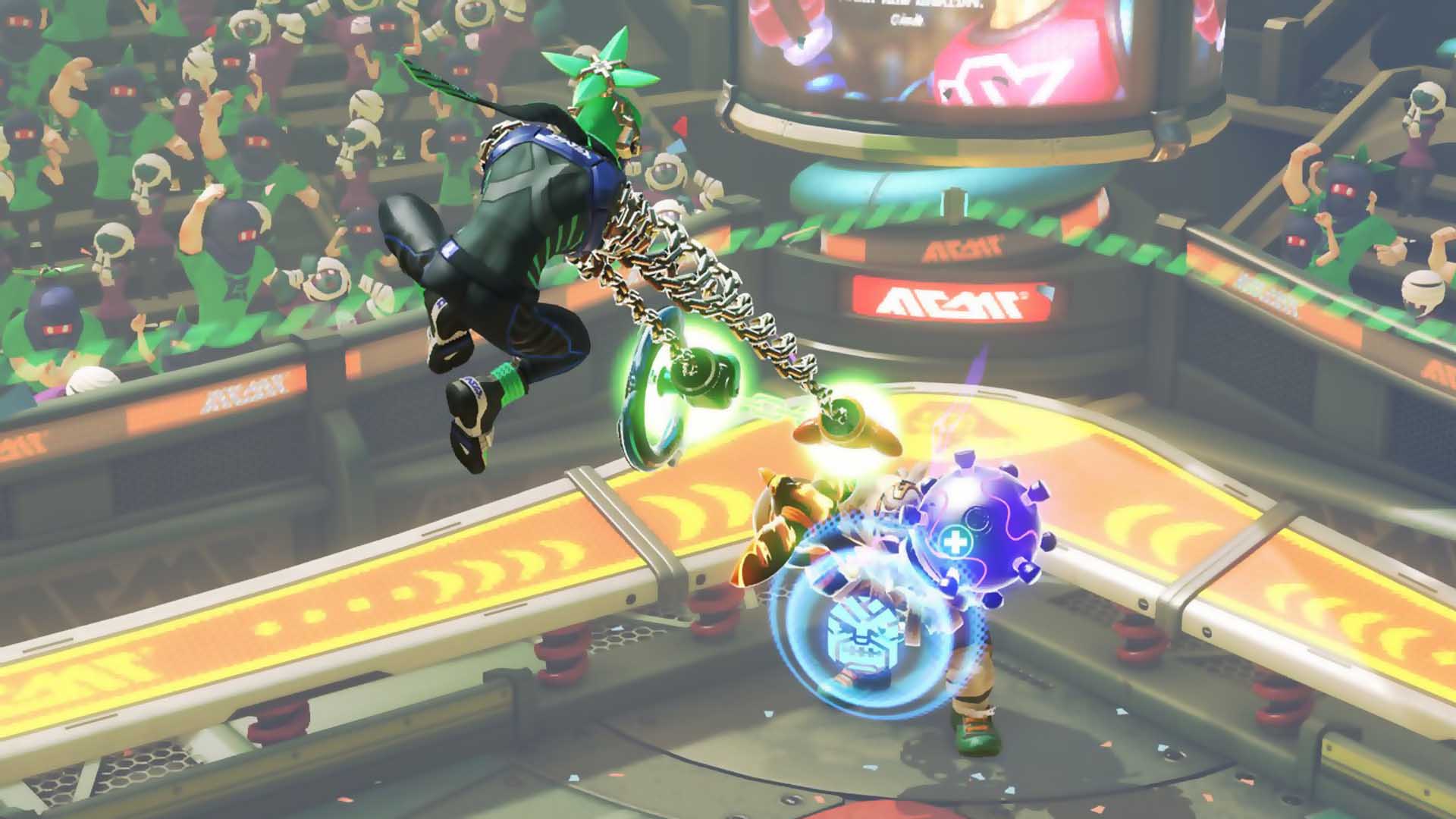 We've got another exciting round up of ARMS news coming your way, featuring a triangle system gameplay mechanic and character spotlight on the ramen bomber herself, Min Min. The Global Testpunch event can't come soon enough!
Read more: ARMS news roundup: Min Min, tips from Biff and countdown for Testpunch
STAY FRESH WITH INKLINE'S RETURNING FAN-FAVORITE OUTFITS
The official Japan Twitter account for Splatoon 2 leaked Inkline's initial wave of clothing. Fashion savvy squid kid Jennifer Burch runs you through all the fresh new styles super jumping to Splatoon 2 when it launches July 21st.
Read more: Inkline tease initial clothing line for Splatoon 2
A TIME LAPSE OF BROOKLYN'S GORGEOUS BREATH OF THE WILD MURAL IN THE MAKING
The official Legend of Zelda Facebook page released a video that provides a behind-the-scenes look at the creative process behind the beautiful Legend of Zelda: Breath of the Wild mural currently on display in Brooklyn, New York. If you happen to be in the area, apparently it's right by Brooklyn Bowl. I should really take a trip out there next time I hit up Barcade. Who's with me?
Watch here: New video showcases how Breath of the Wild mural was created in New York
CELICA'S A BEAST IN NEW FIRE EMBLEM ECHOES DLC PACK TRAILER
A thrilling new trailer for one of today's new Fire Emblem Echoes DLC packs hit the web this morning. It's definitely worth a peek for those of you slowly approaching Valentia's endgame.
Read more: (Video) Fire Emblem Echoes Undaunted Heroes pack trailer
PIKMIN SCURRY THROUGH MY NINTENDO
In preparation for Hey! Pikmin, the latest My Nintendo Rewards are all delightfully Pikmin themed. I can personally attest to the majesty of the brand new 3DS home theme on offer, not to mention the Pikmin 3 DLC packs for a mere pittance of Gold Points.
Read more: My Nintendo news for 5/25
THE FINAL SHIPMENT OF JAPANESE BADGE ARCADE CATCHERS ARRIVE TODAY
As we sadly reported earlier this month, Nintendo Badge Arcade's counterpart in Japan will be ceasing new badge additions beyond this week. To commemorate this momentous occasion, new Ashley and pixel Pokémon badges will be the prizes in these final new catchers.
Read more: Nintendo Badge Arcade releases final new badges for Japan
ANIMAL CROSSING TAKES RESIDENCE IN THE BADGE ARCADE
For those of you in North America, a mob of new villagers are moving into the Badge Arcade this week! There are also a slew of leftover Nikki catchers to obsess over from last week's offerings, not to mention a splattering of repeat Splatoon sets to collect.
Read more: Badge Arcade News: Week of 5/25/17
That's all for today! For all your future Nintendo news, stay plugged in to Nintendo Wire.
Leave a Comment