Welcome to the Daily Wiretap: Weekend Edition! Each day the team here at Nintendo Wire works tirelessly to bring you the best, most relevant late-breaking Nintendo news this side of the Mushroom Kingdom. To help make ingesting all these meaty stories easier than Kirby hopped up on Miracle Fruit, we've compiled a handy list of noteworthy announcements and general industry happenings regarding the Big N in the last 48 hours. Without further ado, here's a few things we've picked up over the wire this weekend:
SPLATOON 2 GLOBAL TESTFIRE STEALS OUR HEARTS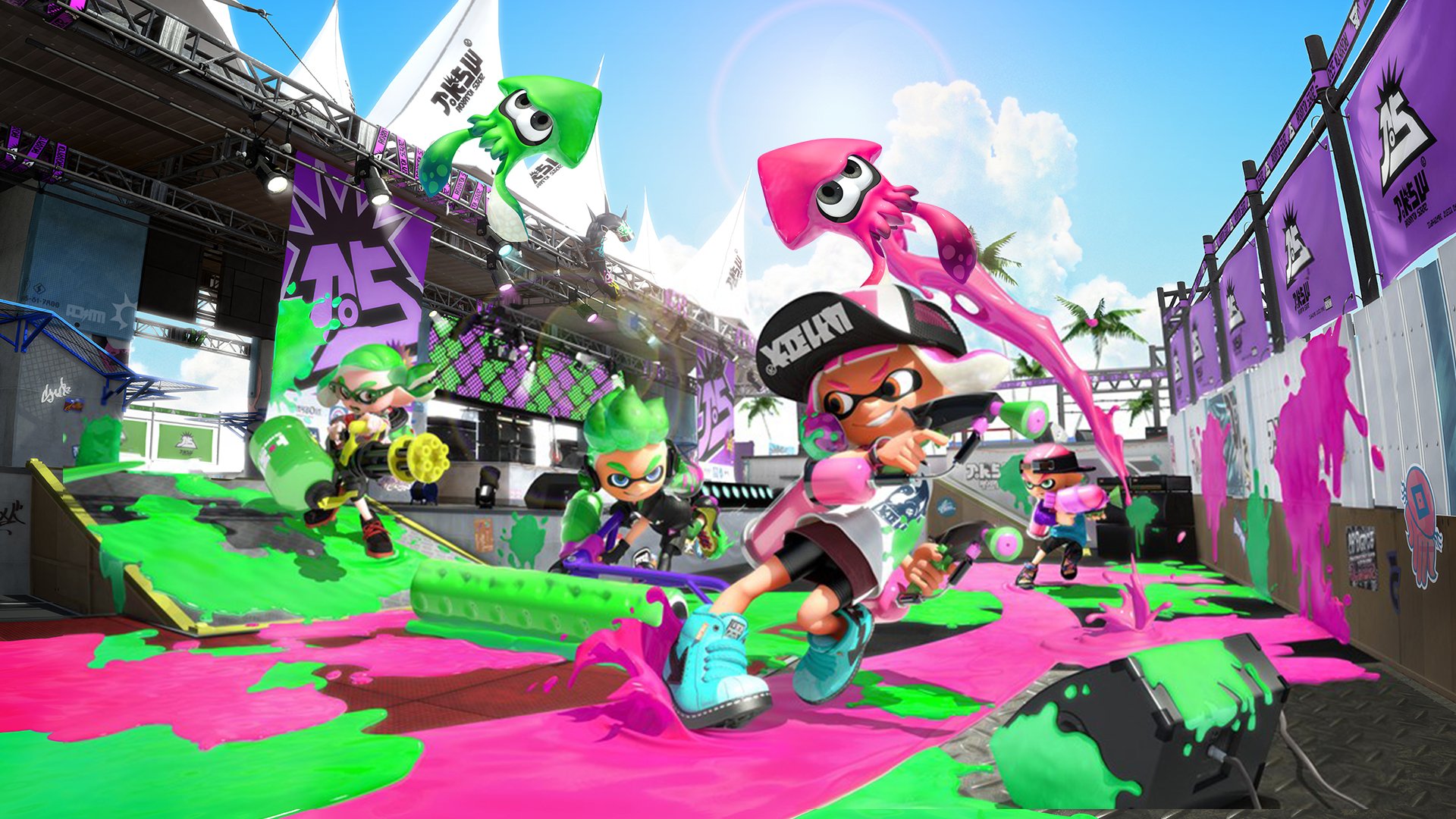 Too busy to participate in this weekend's Splatoon 2 Global Testfire? Kid squid Ben Fruzzetti is here to give you the full scoop on everything you missed. From subtle tweaks to the game's UI to fun and varied loadouts, we simply can't wait to wrap our tentacles around the full experience later this summer.
Read more: Splatoon 2 Global Testfire impressions
HYPE LEVELS INTENSIFY AS NINTENDO LOOKS TO IMPRESS AT E3 2017
According to Nintendo of America President Reggie Fils-Aimé, the House of Mario will be bringing out the big guns this year at E3 for both Switch and the 3DS. Will we finally learn what Retro Studios has been up to? Will Metroid or F-Zero get the sequel they deserve? Let the roller coaster of emotions and speculation begin.
Read more: Big things coming to E3 2017 from Nintendo says Reggie
MARIO AND LUIGI WORKING OVERTIME TO GET A SWITCH IN YOUR LIVING ROOM
Missed out on the Switch at launch? Nintendo of America officially confirmed today via an amusing tweet that more Switch units are being sent to retailers as we speak! Be sure to keep your eyes peeled when shopping at local retailers in the coming days, or simply follow us on Twitter to know exactly when and where the hybrid system pops up in the wild.
Read more: Nintendo of America confirms Switch restocks are underway
REGGIE FILS-AIMÉ'S BODY STILL READY AT AGE 56
Nintendo of America President Reggie Fils-Aimé turned 56 this weekend! In honor of the man behind the legend, we took a trip down memory lane at some of his most memorable public appearances over the years.
Watch more: Happy 56th birthday, Reggie Fils-Aimé
ATLUS ANNOUNCES SHIN MEGAMI TENSEI: DEEP STRANGE JOURNEY FOR 3DS
An Atlus event in Japan dropped some major bombs today for RPG enthusiasts, including an update on its longest running, demon fusing franchise — Shin Megami Tensei. A remastered version of 2009's Shin Megami Tensei: Strange Journey will be exorcising Japanese 3DS' later this fall. Oh yeah, there was also a vague tease for Shin Megami Tensei's Switch debut, but it's barely worth mentioning.
Read more: Shin Megami Tensei: Deep Strange Journey announced for 3DS, new Switch image surfaces
ATLUS ANNOUNCES ETRIAN MYSTERY DUNGEON 2 FOR 3DS
A surprise announcement for Etrian Mystery Dungeon 2 lit the world on fire today. Unfortunately, it wasn't accompanied by any localization announcements for western dungeon crawling fans, but should hopefully prove imminent given the original's positive reception.
Read more: Etrian Mystery Dungeon 2 announced, finds its way to Japan this August
RADIANT HISTORIA: PERFECT CHRONOLOGY LOOKS JUST AS GORGEOUS AS THE ORIGINAL
The drip-feed of news for the upcoming Radiant Historia 3DS port continues this weekend. We now have our first glimpse of gameplay via a Japanese trailer, along with a reveal of a brand new party member, Nemesia.
Read more: Radiant Historia: Perfect Chronology gets its debut Japanese trailer
NEW DETAILS ON THE DEVELOPMENT PROCESS BEHIND STEAMWORLD DIG 2
The Nintendo Minute team went hands-on with the upcoming Switch title SteamWorld Dig 2. Check out some new gameplay footage for all the 'Dig Dug meets Metroidvania' action, as well as a brief interview with the team at Image & Form detailing the development process.
Read more: Nintendo Minute goes hands-on with SteamWorld Dig 2
#1 RANKED SMASH 4 PLAYER ZERO FALLS FROM GRACE AT 2GGC CIVIL WAR TOURNEY
In what's sure to be one of the greatest upsets in Smash history, top ranked Super Smash Bros. for Wii U player ZeRo has bowed out of the 2GGC Civil War tournament at 49th, his lowest ranking ever. Our resident esports expert Ben Fruzzetti takes a deep dive into all the highlights of the ongoing tournament below.
Read more: #1 ranked Smash 4 player ZeRo upset; gets 49th at 2GGC Civil War
SPLATOON 2 HAS A DELIGHTFUL MUSICAL EASTER EGG
A tiny Easter egg was discovered in Spatoon 2's matchmaking lobby. Messing around with various buttons and the left analog stick will trigger singing sound effects and distort the background music's pitch. While certainly a fun distraction, here's hoping it doesn't completely replace the arcade inspired minigames featured in Splatoon's original release.
Read more: Splatoon 2's musical Easter egg
TRIFORCE EASTER EGG DISCOVERED IN BREATH OF THE WILD
Believe it or not, a Triforce Easter egg was found hiding in plain sight right at the start of Link's adventure. Dorkly editor and Zelda Fanatic Tristan Cooper made the difficult discovery, further proving it will be years until all of Breath of the Wild's many secrets are unearthed.
Read more: Triforce Easter egg discovered in Breath of the Wild
BREATH OF THE WILD'S PUNGENT PRIZE FOR FINDING ALL 900 KOROKS
Determined to find all 900 Koroks scattered across Breath of the Wild's wide open world? You may want to rethink your priorities, as the reward for Hyrule's intrepid game of hide-and-seek reeks with disappointment.
Read more: Finding all 900 Koroks in Breath of the Wild rewards you with…

That's all for today! For all your future Nintendo news, stay plugged in to Nintendo Wire.
Leave a Comment