Welcome to the Daily Wiretap! Each day the team here at Nintendo Wire works tirelessly to bring you the best, most relevant late-breaking Nintendo news this side of the Mushroom Kingdom. To help make ingesting all these meaty stories easier than Kirby hopped up on Miracle Fruit, we've compiled a handy list of noteworthy announcements and general industry happenings regarding the Big N in the last 24 hours. Without further ado, here's a few things we've picked up over the wire for today:
NINTENDO WIRE'S COMPLETE GUIDE TO MARIO SPORTS SUPERSTARS AMIIBO CARDS
Struggling to find a complete reference guide for all of tomorrow's shiny new amiibo cards? We've compiled each and every card in the deck for your viewing pleasure. Even better, sign up for a Nintendo Wire account to conveniently keep track of your entire amiibo collection! Who knows, maybe even one day yours can rival that of the great Amiibo Jason's himself!
Pine over here: Mario Sports Superstars amiibo Card Guide
NINTENDO SWITCH RESTOCK COMING TO TOYS"R"US THIS SATURDAY
I hope you didn't have any plans Friday night, because Toys"R"Us announced a restock for Nintendo's highly coveted portable console hitting retail stores this Saturday. Units will most definitely be limited, so make sure you get in line bright and early. I hear DICK'S Sporting Goods has some great deals on camping gear. Just sayin'…
Read more: Report: Nintendo Switch restock coming to Toys"R"Us this Saturday
HAS-BEEN HEROES, SNAKE PASS, AND MORE SLITHER ONTO THE NINTENDO ESHOP
There are lots of fantastic games for Switch owners to sift through starting today! Check out my thoughts on all this week's eShop offerings, from the addictive rogue-like Has-Been Heroes to the platforming collectathon Snake Pass. Can you believe the Wii U missed its first Virtual Console release in months? Well, okay, maybe it's not that unbelievable…
Read more: eShop Update: Week of 3/23/17 (North America)
PIT TAKES FLIGHT ON MY NINTENDO
A bevvy of Kid Icarus rewards struck My Nintendo, from steep discounts on all three of Pit's mythical adventures to beautifully animated shorts previously exclusive to the Nintendo Video app. Here's hoping your stash of Gold Points hasn't expired yet!
Read more: Kid Icarus takes flight on My Nintendo
SUPER MARIO RUN LEAPS ONTO GOOGLE PLAY STORE
Android owners finally get to experience the portly plumber's first mobile outing for themselves, as Super Mario Run stumbles on the Google Play store. Don't forget to link the game to your My Nintendo accounts to make it rain Platinum Points all over today's Kid Icarus rewards!
Read more: Super Mario Run now available on Google Play store
JONTRON'S POLITICAL COMMENTARY GETS HIM EJECTED FROM YOOKA-LAYLEE'S VOICE CAST
JonTron continues to feel the wave of backlash for controversial statements made during a live debate with popular YouTuber Destiny. In light of this character-revealing incident, Playtonic Games issued a statement on the matter, effectively removing the YouTube celebrity's likeness entirely from its upcoming 3D platformer.
Read more: Playtonic Games removes YouTuber JonTron from Yooka-Laylee after controversy
ACE ATTORNEY ANNIVERSARY CELEBRATIONS CONTINUE
Capcom's not done celebrating the Ace Attorney franchise's 15th anniversary just yet! A livestream dedicated to the momentous occasion is scheduled to air on April 17th, providing a tribute to the series' history and tease for the upcoming The Great Ace Attorney 2.
Read more: Capcom to hold an Ace Attorney anniversary live-stream on April 17th
THE FATE OF A MONSTER BOY PHYSICAL RELEASE RESTS IN THE HANDS OF FANS
FDG Entertainment took to Twitter today, asking fans to vote on whether they'd like to see a physical release for its upcoming spiritual successor to Wonder Boy III. In case you were wondering, the answer is yes, and you should vote as such right here, right now.
Read more: Monster Boy physical release teased, requires fan participation
THE MANY WEAPONS AND STAGES OF SPLATOON 2'S GLOBAL TESTFIRE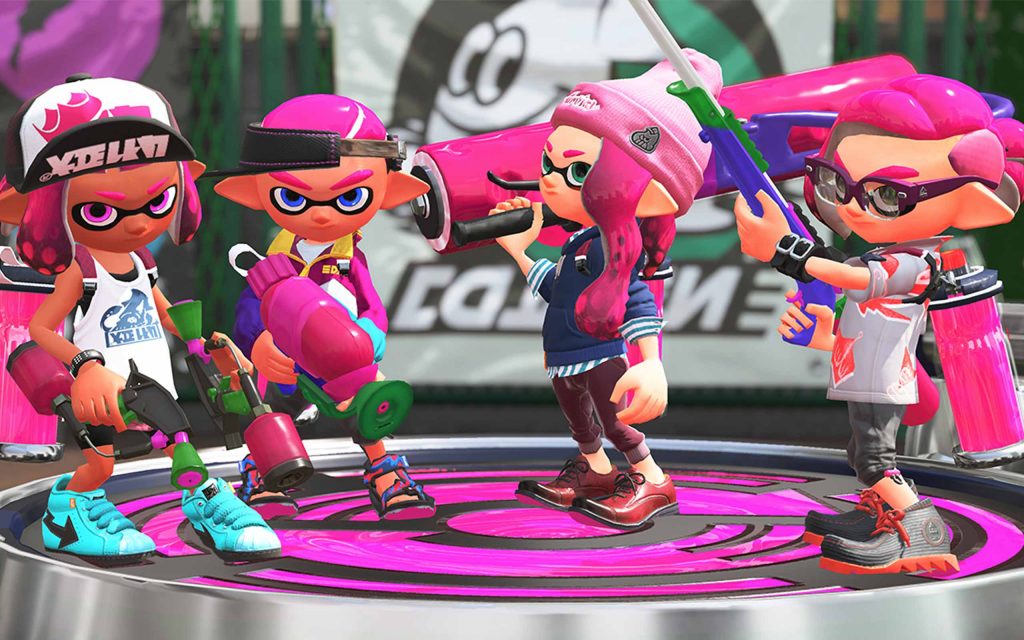 You've gotta be squidding me! You forgot about this weekend's Splatoon 2 Global Testfire event?! For shame. In anticipation of the splatformer's grand debut, the game's Japanese Twitter account revealed exactly which stages and weapons all you squid kids can expect to find. Remember to pre-install the game right now so you don't miss a moment of the action when the event kicks off at high noon PST tomorrow.
Read more: Splatoon 2 Global Testfire special weapons revealed
SNIPPERCLIPS WACKIER WITH A BUDDY IN TOW
Nintendo of America clipped together a new trailer for its latest papercraft puzzler, showcasing some of the positive reviews garnered over the past several weeks. Coincidentally, we here at Nintendo Wire found it to be a cut above the rest, too.
Watch here: (Video) Snipperclips is better with friends
DROOL OVER THE BEAUTIFUL BOX ART FOR RADIANT HISTORIA'S JAPANESE SPECIAL EDITION
While we all (im)patiently wait for a western localization announcement, Amazon Japan felt the need to taunt us with Radiant Historia's gorgeous "Perfect Edition," revealing a slew of pre-order DLC in the process.
Read more: Amazon Japan shares Radiant Historia: Perfect Chronology box art, pre-order DLC and special edition
SUMMER BLOOMS IN THE BADGE ARCADE
This week's Badge Arcade update is officially brought to you by springtime: allergic to pollen? Here's a coffin! Pastel Pokémon lead the charge, as well as some dapper looking Super Mario Bros. badges just ripe for the plucking.
Read more: Badge Arcade News: Week of 3/23/17

That's all for today! For all your future Nintendo news, stay plugged in to Nintendo Wire.
Leave a Comment