Wargroove
Console: Nintendo Switch
Availability: Physical and digital
Genre: Strategy, Multiplayer
North American Release Date: January 31, 2019
Japanese Release Date: January 31, 2019
European Release Date: January 31, 2019
ESRB Rating: E10+
Supported Play Modes: TV, Tabletop, Handheld
No. of Players: 1-4 players
Nintendo Switch Online Support: Online Play, Save Data Cloud
File Size: 294 MB
amiibo Compatibility?: No
Developers: Chucklefish
Review Score: 9.0


Synopsis
Take to the battlefield with Wargroove, a turn-based strategy game for up to 4 players! Choose your Commander and wage war on battling factions, using your "groove" to strategically sway the fight in your favor!
When war breaks out in the Kingdom of Cherrystone, the young Queen Mercia must flee her home. Pursued by her foes, the only way to save her kingdom is travel to new lands in search of allies. But who will she meet along the way, and what sinister challenges will she face?
Choose your Commander – a vibrant cast of 12+ characters, each with their own distinct personalities and motivations. Decide your allegiance to one of four warring factions; the Cherrystone Kingdom, Heavensong Empire, Felheim Legion, and Floran Tribes.
Challenge your friends to local and online multiplayer skirmish modes with complete rule customization, as well as local and online competitive and co-op play.
Design and share online your own complex series of battlefields, with branching story paths using easy to master in-game map and campaign editors.
Follow the story of a fresh-faced and inexperienced young Queen on a quest against unworldly forces in Campaign mode, told through animated pixel art cut-scenes and dynamic battles.
Learn more about each character you encounter through a trial of boisterous bouts in Arcade mode, fighting 5 different opponents in quick succession.
Outwit the enemy in Puzzle mode, using your strategic skills to complete tricky challenges in just ONE turn.
Seek out hidden in-game content and unlockables – old school style!
Special Editions
Wargroove Deluxe Edition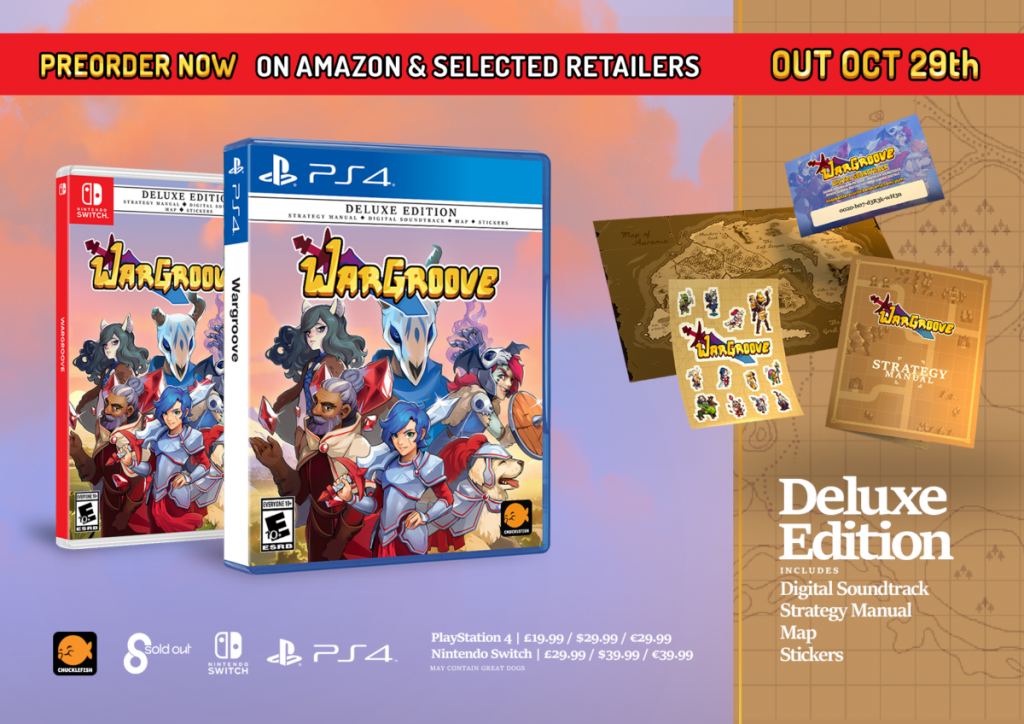 Physical disc/cartridge copy of the game
Downloadable version of the Wargroove Soundtrack by Phonetic Hero and Boss Battle Records
Commander sprite sticker sheet
Poster map of Aurania
Mini Strategy Manual with stats and tips on all units (available in English, French, Italian, German, and Spanish)
Reversible coversheet – it's a clean version of the key art without all those messy logos, but complete with standard spine so that it still looks normal on your shelf!
Released on October 29th, 2019.
Downloadable Content
Free DLC.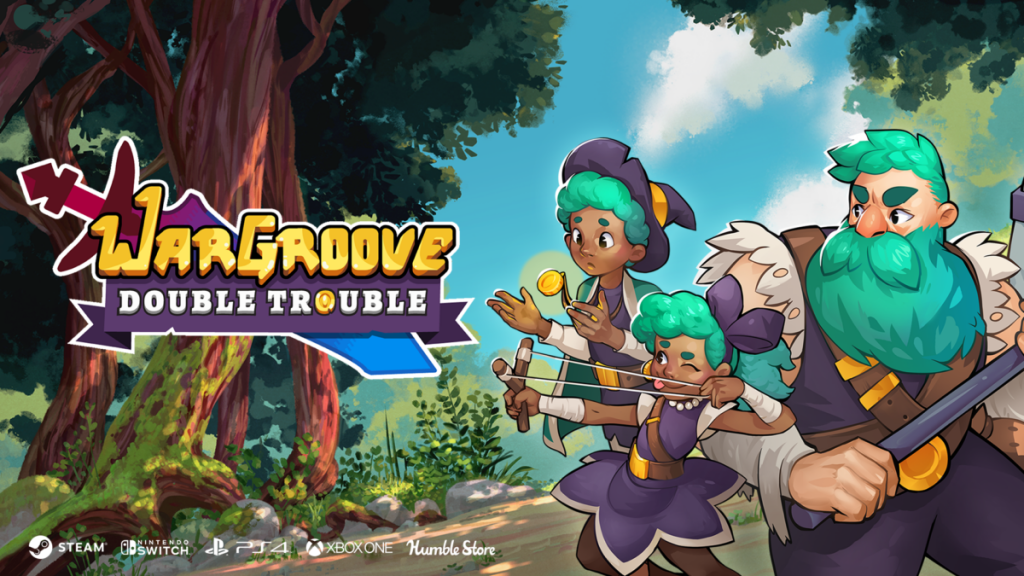 A brand new Co-Op Story Campaign (can be played couch co-op, online co-op or even solo).
3 New Roguish Commanders.
2 New Units – Thieves & Riflemen!
New Arcade missions.
Competitive online Quick Play maps, including some of the community's most competitive maps as voted for by the Groove of War team.
Public and Private Multiplayer Lobbies – you can now also play custom campaigns online!
New Volcano map theme and more updates to the custom Editor tools.
Outlaw music tracks, composed by Phonetic Hero.
New Editor tools
Unit Modifiers – Enables players to modify the damage that any unit/structure receives as a percentage, including making them invulnerable. Developers are also looking into a teleport unit action for the editor.
Metalocations – Support for "metalocations" which indicate where things last happened on the map, for example the last attacker, last defender, last recruit, last unit used, last movement path, last death etc. There will also be new actions for locations, such as copying a location area, moving location by (x,y), and boolean operations between locations.
Gizmos – New place-able entities with an on and off state such as levers and chests. Using gizmos you can override terrain (e.g. draw bridges) and will also be able to enter new actions to set and toggle the gizmo state, as well as new conditions to check it.
Counters – New actions to perform arithmetic between counters as well as setting the counter to random value, and load/storing counter values to some other variables (HP, Groove etc.). There's also a new condition to compare counters.
Actions can now play sounds.
Map upload slots will also be increased so players can upload more maps at once.
Volcano biomes now available in the map builder for all your lava needs.
Balance Changes
Spearmen – Cost increased 150 => 250 gold
Dogs – Cost decreased 200 => 150 gold
Amphibians – Damage vs structures reduced, crit damage now 45-55 => 35-45
Amphibians – Cost increased 250 => 350 gold
Trebuchets = Cost increased 900 => 1000
Balloons – Cost decreased 500 => 450
Balloons – Can now only carry the same units as wagons
Harpies – Minimum base damage vs structures 45% => 50%
Koji – Drones now take 50% damage from all units instead of 800% damage
Sedge – Sadistic rush charge speed, very slow => slow
Tenri – Tornado charge speed, medium => slow
"M" (secret Commander) – Groove charge speed, slow => medium
Ryota – Blade dash charge speed, medium => fast
Ryota – Blade dash now starts at 50% commander damage
Ryota – Blade dash now increases in damage by 5% commander damage per "jump" on blade dash route.
Ryota – Can now dash through neutral structures
Commander – Minimum base damage vs soldiers 95% => 115%
Commander – Minimum base damage vs spearmen 65% => 75%
Critical hits no longer increase RNG damage range. All damage is max +/- 5%, even after crit
Killing non unit summons (vines, crystals, etc) will no longer build groove
Releases on February 6th, 2020.
Latest News and Articles
Guides
[crfp]