It has been quite a day for the Sonic faithful. The fastest thing alive is now set to appear in multiple new animated series, have a number of cameos in various games, and star in an all-new Sonic Team title sometime next year – and that's just the tip of the Sonic news iceberg.
Amidst the deluge of announcements in today's Sonic Central stream, an HD remaster for the Nintendo Wii classic, Sonic Colors, has been revealed! This remastered adventure is packed with visual improvements, enhanced controls, bonus content, and features a new 'Rival Rush' mode that lets players square off in a race against Metal Sonic to unlock in-game rewards.
Developed by the award-winning studio, Blind Squirrel Entertainment, Sonic Colors: Ultimate brings a fresh hue to the celebrated game with stunning visuals, additional features, a new mode, and improved gameplay enhancements, providing players the ultimate Sonic experience.
Three versions of the game will be available to pre-order soon, each offering various goodies and extras, including a Digital Deluxe edition that will provide early access to the full game for those who just gotta go fast.
Standard Retail Physical Pre-Order – $39.99
Sonic Colors: Ultimate

Exclusive Baby Sonic Keychain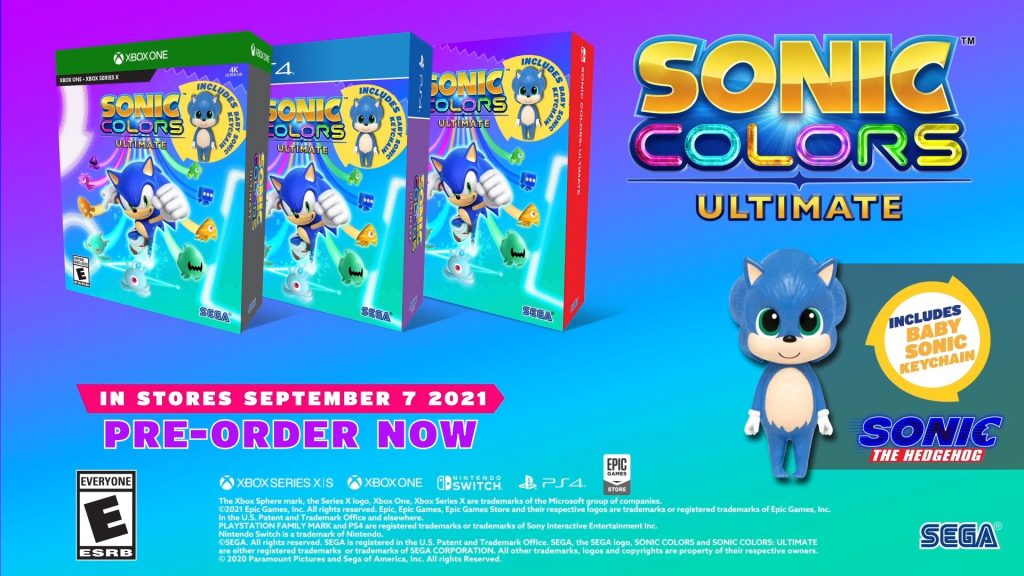 Digital Standard – $39.99
Sonic Movie Boost –

Harness all the power of Sonic from the hit Paramount Pictures movie and gain an exclusive electric boost and aura.

Exclusive Player Icons –

Stand out from the crowd with your own exclusive player icons.

Sonic Colors: Ultimate
Digital Deluxe – $44.99
Early Access –

Hit the ground running and experience Sonic Colors Ultimate early on Friday, September 3, 2021 at 6:00 PDT // 13:00 GMT.

Exclusive Player Icons –

Stand out from the crowd with your own exclusive player icons.

Ultimate Cosmetic Pack –

Customize Sonic and stand out with exclusive gold and silver gloves and shoes, an electric boost and aura from the hit Sonic movie and exclusive Sonic movie-themed player icons.

Ultimate Music Pack –

Three exclusive original game remixes to set the pace for you while you put an end to Dr. Eggman.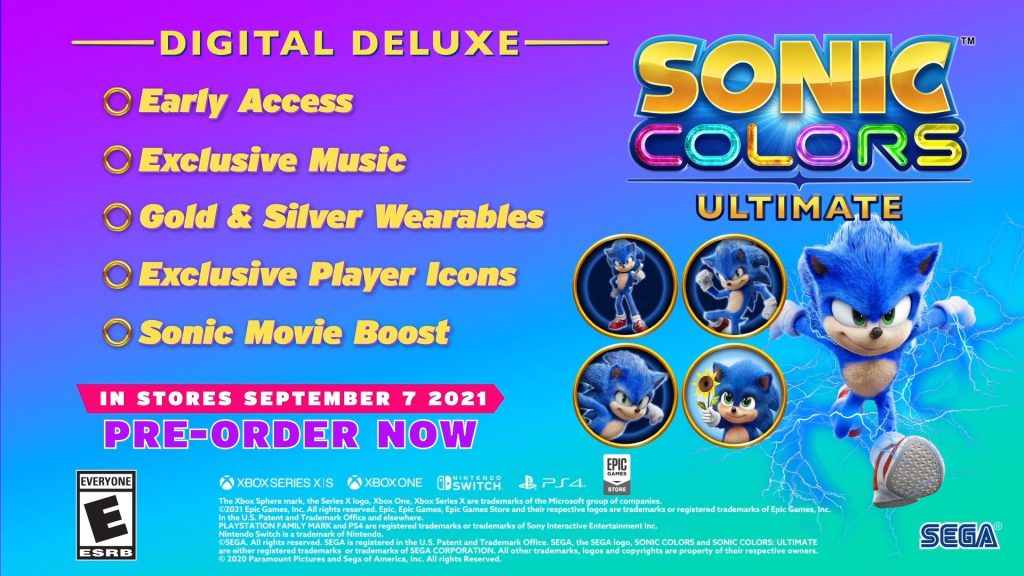 Sonic Colors: Ultimate will boost onto the Nintendo Switch and all other platforms on Tuesday, September 7th, with the Digital Deluxe edition releasing a few days earlier on Friday, September 3rd.
Leave a Comment