As we bid farewell (and good riddance) to 2020 last month, we reflected with our top Nintendo Switch highlights of the year: Hades, Animal Crossing: New Horizons, and Hyrule Warriors: Age of Calamity. Those were our humble (yet correct) opinions, but how do they stack up against our fellow Nintendo critics? As it turns out, we weren't the only ones to rate these great games so highly, according to Metacritic's highest-scoring games of 2020.
The games are divided by platform, and while Age of Calamity didn't make the Switch's top three, New Horizons and Hades certainly did, along with Ori and the Will of the Wisps (which, I should add, we also gave a glowing review). Hades also appeared in the PC's biggest hitters, and Ori appeared among Xbox's best. PlayStation's Persona 5 Royal is hailed as the highest-scoring game of the year overall, with a Metascore of 95.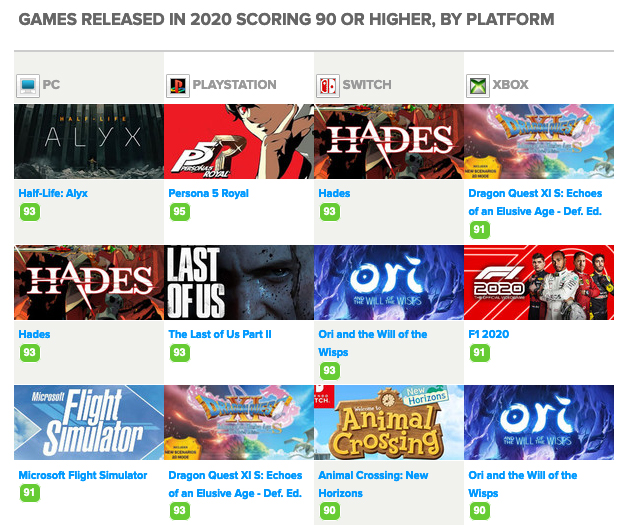 If you're curious what other Switch games scored well, you can find a Top 50 list lower down on the page.
Despite the many postponed games that got pushed into 2021 and all of the challenges the industry faced last year, 2020 still impressed us with many great releases. In fact, Metacritic notes that "a total of 16 different products scored 90 or higher in the past year, up considerably from 2019's total of just nine such high-scorers." Here's to an even greater lineup over the next 12 months!
Leave a Comment