This morning's Animal Crossing: New Horizons Direct has ended, which unloaded tons of new details about the game! Didn't get a chance to watch, or are maybe confused about some details? Let's break down everything in the 27-minute-long-plus video.
The Direct starts off with Tom Nook explaining that the video will be broken into three parts: a refresher on past confirmations, a section on "future development plans," and an FAQ section. Let's detail everything in the order it's brought up.
New hourly music
First and foremost, we can hear several new hourly tunes throughout the Direct. For those unfamiliar with the series, the games feature a soundtrack that changes every hour on the clock, meaning there's background music for 9 a.m., 10 a.m., 11 a.m., etc. Also like past games, these tracks appear to be renditions based on the game's main theme.
Music this time around seems to be a little more complex instrumentally than what players heard in games like Animal Crossing: Wild World, City Folk, and New Leaf, returning to something more akin to the soundtrack of the original GameCube game.
You can choose your island layout right off the bat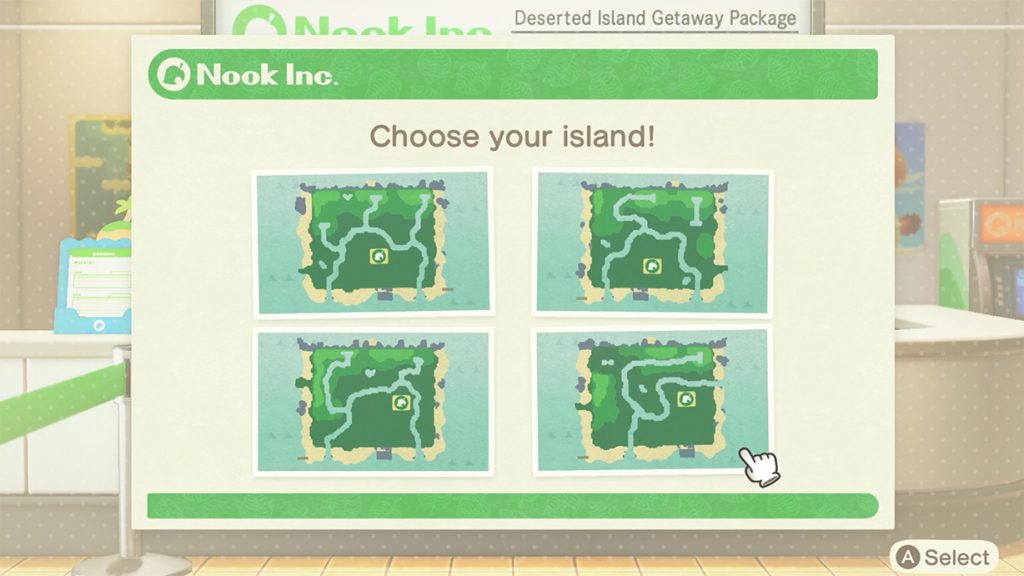 Although we already knew this was a feature, the Direct showed us what choosing your island layout will look like. Upon arriving at the Dodo Airlines airport at the start of the game, Timmy and Tommy will present seemingly four different layouts for you to choose from.
You can select which hemisphere you want to live in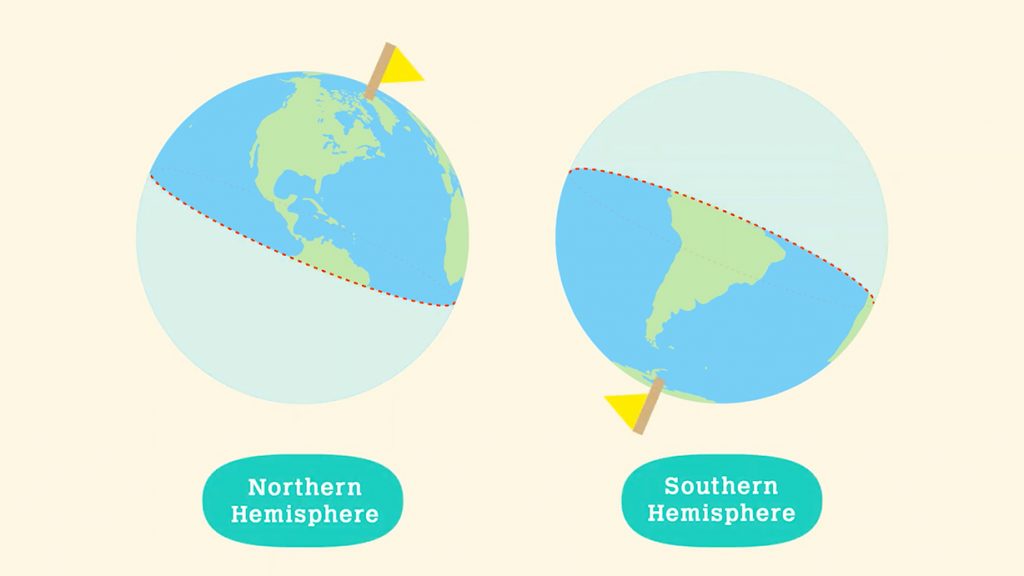 This is also a feature we already knew about, but now we get to see what the hemisphere selection screen looks like. July in the northern hemisphere will be sunny and summery, while July in the southern hemisphere will be snowy and wintry.
Seasonal activities
The Direct then goes into detail about what activities can be done during each of the game's four seasons. In the summer, players can catch a variety of bugs. In the autumn, players can gather seeds, mushrooms, and fall leaves. In winter, players can make snowpeople, watch auroras, and seemingly collect holiday light bulbs from trees. In spring, players can collect flowers.
New island orientation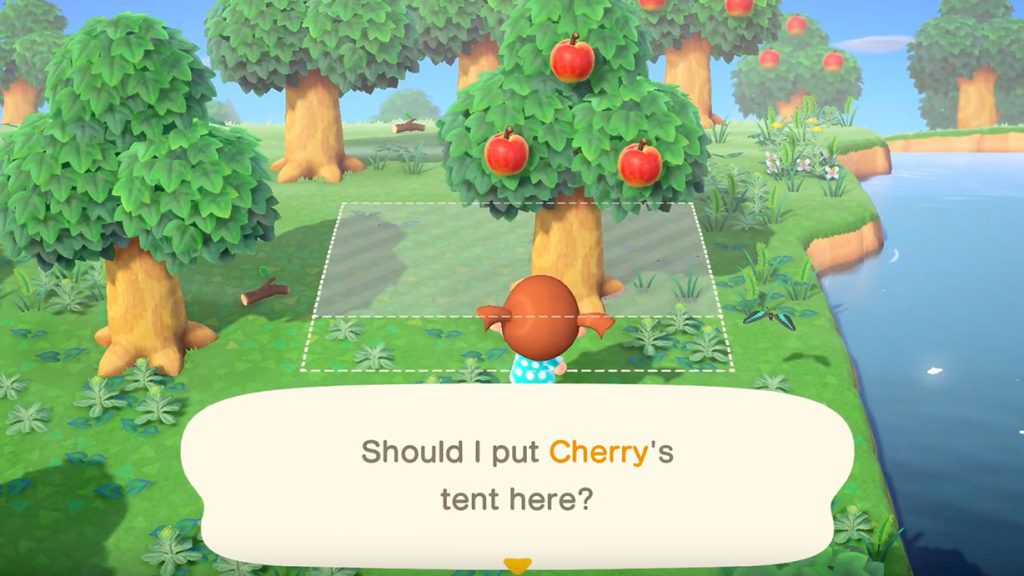 Not long after arriving on the island, players and the two villagers they arrive with will receive an orientation session with Tom Nook, Timmy, and Tommy. At this time, players will receive their tent (as well as the two villagers' tents), which they can then place anywhere on the island.
Starting island facilities
The Resident Services tent will be open 24 hours a day and will provide residents with services like the sale of everyday goods, the purchase of unwanted items, and helpful advice about living on the island. It will also provide free workshops to help players learn to craft items. After learning DIY Recipes, players can craft whatever they like. Furniture and items crafted seem to reflect what color material they were made from.
The Airport will also be open 24 hours a day and is staffed by Orville, the unknown dodo seen in the official New Horizons box art. Here is where players can play multiplayer — online or locally. Players can invite others to their island or travel to other players' islands here. Up to eight players can be on one island at a time.
You can apparently craft an ocarina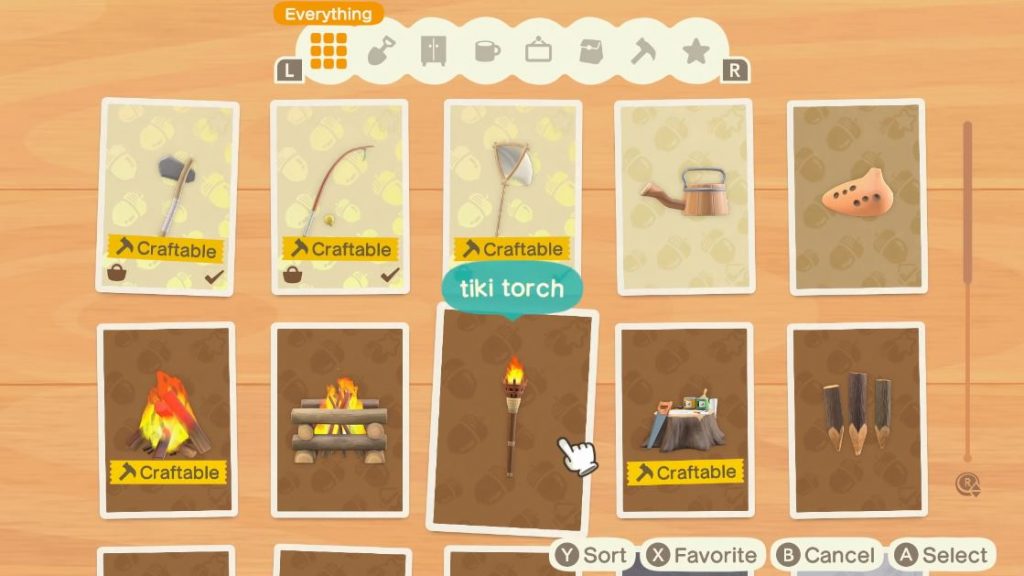 Yep — an ocarina (upper right) appears to be one of the items you can craft using a DIY Recipe. What it does is unknown.
Furniture customization and custom designs
Players will be able to use Resident Services to customize their furniture's color and other elements, like Re-Tail offered in Animal Crossing: New Leaf. Players will also be able to use custom designs to change various facets of furniture, like bedding or pillows.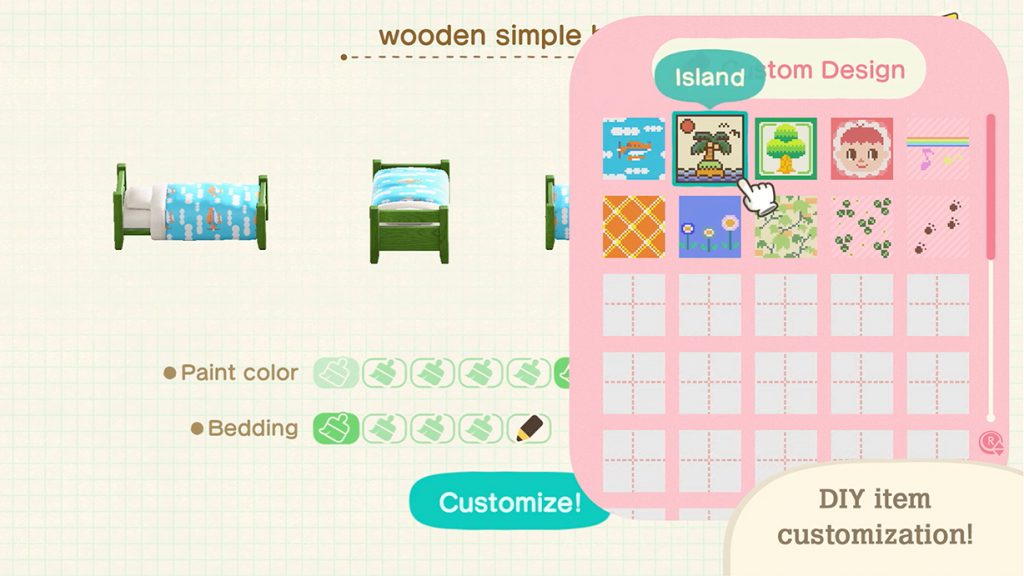 Postcards
Players can use the Airport to send postcards to villagers on their island. These postcards can include custom messages as well as attached gifts like clothes or furniture. It isn't known if postcards replace stationery and the post office from past games. Each postcard costs 200 bells.
Nook Inc. provides basic necessities — and also an island-wide broadcast
At the start of the game, Nook Inc. will also provide players with two in-tent boxes they can open to receive "basic necessities" like a radio and a lamp. It will also give players their NookPhone, which has standard apps like a camera and map, but will also receive new ones over time.
Tom Nook will also begin each day by giving an island-wide broadcast with a greeting, the latest on island-life events, advice, and more.
Nook Miles can be redeemed for Nook Inc.-themed items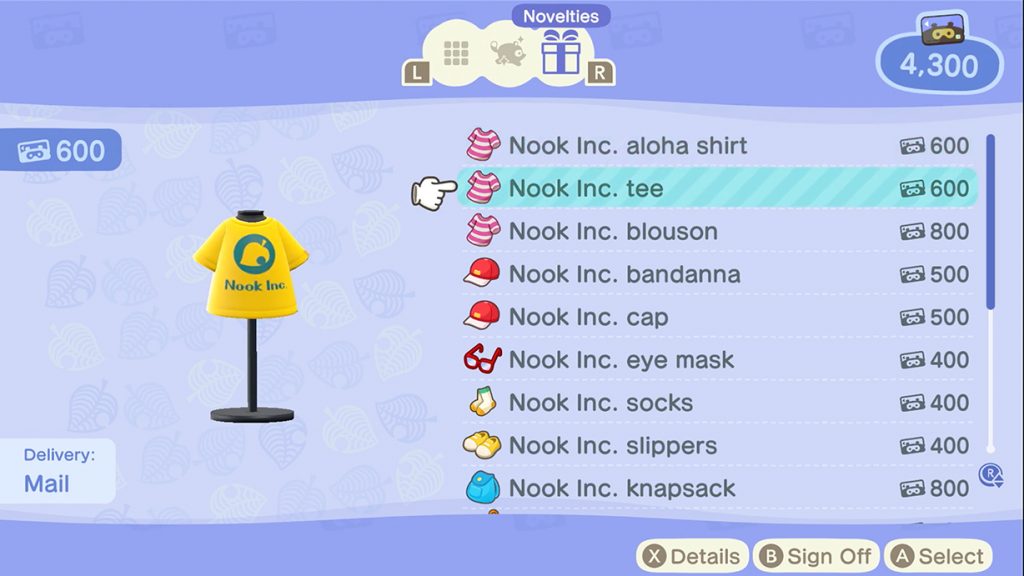 Nook Miles received by doing various tasks can be redeemed at the Nook Stop terminal in Resident Services for Nook Inc.-themed items like shirts, bandanas, and more.
"Dangerous" island creatures
Wasps, scorpions, and tarantulas return in the game. When stung by them, players will receive sting marks on their face or even pass out. Sting marks can be healed via medicine obtained through Resident Services.
Wisp and Gulliver return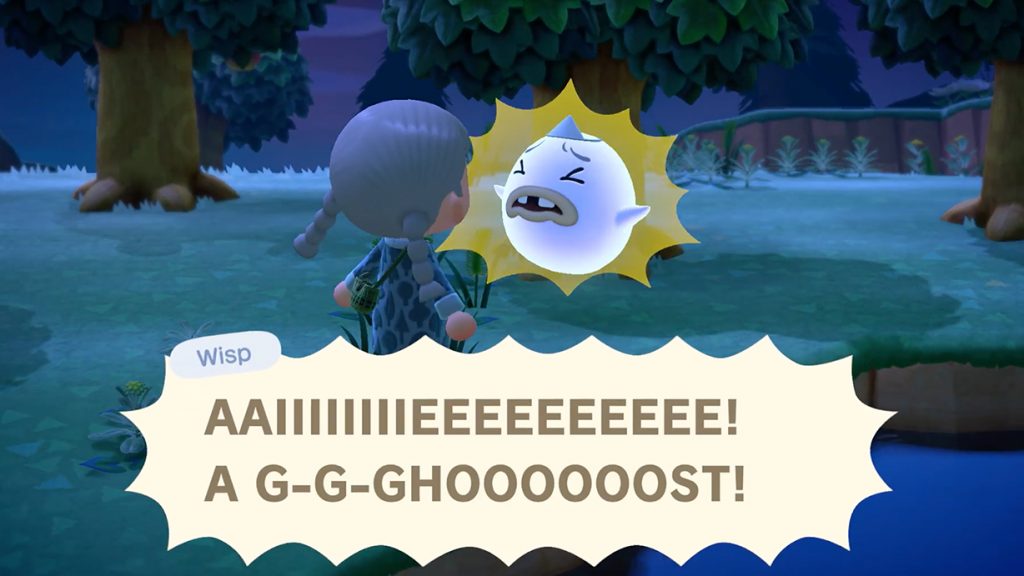 Wisp the friendly ghost returns in New Horizons, potentially returning to his role from the GameCube game rather than as an amiibo scanner like in New Leaf – Welcome amiibo. He can be seen getting startled by the player and then retreating. His "body" scatters into little spirit wisps, which are then seen flying in different directions before the scene changes.
Gulliver is also seen passed out on a beach. His role seems similar to that of his in New Leaf and the original GameCube game, where the player is required to talk to him multiple times to wake him up.
There's a "Rescue Service" — which Mr. Resetti works at
There is a "Rescue Service" app on the NookPhone, marked by a helicopter icon. If the player somehow gets lost on their island, they can call the service to be returned home.
While this scene is playing and the service's "Operator" speaks and sends out "rangers," Mr. Resetti's (the mole character from past games who was said to be given a new role in New Horizons) iconic theme can be heard, implying he is the smart-mouthed Operator.
Island names can be 10 characters long
Players will be able to give their island names up to 10 characters long — an upgrade from the eight characters of past games. While not outright stated in the Direct, a map of an island called "Nintenland" (a 10-character-long name) can be seen.
Building a house
Like in past games, players can take out loans from Tom Nook to buy (and eventually expand and remodel with new rooms) their own house. The first house's loan will come out to 98,000 bells. There are no interest rates and no time limit to repay it.
Houses also offer storage space that can be accessed from the inventory (instead of using wardrobes and closets like past games), a free-moving camera, and free furniture placement seen in Happy Home Designer. Players can also select multiple wall objects at a time and move them anywhere they want on the wall. Players can also "whistle" at their character to draw their attention for photos.
Island Tours
Players can exchange Nook Miles for Nook Miles Tickets, which can be used to go on Island Tours. By speaking to Orville at the Airport, players can travel to distant islands that differ each time. Wilbur, another dodo and the airplane's pilot, will drop players off at these islands. These islands are all deserted and players can take whatever they get off them, whether they're craft materials, bugs, or fish, back to their main island.
Players may also encounter animals on these tours and invite them to live on their island.
Players can hop over small rivers
While we know that players can vault over rivers, the player can be seen hopping over a smaller waterway to escape from an angry tarantula in the Direct.
Party Play
If players have more than one player character living on their island, they'll receive a new NookPhone app called "Party Play." This will allow you to call up up to four other residents to play together at the same time using Joy-Con controllers. Whoever calls the others is the "Leader," while others are "Followers." These can be swapped at any time. Any creatures caught or fossils dug up by Followers will be stored in a recycle box in Resident Services.
NookLink Nintendo Switch Online app service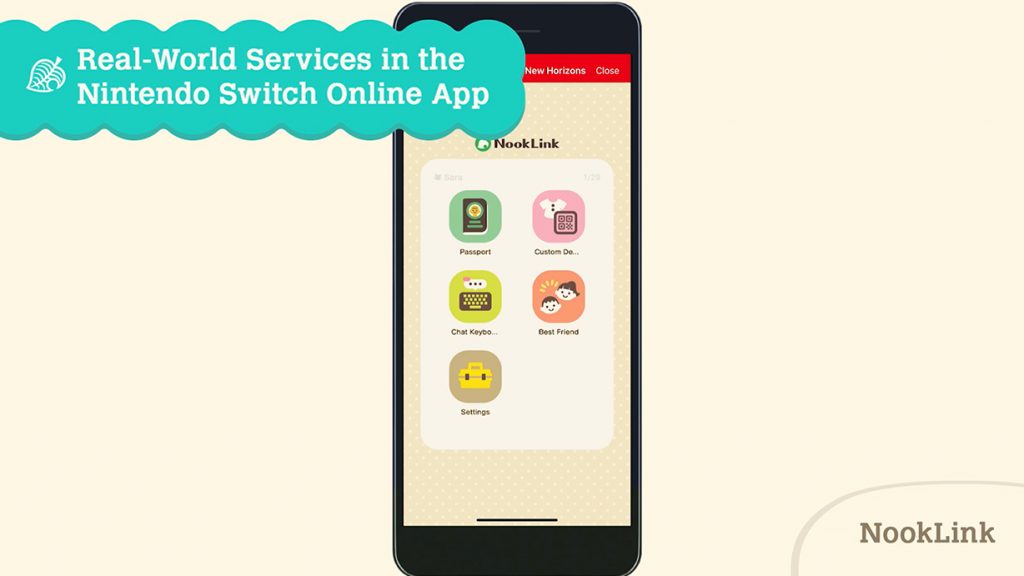 A real-life "NookLink" service will be added to the Nintendo Switch Online app, allowing players to scan QR codes of custom designs created in games like Animal Crossing: New Leaf and Happy Home Designer and download them into New Horizons. Players can also access their Passport, use a keyboard and voice chat to talk to friends over the internet, and more.
NookLink will launch in March 2020 sometime after the game's March 20th launch.
Inviting new villagers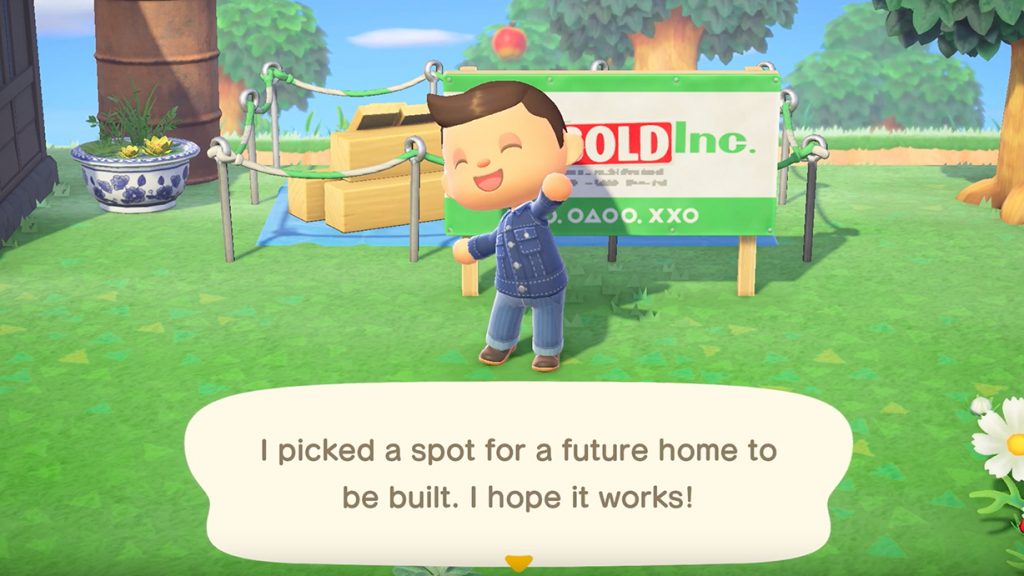 After some time, Tom Nook will allow players to invite new villagers to the island beyond the initial two they arrive with. Players will be able to place house plots wherever they see fit, and new villagers will move to these plots.
Museum, Nook's Cranny, Able Sisters, and the Campground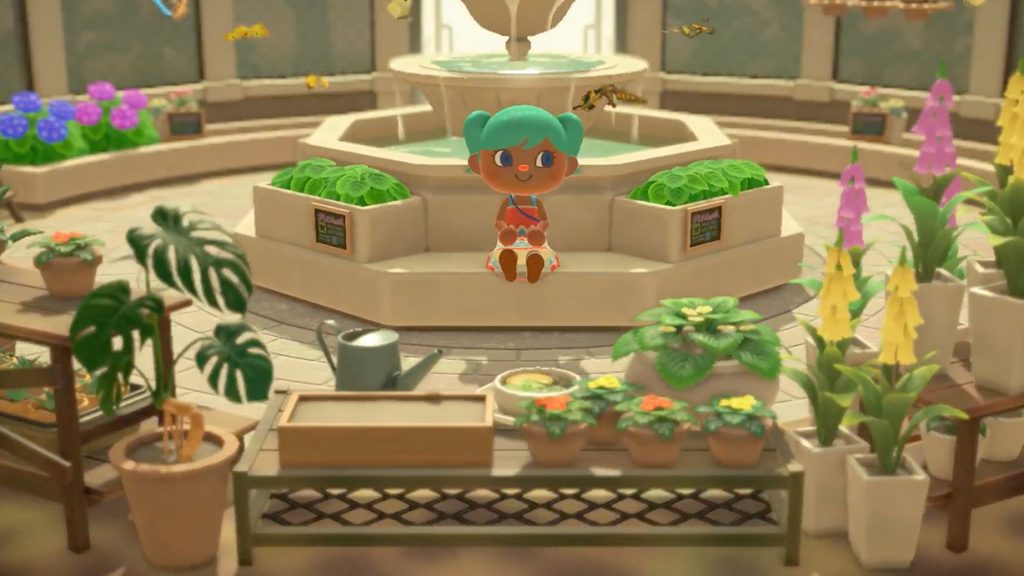 The museum, Nook's Cranny, Able Sisters, and campground facilities from past games will all make a return. The museum, run by owl Blathers, will allow players to donate fish, bugs, and fossils they've caught to be displayed. Nook's Cranny, run by Timmy and Tommy, will allow players to buy ready-made furniture, seeds, tools, and more they can't get elsewhere. Able Sisters, run by porcupine sisters Sabel and Mable, will let players buy clothing and accessories and try them on before they buy. The campground will let players invite animals to tents for "recreational" activities and even ask them to move to the island permanently.
Resident Services expansion and Isabelle's role
The Resident Services tent will eventually be able to expand into a proper building, with staffing done by both Tom Nook and Isabelle. Players will also be able to use the expanded Resident Services building to move their home and other buildings entirely.
Isabelle, who will work to the right of Tom Nook, will be in charge of "island evals," changing island tunes (your island's "theme") and flags, and discussing individual residents.
Special visitors and traveling merchants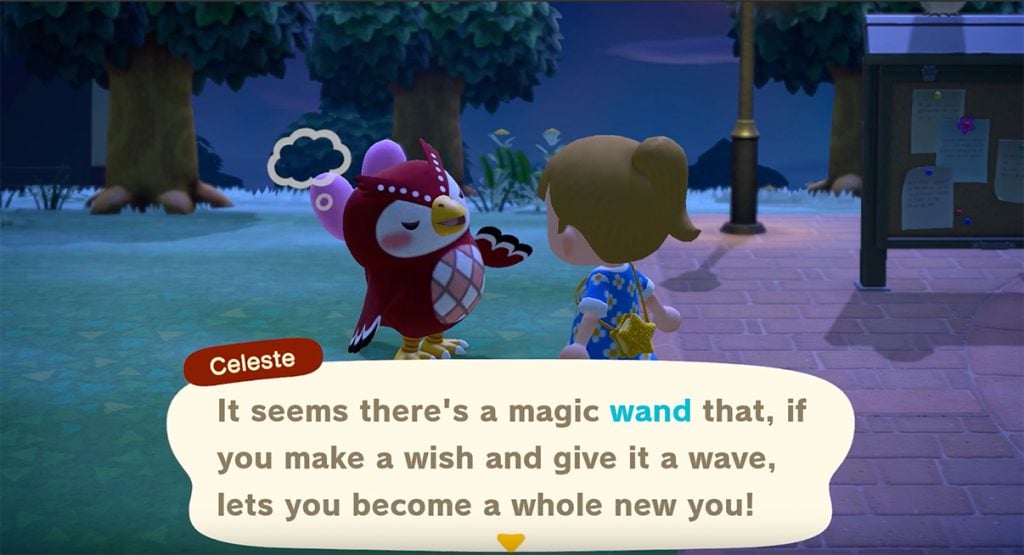 Special visitors will occasionally come to your island, including characters that Tom Nook knows from the past like Label (Sable and Mabel's sister previously known as "Labelle"), Harvey, Celeste, and Kicks. These visitors will provide players with new "cultural" experiences. Celeste will give players a magic wand that can transform their clothes into exotic new fashions like a kimono or a superhero outfit. Kicks will sell shoes and accessories like in past games.
Traveling merchants also make a return. Saharah will sell exclusive rugs like in past games. Daisy Mae, Joan's successor, will sell turnips. Special events will also take place from time to time, like fishing tourneys and Bug-Offs. These will be hosted by new characters C.J. (which possibly stands for "Chip Jr.") and Flick, respectively.
Free updates to the game will also add in new events hosted by characters like Zipper T., Jingle, Franklin, Jack, and Pavé. The first free update will be on March 20th, the game's launch day, and will add a Bunny Day event with Zipper T. For more information on these planned updates, check out our other article.
Ladders
Players will be able to use ladders to reach the tops of cliffs, much like they can use poles to vault over rivers.
Building bridges and slopes
At Resident Services, players can use the "construction consultation counter" to build bridges and slopes using various materials, meaning they'll no longer have to rely on vaults and ladders to get around.
Island Designer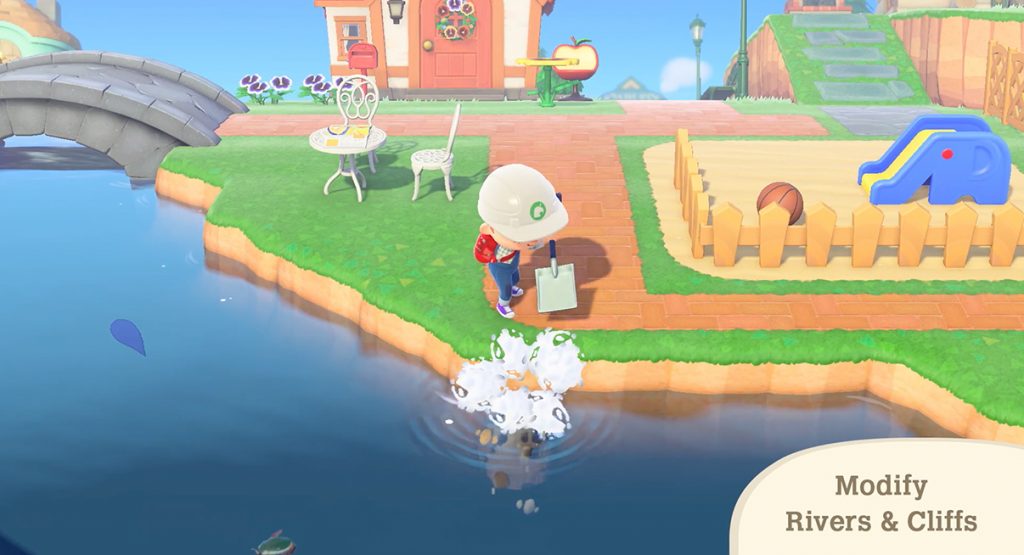 Eventually, players will unlock the Island Designer app. When activated, they'll put on construction gear and be able to place paths of various materials (including custom designs), add or remove waterways like ponds and rivers ("Waterscaping Permit"), and add or remove cliffs ("Cliff-Construction Permit"). Players can now completely terraform their towns!
amiibo Support and Photopia
The game will support scanning Animal Crossing amiibo figures and cards by using the Nook Stop terminal in Resident Services. By scanning them, you can have their respective villager appear in the campground or at Photopia, an island run by Harvey that allows players to set up and decorate rooms, pose and dress up villagers, and take photos with them.
The game plans to support additional amiibo like DJ KK in the future. For more information on amiibo functionality, check out our other article.
"Best Friends"
When visiting other players' islands, players cannot use destructive tools like axes unless they've been labeled a "Best Friend."
Animal Crossing: Pocket Camp connectivity
There will be a special offer for players of the mobile Pocket Camp game, through which players can receive special items in both Pocket Camp and New Horizons — like an OK Motors slot machine in New Horizons and a Dodo Airlines plane in Pocket Camp. That idea sounds familiar!
More information can be found in our other article.
New and returning villagers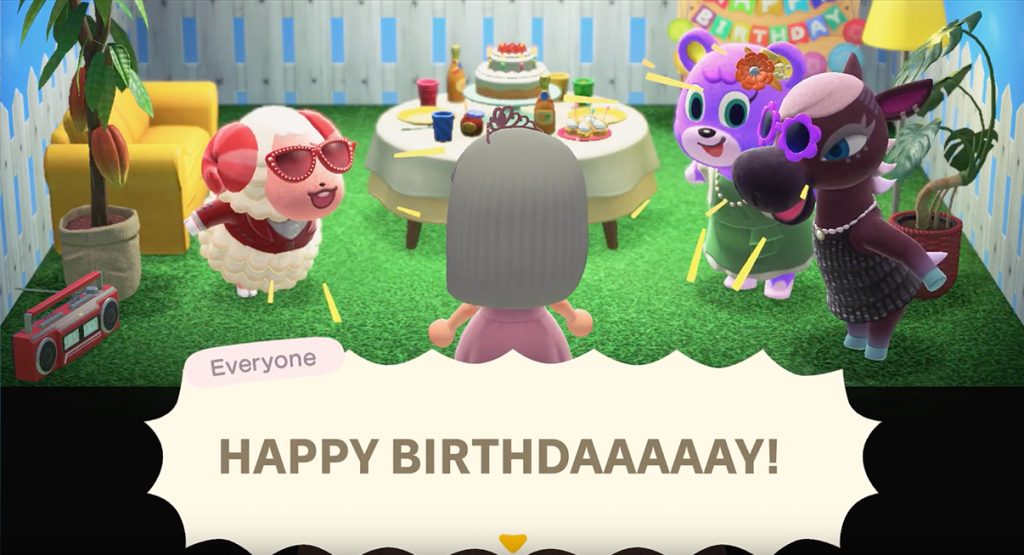 Several returning villagers were seen throughout the Direct, plus some brand-new ones!
Bunnie
Lily
Bob
Marshal
New red elephant (2:27)
Bella
Erik
Flora
Flip
Wendy
Olivia
Nubou or Friga?
June
Shep
Savannah
Hans
Buck
Cherry
Tammy
Kid Cat
Drift
Canberra
Margie
Zucker
Nate
Poncho
Flurry
Charlise
Dizzy
Apple
Francine
Sydney
Keaton
Rodney
Stella
Alli
Katt
Jane
Tutu
Julia
Curt
Purrl
Bubbles
Sly
Patty
Bree
Bertha
Molly
New brown horse (22:37)
New pink sheep (22:37)
New pink bear (22:37)
Goose
Goldie
Hazel
New red wolf (22:45)
Jay
Cesar
Melba
Dotty
Eloise
Alfonso
Animal Crossing: New Horizons launches worldwide for Nintendo Switch on March 20th, 2020.
---
What do you think? Anything we missed? Let us know in the comments!
Leave a Comment