Oh boy! A seven minute Pokémon Direct! You know what that means — five minutes of waffling followed by cryptic title reveals and nothing else. Or so we all feared when this presentation was announced just yesterday. But fortunately for all the NA Poké-fans who sauntered out of bed before the sun rose, Game Freak delivered the goods with a substantial yet concise Direct that showcased the first glimpse of the franchise's eighth generation with Pokémon Sword & Shield.
True to (some) rumors, the region — called Galar — is based on the UK, as is made most evident by the knockoff Poké-version of Big Ben and other clock towers that sprinkle the trailer, as well as other shots of English-inspired countryside. We got peeks at the base protagonists as well, each one looking ready to attend boarding school in some positively dapper getup.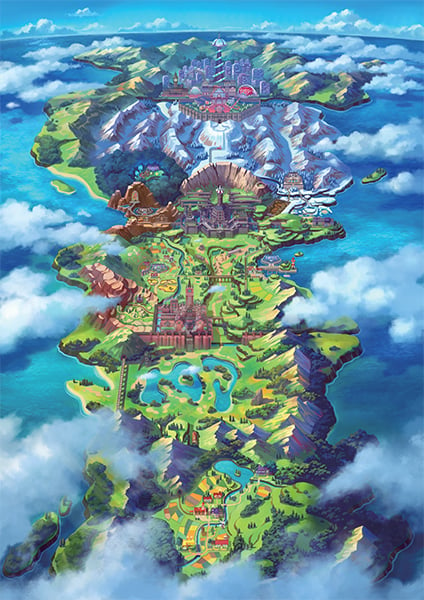 The engine appears to be an evolution of Sun & Moon's and the Let's Go games, showcasing some clean and colorful, yet overall unremarkable graphics. A lot of the environments look quite detailed though — there's dense urban sprawl with what appears to be a monorail, a mine whose wall is filled with gems, and a couple shots of dense, book-laden rooms. Gyms seem to have made a return as well, though as to how they've changed from previous incarnations, we'll just have to wait and see. Also, there's soccer — excuse me, fútbol — because you can't have a game set in the Poké-UK without hooligans, can you?
But who cares about gameplay when there are starters to pledge your undying loyalty to? A high-res cinematic revealed the critters this time around, There's the grass monkey Grookey, seen playfully tapping a rock with a stick (the same one stuck in his hair, presumably) who is filled with "boundless curiosity"; the fire rabbit Scorbunny, an energetic fella who somehow once again looks like it'll evolve into a Fire-Fighting-type even though it won't because then people would be mad; and Sobble, a timid water lizard whose name and visage make it seem like it could use a hug or two. Each one is sure to have its share of fans, though details on them are scarce at the moment.

After this, we got the title drop of Sword & Shield, followed by some light pontification by producer Junichi Masuda and director Shigeru Omori. They discussed how Sword & Shield is a game everyone can enjoy, along with some additional details on the Galar region and the new starters, but overall the info was nothing particularly indicative of new features or things to expect. It appears that in regards to what will make Gen VIII different, we'll have to wait and see what ticks.
Compared to the first "reveal" of Sun & Moon, however, Sword & Shield's initial showcase was short, sweet, and to the point. Despite the lack of details on a number of matters — important NPCs like the Professor/Champion, box legendaries, etc. — it's still more than enough to get you excited for yet another rousing Poké-adventure.
Leave a Comment