The gaming community's been receiving a good number of Super Mario Odyssey related tidbits of news over the last few weeks. Leading up to the game's October 27th release, there have been wallpapers showing off new Mario art; a Direct announcing the title's Switch bundle; small teases and reveals of new kingdoms for players to explore within the game — and much, much more. A lot of that content was to be expected though, making this latest Mario themed morsel of news extra… unique.
Japanese bridal magazine Zexy recently released an edition that included a full page containing a marriage registration form.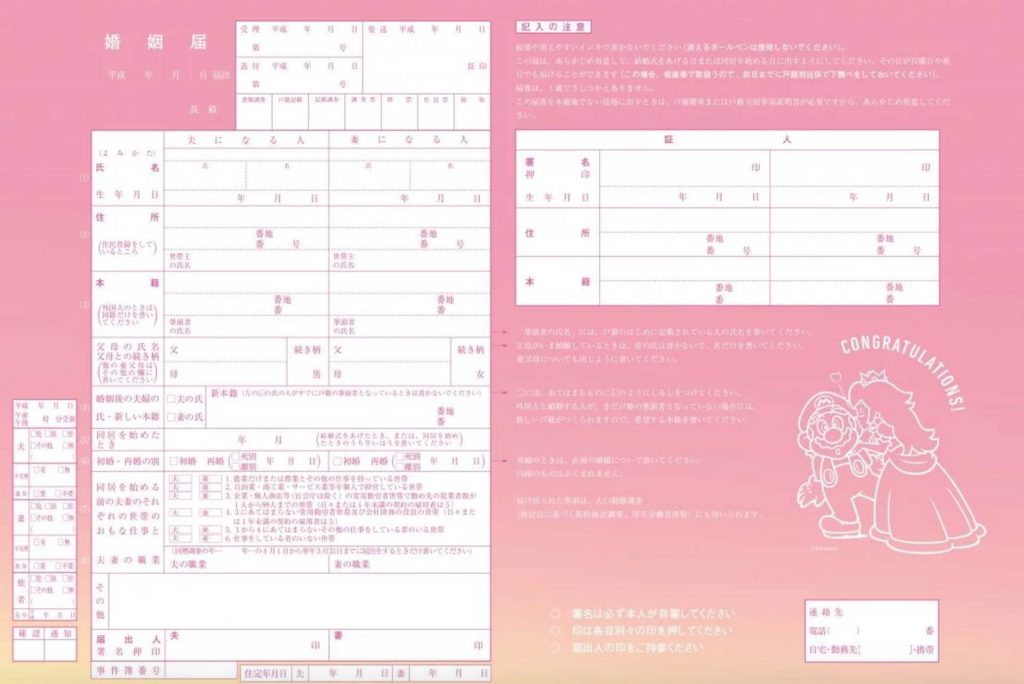 What makes this "Kekkon Todoke" (the Japanese term for marriage certificate) particularly relevant to Nintendo's upcoming release? Well, the entire legally binding Mario and Peach themed certificate happens to included a fun little package of wedding items the bride and groom can use to celebrate the occasion. Wedding invitations showcasing Mario and Peach wearing their marital attire from Odyssey and a cute Mario stylized passport case are included with the certificate. The article explaining the package goes on to highlight wedding ceremonies overseas, should the couple decide it wants to extend its celebration outside of the country (specifically focusing on Hawaii), while also providing trips about travel for newlyweds.

Very interestingly, the two marriage participants are officially legally married as soon as the document in the magazine is signed and submitted, which is an extremely quick and to-the-point process compared to the rather extensive ceremonial proceeding that's traditionally held within western cultures.
If only getting married was this simple and adorably themed over here! Having the chance to tie the knot with one simple signature, with Mario and Peach your side, would be a truly memorable way to start a lifelong adventure together. The ultimate odyssey!
---
Via Nintendo Life
Leave a Comment