Super Mario fans, get ready for this! Not only will next month's Super Mario Odyssey have us traversing around the world in style, but our Joy-Cons won't feel left out. Saved for the very end, North America will be getting a Super Mario Odyssey themed Nintendo Switch bundle.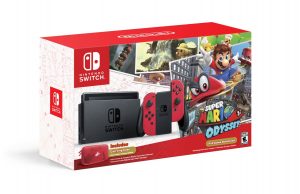 Extremely similar to the Splatoon 2 bundle that finally woomied it's way over here, Super Mario Odyssey's bundle includes a Nintendo Switch, Super Mario Odyssey digital download code, special set of red colored Joy-Cons and a Super Mario Odyssey Edition carrying case. It's priced at $379.99 plus tax and will be landing on store shelves the same day as the game, October 27th.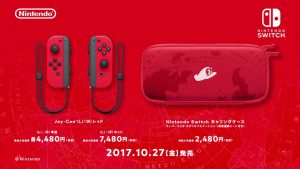 Though what if you already have a Nintendo Switch and just want the carrying case or matte red Joy-Cons? Japan's Nintendo Direct listed these two items available for sale outside the bundle (which also includes sticker sheets like Splatoon 2's bundle). We won't know if they'll grace North America's shelves individually, especially since the holiday shopping season is getting closer with each day. If not, there's always importing.
Leave a Comment