Personally, when I booted up Splatoon for the first time, one of the things I was most excited about was my Inkling. Aside from the few skin and eye color options, customizing my Inkling with new gear was one of the best parts of the game for me, and it was of the utmost importance that, no matter how practical certain gear might be, my Inkling was always going to be looking her best.
That's still going to be true with all the new customization options in Splatoon 2.
Unsurprisingly, the first couple things you can do with customization haven't changed: gender, skin and eye color have all returned as things that you get to pick and choose for your Inkling. Additionally, we've all known about the new hair customization for forever at this point (and we were all justifiably excited for it). However, we've recently learned that we now also get to decide on our Inkling's leg wear at the beginning of the game. It's not hugely significant, but it's a nice addition that'll make all Inklings feel a little more individualized and unique to each player.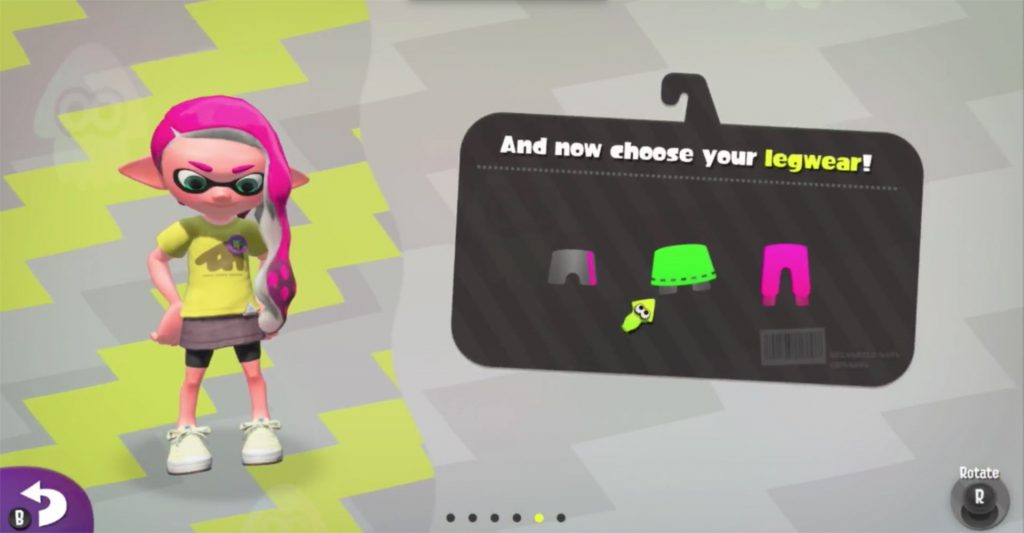 And all of this is before the gear!
Just like in the first game, gear is divided up into hats, shirts, shoes and weapons, and each category has its own shop that you can browse for the best items. Here, I'll go over each type of gear separately, though nowadays all the shops exist in one space in the plaza: The Galleria.
Headspace — Hats & Headwear
It's been two years since the original Splatoon, and long gone are Cooler Heads and its shopkeep, Annie (and Moe, the clownfish). If you're looking for new hats or a pair of shades, you'll have to head over to Headspace, where you'll find a chilled out Sea Slug named Flow. Apparently, she's known as the Inklings' "Crazy Old Aunt." At Headspace, you'll find a range of items including hats, glasses and masks, among other things that go on your head, and each one of course comes tied to an ability. (We'll go over those later, though.)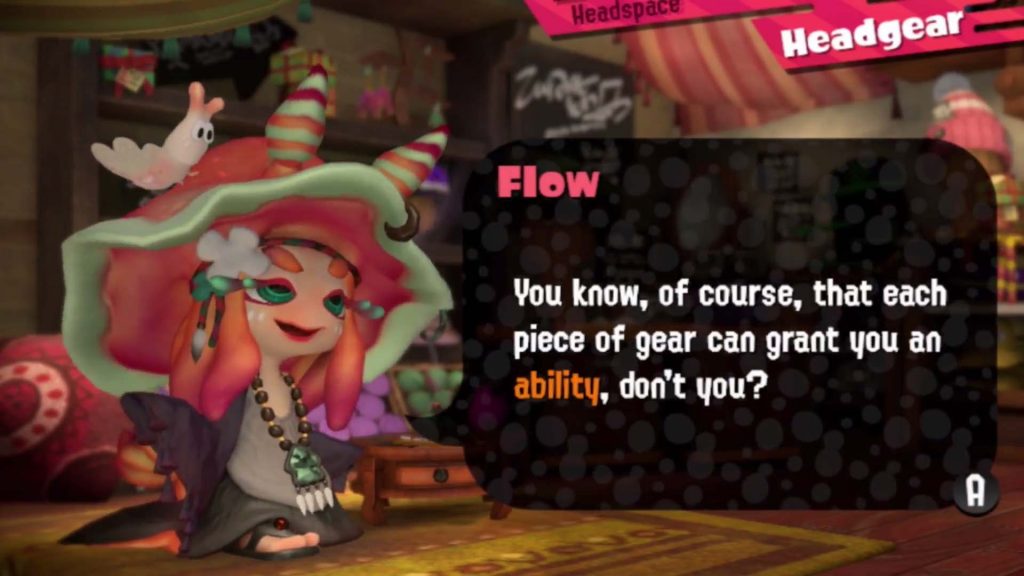 Interestingly enough, there seems to be a little friend latched onto Flow's head as well. Seems like a trend in the headwear world…
Ye Old Cloth Shoppe — Shirts
If shirts are what you're looking for, you've gotta head over to the clothing boutique Ye Old Cloth Shoppe, where you'll find Jelfonzo. No, no, not JELONZO, the owner of Jelly Fresh — Jelfonzo. Totally different jellyfish.
Just like at Headspace, you'll find a variety of shirts 'n' things at Ye Old Cloth Shoppe with a variety of abilities attached to them. Just don't get confused when Jelfonzo starts selling them to you in the ancient Inkling language.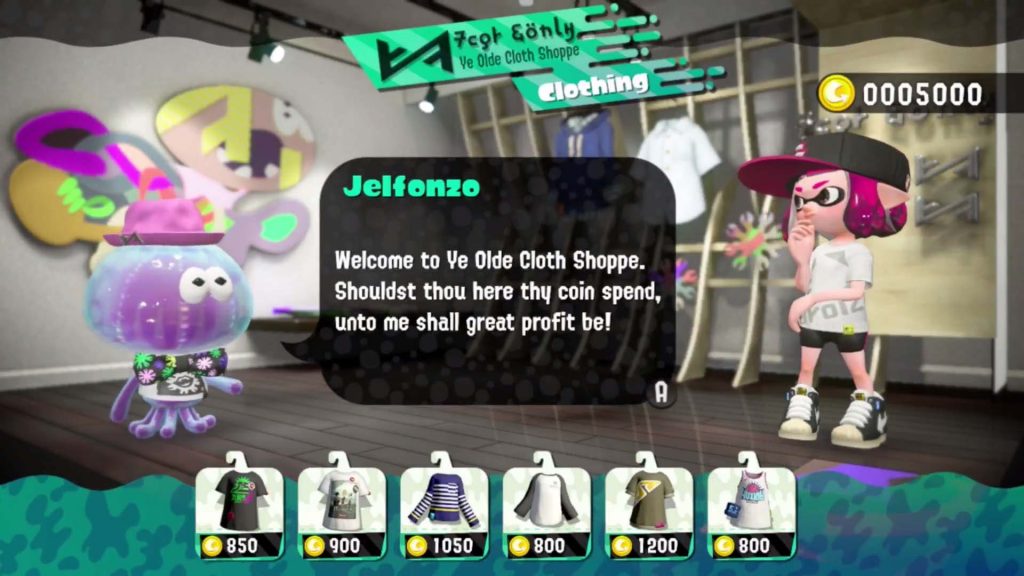 Shella Fresh — Shoes & Footwear
Don't be scared — the owner of Shella Fresh, Bisk, might be a spider crab, but he's cool, not creepy. In fact, he's almost too upbeat. Bisk carries a huge stock of shoes, sandals, sneakers and the like, all for your viewing (and purchasing) pleasure. And, as always, each pair you buy will have an ability or two that you can reap the benefits of.
And his shop name sure is edgy, don't'cha think?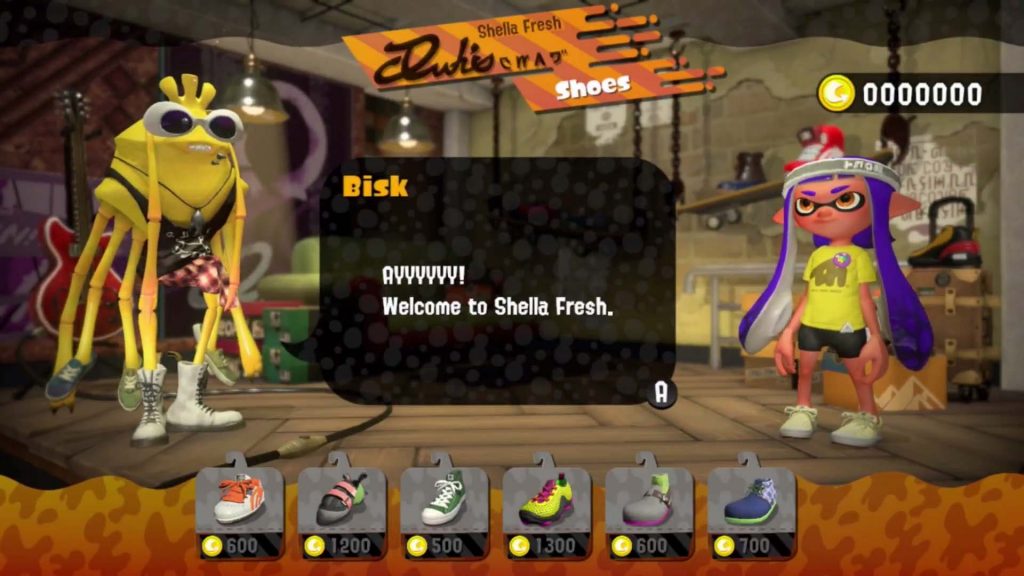 Ammo Knights — Weapons
And lastly, the only returning shop (and shopkeep) in the game, Sheldon makes a grand entrance with Ammo Knights. Here you'll find tons of weapons that you'll be able to use in Turf War, as well as other modes within Splatoon 2. Like in the original game, all weapons come in sets, with a main weapon, sub weapon and special weapon.
Keep an eye out for our more in depth article on all Splatoon 2's weapons later today!
Abilities
The absolute best way to customize your Inkling and the way you play is through the use of abilities, which are available as attachments of sorts to gear items. If you were a Splatoon player in the past, this should come as no surprise to you, and the feature makes a grand return in Splatoon 2.
Every type of gear can carry different abilities, so you'll find some abilities tied to headwear, some to shirts and some to footwear. Some of the new ones highlighted in today's Direct are as follows:
Thermal Ink – The Thermal Ink ability allows you to track enemies that you've hit directly with your main weapon. By hitting them even once, you're effectively marking them, making them visible through walls for long distances.
Object Shredder – The Object Shredder ability increases all damage done to all non-player targets on the field, making removing obstacles quicker and easier.
Quick Respawn – As the name suggests, the Quick Respawn ability makes your respawn time much quicker, but only if you keep getting splatted without actually doing any splatting. This might be an especially useful ability for newer players.
Respawn Punisher – Alternatively, Respawn Punisher makes your target's respawn time longer, effectively negating the Quick Respawn ability if your target has it (or just making respawn time longer if they don't).
Drop Roller – The Drop Roller ability lets you do a forward or sideways roll after the Super Jump by tilting the left joystick midair. This is especially important, since I know so many of my splats back in the original game were just seeing where someone was going to Super Jump and getting them as they landed.
Additionally, you can now see what other teams' gear loadout is like by checking out the map screen, where all the information is displayed.
And the overseer of all these abilities is, of course, another sea urchin. However, this time around, it's a much younger urchin who goes by the name Murch. He, essentially, serves the same role as Spyke from the original Splatoon, and can add and remove abilities from your gear using Ability Chunks, making your gear stronger.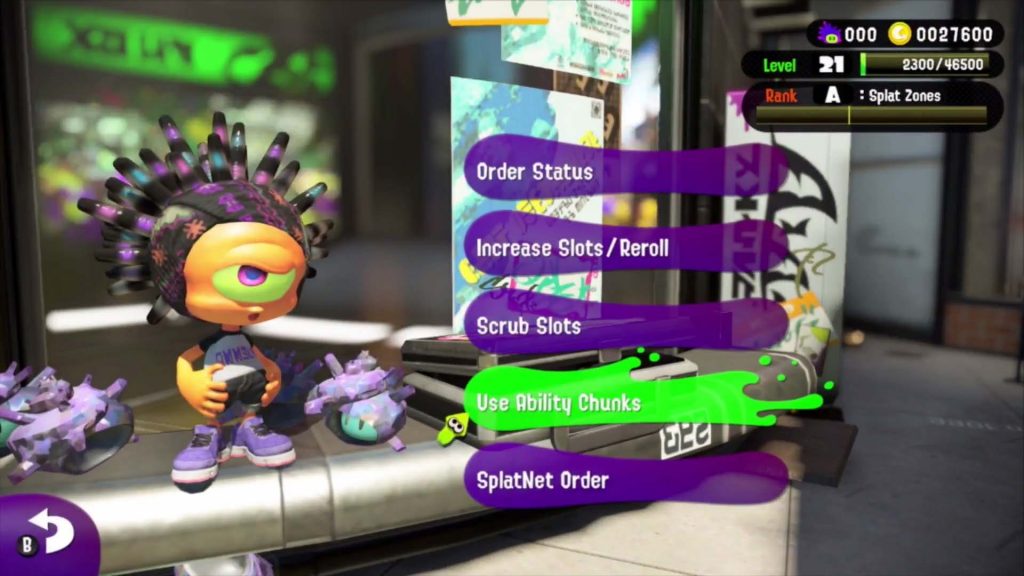 Lastly, Nintendo has confirmed that new gear will be coming in the free DLC over the next year.
You can check out some of the past announcements on Splatoon 2's upcoming gear below.
New Clothing Line | Takoroka Clothing | Forge Clothing | New Fashion
Leave a Comment