Today's rapidfire Nintendo Direct was chock full of reassuring affirmations and exciting new announcements! Not to be overshadowed by all the amazing offerings hitting up the 3DS, the Nintendo Switch proved it's also got a very strong lineup to carry us well through the coming summer months. With so much news to cover, let's not waste anymore time and get right to it with everything you may have missed.
ARMS PUNCHES FORTH JUNE 16TH ALONGSIDE NEW COLORED JOY-CONS
ARMS finally received a solid release date, just slightly behind its (hopefully intentional) pun-filled spring launch window. Be sure to take a second and check in our more in depth look at everything revealed for the Punch-Out!! Inspired brawler, from mixing and matching a variety of unlockable arms to new fighter Min Min joining the fray.
MARIO KART 8 DELUXE RACES BY APRIL 28TH
Nothing necessarily noteworthy was shared about Mario Kart 8's deluxe debut, but we did get our first glimpse at online racing, battle mode and tournaments making their expected return. Speaking of which, Nintendo announced it will be hosting in-game tourneys for both Race and Battle modes at the historic kart racer's launch.
ULTRA STREET FIGHTER II HADOUKENS YOUR FACE MAY 26TH
We're just a month and a half away from you being able to purchase Street Fighter II for the 27th time. Today's Direct reconfirmed 19th fighters making the roster, including two exclusive characters — Evil Ryu and Violent Ken — entering the ring. Fierce local and online multiplayer battles undoubtedly make this the (hopefully) definitive SF2 experience to date, not to mention the inclusion of a handful of new modes: first person perspective battles and two player tag team beatdowns.
MINECRAFT: NINTENDO SWITCH EDITION CRUSHING CREEPERS MAY 11TH
Surprising absolutely nobody, the wonderful world of Minecraft is building towards a Switch release this summer. Expect everything you love about the series to survive the transfer, including last year's amazingly nostalgic Super Mario Mash-Up Pack.
NEO GEO GAMES WILL CONTINUE TO FLOOD THE ESHOP
I hope you didn't spend thousands of dollars on the coveted arcade-inspired machine back in the day, because even more retro Neo Geo masterpieces are blazing forth on Nintendo Switch at affordable prices. Beyond tomorrow's addition of Samurai Shodown IV: Amakusa's Revenge, look forward to picking up Fatal Fury, Over Top, Blazing Star, Garou Mark of the Wolves, King of Fighters '99, Galaxy Fight: Universal Warriors and Shock Troopers 2nd Squad in the coming weeks and months.
SONIC FORCES STILL SPIN DASHING TOWARD A HOLIDAY RELEASE
We got another brief glimpse of Sonic Forces today, highlighted by some brief footage of Sonic's 2D counterpart in full throttle. Once again, the game's third mystery character was teased with no official reveal in sight.
SONIC MANIA STUCK IN VAGUE SUMMER RELEASE PURGATORY
Unfortunately, Genesis era Sonic fans hoping for a more concrete release date to the Blue Blur's retro retread weren't given much to run with today. Nintendo reminded us the game's still slated for a Summer 2017 launch, and will revisit souped-up, popular stages from Sonic's past adventures.
PROJECT MEKURU STOMPS THE YARD THIS SUMMER
A new multiplayer puzzler, tentatively titled Project Mekuru, is being developed by Japanese company OVER THE FENCE for Switch. An arena based brawler with a little bit of Bomberman and Splatoon mixed in its DNA, players fight for turf by stomping floor panels to flip them into your character's color.
ACTION GAME FATE/EXTELLA FATED TO RELEASE JULY 25TH
Marvelous' intense action game Fate/Extella: The Umbral Star makes the leap to Switch, featuring an all-star cast of beloved series characters fighting hordes of enemies in frantic fashion. Similar to many Musou-like games before it, combat is simple, fast-paced and satisfying as you chain together light and heavy attacks to defeat wave after wave of poorly trained adversaries.
DISGAEA 5 COMPLETE HITTING UP THE SWITCH ON MAY 26TH, DOOD!
Nintendo joyfully reminded us that the Switch port for the comically tactical RPG Disgaea 5 is launching soon, complete with standard and limited editions. We were also told to keep an eye out for a demo dropping sometime in the very near future.
PUYO PUYO TETRIS DROPS APRIL 25TH
No longer must puzzle fans choose between Tetris and Puyo Puyo, as they're finally being combined in a glorious mashup for the ages! While you wait for the game to drop later this month, give the newly released demo a spin this instant!
MONOPOLY PASSES GO IN THE FALL
The classic board game Monopoly rides the Reading to Switch later this year, featuring exclusive tokens to earn, new boards to discover and rules to follow. It'll also use HD Rumble to simulate dice rolling, completely phasing out the need for the real thing. The future is here, folks.
Fun fact: Did you know Monopoly was originally called The Landlord's Game with the sole purpose of teaching common folk how rents enriched property owners and impoverished tenants? Come to think of it, I've never played a version of the game that didn't end with everyone I loved broke and in tears.
RAYMAN LEGENDS: DEFINITIVE EDITION LEAPS FORWARD SOMETIME IN 2017
Beautifully picturesque platformer Rayman Legends is getting the definitive edition treatment on Switch. Revisit the mythical Glade of Dreams as everyone's favorite limbless hero as you run, jump and smack your way to victory. Exclusive features include a solo mode for the Kung Foot mini game, as well as a tournament mode for pitting up to eight teams against each other. Best of all, two separate consoles can be linked together for local co-op, meaning nobody has to share a screen.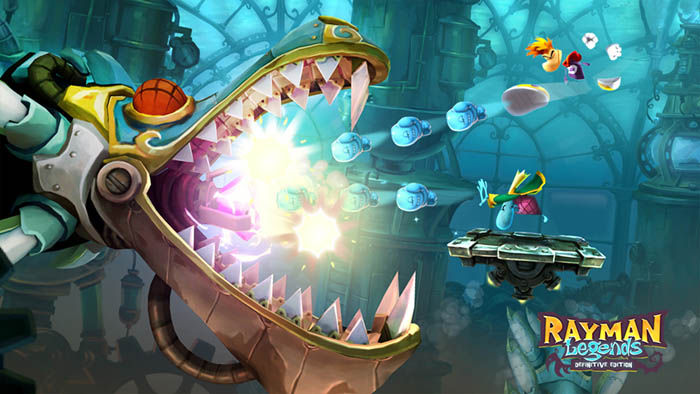 THX NORDIC PORTING SINE MORA EX AND BATTLE CHASERS: NIGHTWAR THIS SUMMER
A duo of THX Nordic games will arrive just in time to assure there's no summer droughts in software. The first is an intense shoot 'em up complete with local and versus modes, while the second — based on the fan favorite Battle Chasers comic book series — is a RPG inspired by console classics, set to debut first on Nintendo Switch.
PAYDAY 2 HEISTS YOUR LIVING ROOMS IN 2017
Get ready to grab three of your most trusted scumbags for some bank heisting hijinks when Payday 2 launches later this year. During the Direct, a significant amount of content was promised to be coming to the Switch version, so be sure to keep your eyes peeled for those (hopefully) inevitable Nintendo themed crossovers. Just think about how awesome would it be to rob a bank donning famous Mario mascot masks? Make it happen, Nintendo.
RELIVE THE '80S ARCADE WITH NAMCO MUSEUM THIS SUMMER
Take a trip back to the '80s arcade this summer with the nostalgic offerings of Namco Museum. Play classics like Pac-Man, Dig Dug and Galaga on the go, as well as local multiplayer titles Rolling Thunder, Sky Kid, Tank Force and many more. Each game comes bundled with a slew of fun challenges to push those joystick grubbing hands to their limits, and can be experienced in either your choice of horizontal or vertical aspect ratios.
STANDALONE SWITCH DOCK HITTING RETAILERS MAY 19TH
Limited quantities of the standalone Nintendo Switch dock are hitting up your local retailer next month. Finally I won't have to trudge my dock back and forth between my place, my girlfriend's and my family's. They should seriously consider getting their own Switches, anyway. I mean, come on.
SPLATOON 2 INKING YOUR TELEVISION SCREENS ALONGSIDE NEW AMIIBO JULY 21ST
I ain't squidin' around, fellow inklings! Splatoon 2 is pumping up for release in late July, and today we got our first glimpse at an exciting new mode: Salmon Run. You and three other kid squids cooperatively fend off countless waves of fish folk while harvesting mysterious eggs for your corporate overlords. Be sure to get all the squishy details from Logan Plant's diligent deep dive.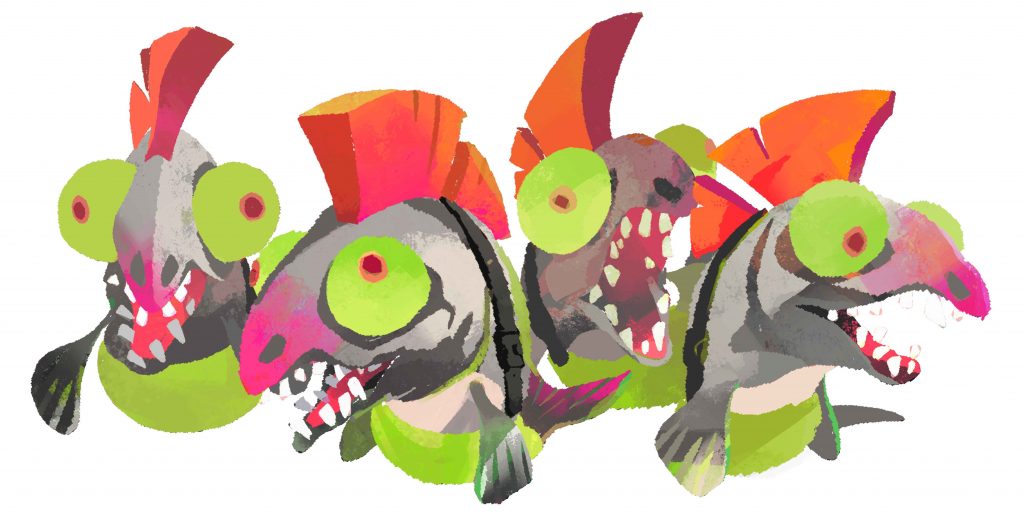 STAY TUNED
That about wraps it up for everything on the Switch side! Be sure to check out our companion articles for all of today's many 3DS offerings and amiibo announcements for the full picture of everything today's Direct had to offer. What games are you most excited for? Be sure to let us know in the comments, and as always, keep it plugged in right here for all your future Nintendo needs.
Leave a Comment