Some exciting new Splatoon 2 news came out of today's Nintendo Direct! Opened up by a cheesy employment video from Grizzco Industries, it immediately became clear that the underlying tones of environmentalism and climate change picked up in previous Splatoon 2 footage was not made up — oh yes, it's real.
Power Eggs
In order to "make a better future for tomorrow," Grizzco is shipping out teams of four Inklings to the ocean far, far away from Inkopolis to harvest Power Eggs. We're not yet sure what these Power Eggs are for, but we do know that we're getting a brand new mode that looks like a ton of fun.
Salmon Run
In "Salmon Run," you'll team up with three other players to fight off countless waves of Chum, the new, creepy enemies that drop Power Eggs upon defeat. The Chum are known to habitually attack with weapons that look like frying pans, and every so often a gargantuan Steelhead will appear. The Steelhead will take coordination and strategy to take down, but the reward is greater, too. Golden Eggs are dropped when a Steelhead is defeated, but the value of the eggs is still unknown to the Squid Lab Researchers.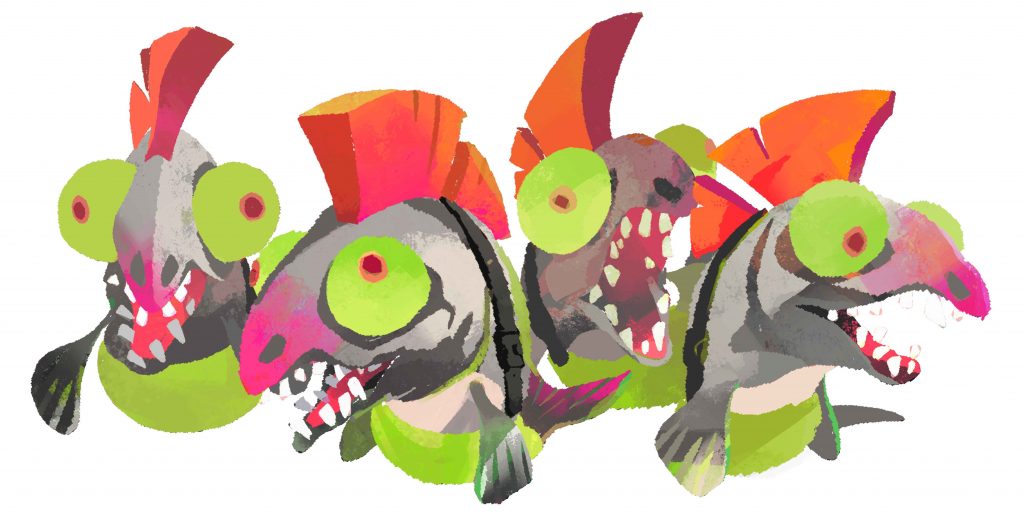 Another new mechanic featured in Salmon Run is the Lifesaver: a signal to teammates that you need to be revived. To revive a teammate, simply cover the lifesaver in ink! The main goal of Salmon Run seems to be hauling all of the collected eggs back to a main container in the center of the map. It definitely looks like an intriguing addition to the Splatoon mode lineup!
New amiibo
Three new amiibo were also revealed to be launching alongside Splatoon 2. A new design of Inkling Girl, Inkling Boy and Inkling Squid are on the way. This time around, amiibo will be used to remember outfit setups and for taking fun photos. Previous Splatoon amiibo will also be compatible with the game.

Splatoon 2 launches on July 21st alongside the new wave of amiibo.
Check out the Splatoon 2 segment from today's Nintendo Direct and soak in all that inky goodness!
Leave a Comment