A new trailer for Pokémon Scarlet and Violet was released by The Pokémon Company today. Not only did we see the reveal of three new Pokémon, but new details on the "three grand stories" we can take part in. These are the good ole Gym battling and making our way to Victory Road, searching for a rare ingredient, and something involved with Scarlet and Violet's trouble-making team.
Fellow student Nemona can recommend us to acquire the coveted title of being a Champion-ranked Trainer. In order to get there, it includes plenty of battles. The good ole Pokémon formula of challenging eight Pokémon Gym Leaders is here and we were introduced to some new characters related to this storyline. Previously, we were introduced to Grusha, Gym Leader of the Glaseado Gym who specializes in Ice-type Pokémon.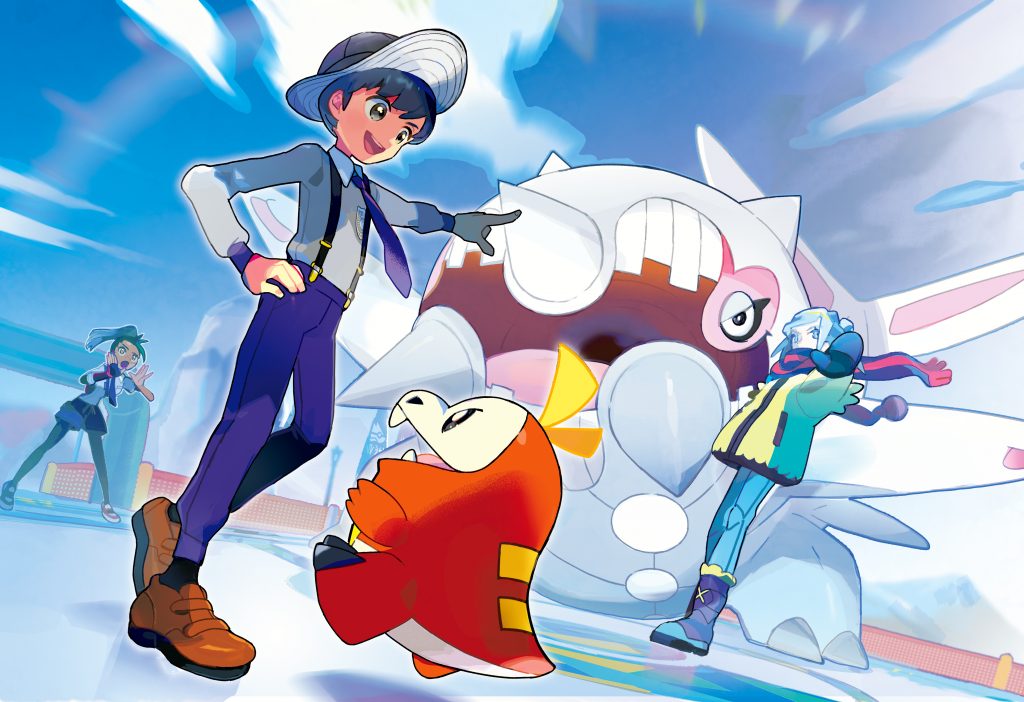 Today's announcement featured Brassius, Gym Leader of the Artazon Gym who primarily battles with Grass-type Pokémon. Before you can battle their Smoliv and Sudowood (with a Grass Tera type), you'll have to pass their Gym Test which seems to be finding Sunflora scattered throughout Artazon.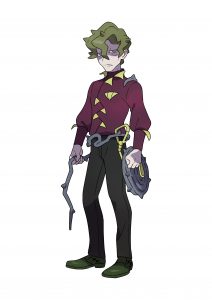 That isn't the only NPC that was shown off, as we were also introduced to the chairwoman of the Pokémon League. Greeta is described as a mild-mannered, yet incredibly skilled Trainer. She's also looking for new Trainers to take on the Pokémon League.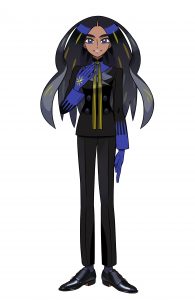 As for searching for a rare ingredient, that's where upperclassmen Arven steps in. He isn't an expert in Pokémon battles and needs help in finding rare ingredients called Herba Mystica. Allegedly these ingredients can immediately restore a Pokémon's health once eaten. The official Pokémon Scarlet and Violet site and a press release refer to this story as the Path of Legends… which might seem a bit too grand when the focus is on collecting rare herbs. Yet, it won't be a walk in the part to get the Herba Mystica as they'll be guided by Titan Pokémon. The newly revealed Klawf is shown to be a Titan Pokémon, which is basically a stronger, oversized version of the Pokémon's original form.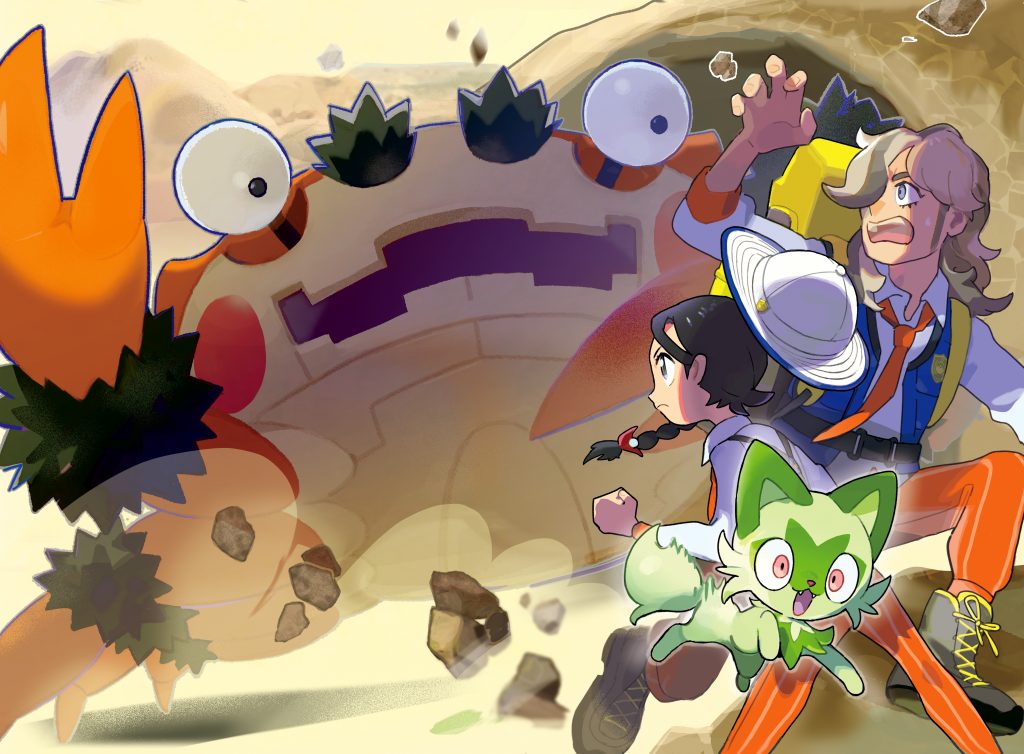 Giant Enemy Crab? Giant Enemy Crab Time.
Luckily, Arven will reward us for our efforts by cooking up some of his hand-made dishes. I'm sure Sprigatito would agree with me here when I say they better be some darn good food with effects. Paella please and thank you.
As for the third story (★ Starfall Street ★), meet Team Star.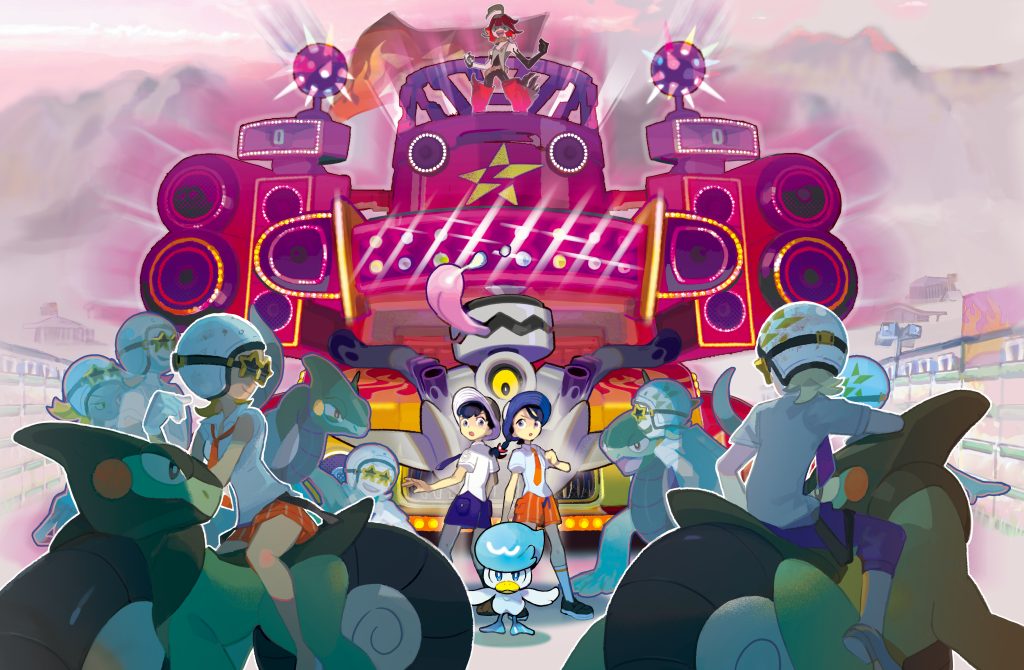 Yes, that oversized, tricked-out vehicle previously featured for a second in a Pokémon Scarlet and Violet trailer is related to the Paldea region's villainous (?) team. Okay, they might not be on Team Rocket's level of dastardly deeds… they're just a bunch of rebellious students causing trouble. Made up of various squads, you'll be using the new Auto Battle feature against them at the bases. Defeat the onslaught of Team Star Grunts, and the boss for that particular crew will appear in their custom Starmobile. For today's announcement, we were introduced to Mela, boss of the Schedar Squad (Team Star's Fire crew).
Depending on which version of Pokémon Scarlet and Violet you're playing, Team Star's grunts and bosses will look different. It's easier to tell with the grunts (the school uniform), but it might be harder to spot at first glance when it comes to the bosses (Mela's punkish collar will either be orange or purple).
Now, I mentioned the Auto Battle feature when it came to Team Star, but you can use it outside of defeating Team Star Grunts. How to activate it is simple – it requires having a "buddy Pokémon." While exploring the Paldea region, you can select a Pokémon to walk and search with you. This is being called the "Let's Go!" feature (a nod to Pokémon Let's Go, Pikachu and Eevee! no doubt). You'll be able to indicate which direction you want your Pokémon to go, and perhaps along the way, they'll find items.
Of course, they could also encounter wild Pokémon. For Auto Battles, you don't need to issue attack commands. Your Pokémon will do that all on their own while you watch, or even go exploring nearby for items. Just like standard wild Pokémon battles, your Pokémon will earn experience points and even items. Of course, The Pokémon Company hasn't mentioned what would happen if your Pokémon were to faint during Auto Battle or if there's some sort of level threshold so they don't Leroy Jenkins it at every high-level Pokémon they see.
That wasn't the only big news from today's Pokémon Scarlet and Violet trailer. Three new Pokémon were shown off and it was announced that a special Pokémon Scarlet and Violet-themed Nintendo Switch OLED would be released.
Expect more news as we get closer to Pokémon Scarlet and Violet's release on Friday, November 18th.
Leave a Comment