Typically, mainline Pokémon games are all about defeating the eight Gym Leaders, taking on the Elite Four, and besting the region's Champion. Throughout almost nine generations of games, the challenge hasn't changed too much – other than the Island Challenge in Pokémon Sun, Moon, Ultra Sun, and Ultra Moon. As for what direction Pokémon Scarlet and Violet will be going in, we got our first glimpse during today's Pokémon Presents.
The traditional Gym challenges and quest to be the Champion awaits Trainers in the Paldea region, and it'll be one of the games' "three grand stories" Trainers can experience. Still, traditional doesn't mean nothing has changed and there's some wiggle room with completing this task. Game Freak is letting us run wild from the start as Gyms can be challenged in any order. Once Trainers have defeated the eight Gym Leaders, it's time for a special test. Trainers will be able to take the Champion Assessment. As for what this test consists of, The Pokémon Company isn't divulging details right now. We do know that once completed, Trainers will earn the Champion Rank – which, for the region, is a special class of pro-rank Pokémon Trainers according to the game's official site. Get ready for multiple Champion Rank Trainers during our travels, then?
We also did get confirmation of one of the eight Gym Leaders for the region today. Grusha, Gym Leader of the Glaseado Gym, is considered an Ice-type specialist and his team includes Cetitan (one of the new Pokémon announced today).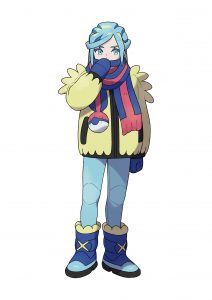 Now, I said that this quest to be the best is one of three stories in Pokémon Scarlet and Violet. The other two haven't been detailed yet (other than both will "hold many surprises and discoveries"), but today's new trailer for Pokémon Scarlet and Violet and some updates on the site point to a possible answer – the Treasure Hunt.
The Treasure Hunt is an independent study project issued by Director Clavell of the Naranja or Uva Academy (which one you attend depends on which version of the game you're playing). Trainers will be able to "[e]mbark on a journey across Paldea to gain new experiences, meet new people, and find your very own treasure." according to the game's site. Combine the fact that treasure can mean gold/jewels/riches/etc. and Paldea happens to have the Terastal Phenomenon (where Pokémon take on a jewel/crystal-like appearance), unearthing this phenomenon may be the focus of one of these "grand stories". Even the trailer closes out with "Let the Treasure Hunt begin!"
Thankfully, we're less than four months out from the release of Pokémon Scarlet and Violet. Not too long before we can discover what adventures await (or even get a trailer teasing it)!
Pokémon Scarlet and Violet will be released on Friday, November 18th. Pre-orders are currently being accepted and you can check out our pre-order guide to see which retailer is offering additional bonuses!
IMAGE GALLERY
Leave a Comment