We're less than four months away from the release of Pokémon Scarlet and Violet, and details of our new adventures in the Paldea region have ramped up. Today, during the nearly 20-minute-long Pokémon Presents, we got to see some new Pokémon, new characters, and a brand new mechanic. Akin to the Galar region's Dynamax, Paldea will instead be home to the Terastal Phenomenon.
According to a press release from The Pokémon Company, "[t]his phenomenon is found only in the Paldea region and makes Pokémon shine and glimmer like gems. When a Pokémon Terastallizes, a Tera Jewel appears above the Pokémon's head like a crown, and the Pokémon's body glistens like a cut gemstone.
All Pokémon in Paldea can Terastallize to gain special powers, and Terastallization allows players to enhance their battle strategies by increasing the power of any moves that have the same type as their Pokémon's Tera Type. There are 18 types, meaning there are countless combinations of Pokémon and Tera Types.
Players can Terastallize a Pokémon once per battle and the transformation will last until the battle ends. Players will need a Tera Orb to Terastallize a Pokémon, which will need to be recharged after each use. Players can charge their Tera Orb by touching crystals overflowing with Terastal energy or by going to a Pokémon Center."
This phenomenon isn't completely understood, according to the Pokémon Scarlet and Violet site. Professor Sada and Professor Turo are both researching this gem-like transformation, and more than likely players will be doing the same during their adventure through the Paldea region. In fact, we already got some news that Tera Types aren't as simple as we think they might be.
For instance, Eevee won't be limited to Normal Tera Type. You can end up with an Eevee with a Normal Tera Type, a Flying Tera Type, a Grass Tera Type, or a Water Tera Type. Possibly even the rest of the 18 Pokémon types, but we have confirmation for those four at least.
Not only are these transformations pretty (and very, very shiny- hey, wait a minute), but there's a chance a Pokémon's move will be boosted. "When a Terastallized Pokémon uses a move that matches its Tera Type and at least one of its original types, the boost to that move's power will be even greater!" As for how much of a boost, we'll have to wait until Pokémon Scarlet and Violet is released on Friday, November 18th.
You can pre-order the games today, and in fact, secure getting your first Terastallized Pokémon. In the "early purchase, get this Pokémon by x-date" tradition, The Pokémon Company announced that Trainers can get a Pikachu with the Flying Tera Type by Tuesday, February 28th, 2023 via Mystery Gift.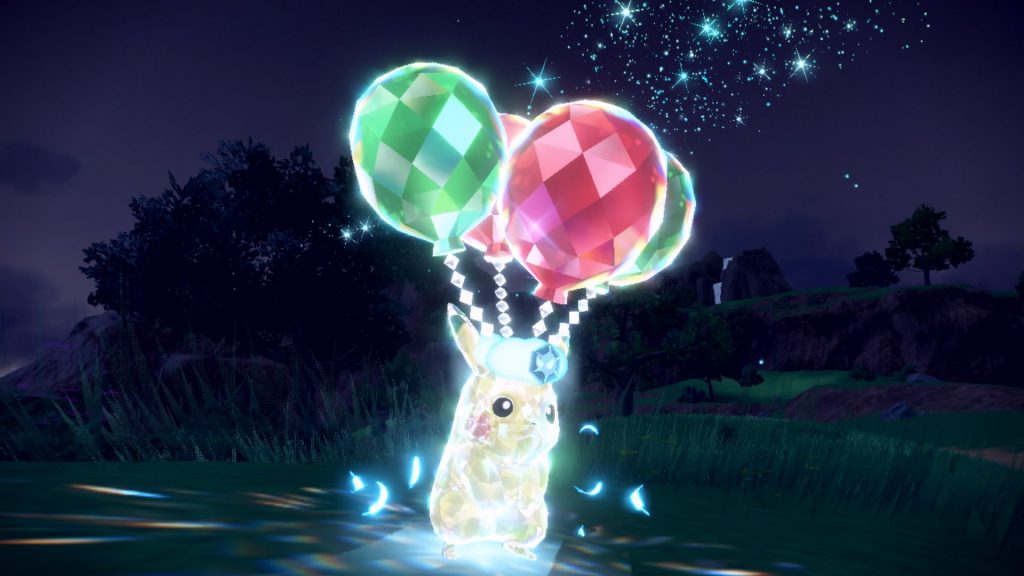 Leave a Comment