August 2022's Splatoon 3 Direct was a 32-ish minute long presentation getting all us Inklings and Octolings ready for the release of Splatoon 3. While over the last year we've seen various announcements about the title's Story Mode and Salmon Run (sometimes branded as Salmon Run Next Wave), today we were treated to some new footage and info for both.
Story Mode – Return of the Mammalians
The New Squidbeak Splatoon has a brand new mission and is accepting a new recruit to be their new-new Agent 3 (the original Agent 3 was promoted). This is where you, the player, and your very own Smallfry buddy (aptly called "little buddy") come in. Teased in previous Nintendo Directs, today we saw a mix of new and old footage of Splatoon 3's Story Mode.
In Splatsville's hub, there's a strategically placed manhole cover with Craig Cuttlefish popping out. Swim right through the grate and you'll be off "on an adventure to discover the secrets of Alterna, the Fuzzy Ooze, and how it connects to the title's theme [Return of the Mammalians]. As Agent 3, the latest recruit of the New Squidbeak Splatoon, players will battle with the Octarian Army, whose members are covered in hair for some reason. Along with their Smallfry buddy, players can explore many stages, each one full of twists and turns."
While adding to the lore of Splatoon, the game's Story Mode is a good place to learn mechanics, weapons, and more. If Splatoon 3's Story Mode follows the setup of Splatoon and Splatoon 2, expect about 32 or more stages (including boss battles) split up among various sectors. It'll be easy at first, building up to a multi-stage boss with some killer pop tunes.
Plus, while building your inking skills, chances are Hero-themed gear will be gifted after completing Story Mode.
Salmon Run
It's back and now 24/7! That's right, the addictive Salmon Run mode from Splatoon 2 is new, improved, and features no wait times. I sense Mr. Grizz is very happy, but only because this means more Power and Golden Eggs. Like Splatoon 3's Story Mode, we've seen snippets of Salmon Run teased over the last year. For today, we got confirmation on some new Boss Salmonids, that Godzilla-like Salmonid Nintendo dropped out of nowhere earlier this year, and other details.
Boss Salmonid: Slammin' Lid
This Salmonid riff on a UFO is ready to enter the map and drop an army of Salmonids. Thanks to a protective forcefield, Salmonids are briefly protected. Enter this forcefield yourself and you'll activate Slammin' Lid's ability to slam down and splat you into defeat. Time it just right and avoid the splat down, you can hop onto the Slammin' Lid's metallic lid, take out its weak spot, and be rewarded with Golden Eggs.
Boss Salmonid: Big Shot
What a chonk, an absolute unit. Big Shot Salmonids have a cannon device that'll shoot projectiles. These balls are dangerous as they can emit shockwaves, which means damage for your and your team. Avoid getting splatted by jumping over the shockwaves and taking out Big Shot before they can fire another ball at you! We don't know how to eliminate this Salmonid yet, but we did get a glimpse that the device sticks around and will end up shooting out multiple Golden Eggs.
King Salmonid: Cohozuna
I know I said that Big Shot was an absolute unit, but Cohozuna (a King Salmonid) is… damn. If you and your crew complete all three waves during a Salmon Run and get lucky to be blessed with an Xtrawave (Extra Wave, get it?)… this is what awaits. Instead of collecting Golden Eggs to deposit into the basket before time runs out, you'll be turning them into weapons (via the Egg Cannon on your back) to take down the King Salmonid. Sure, your weapon for the round will work, but Golden Eggs deal more damage, and when you're up against the clock, every little hit point matters.
If you don't take down the Xtrawave's King Salmonid, don't worry. This isn't a run that'll end in defeat, as your team will be "compensated accordingly" for the three successfully completed waves.
Big Run
Now that Salmon Run is always available, it seems there will be a new event that is time sensitive. Not content to invade Grizzco Industries' maps, Salmonids will be venturing into multiplayer maps. This particular event is "still being researched" and appears to happen "once every few months". The small snippet showing off this special event just happened to take place on a flooded version of the Wahoo World map.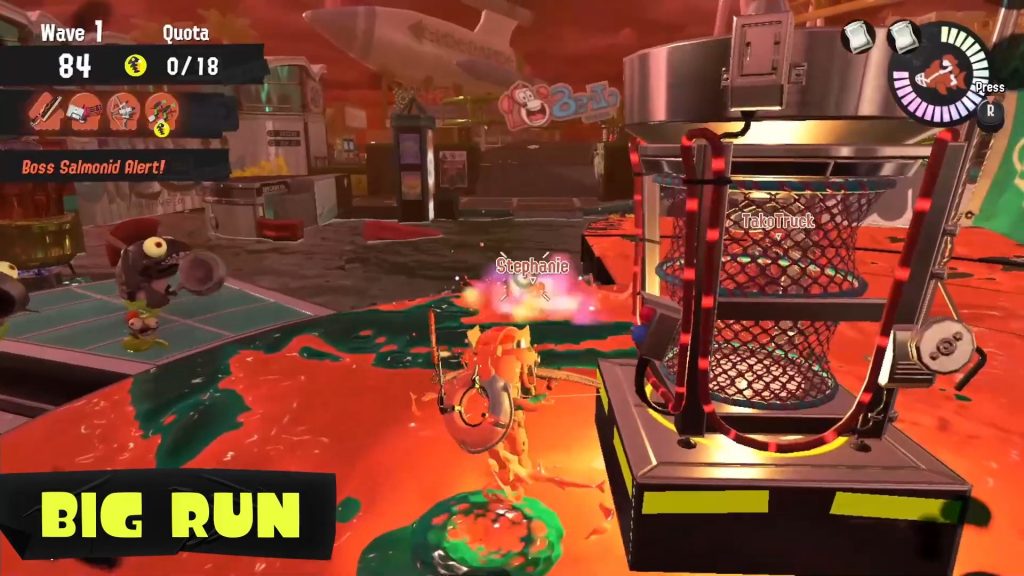 Grizzco Points and Rewards
Mr. Grizz runs a tight, non-OSHA compliant business with some crazy payout options. He'll still be paying out in Grizzco Points and reward capsules, like in Splatoon 2. These can be redeemed at the exchange desk. Yet, for Splatoon 3, there are some other payment options.
King Salmonids have quite the bounty. According to the official Splatoon 3 site "[t]op performers who make it to the Xtrawave and damage the King Salmonid can get fish scales. There are three types of fish scales, and the rarer varieties are more likely to drop after higher hazard levels. Exchange this extra employee benefit for special designs for Splashtags or items for lockers." More than likely you'll need to defeat the King Salmonid to get these new shiny fish scales, but Mr. Grizz might throw some pity fish scale payment in. We'll find out for sure next month.
Plus, players can earn Catalog Points during jobs too. These points can be used to get items from whatever catalog is currently available at Hotlantis.
Grizzco Work Outfit
Looking to change up your look? There will be some outfit customization in Salmon Run. You'll need to earn this alternate work outfit by collecting enough fish scales. Currently, the Splatoon 3 website isn't clear on how many alternate work outfits will be available. Fingers crossed that we'll see new options during the game's two-year plan of free updates.
You'll be able to enjoy Splatoon 3's Story Mode and Salmon Run when Splatoon 3 launches on Nintendo Switch on Friday, September 9th. Check out our pre-order guide for the game and see what pre-order bonuses are currently available!
Leave a Comment