While Nintendo was riding high as the second-best publisher on Metacritic's 2017 list of game publisher rankings, the company has steadily been falling down the list over the years since. It dropped to fourth place in 2018 and 2019, ninth in 2020, and now sits at 14th in the 2021 list.
The 2021 rankings feature Microsoft in first place, followed by Sony in second and Humble Games in third.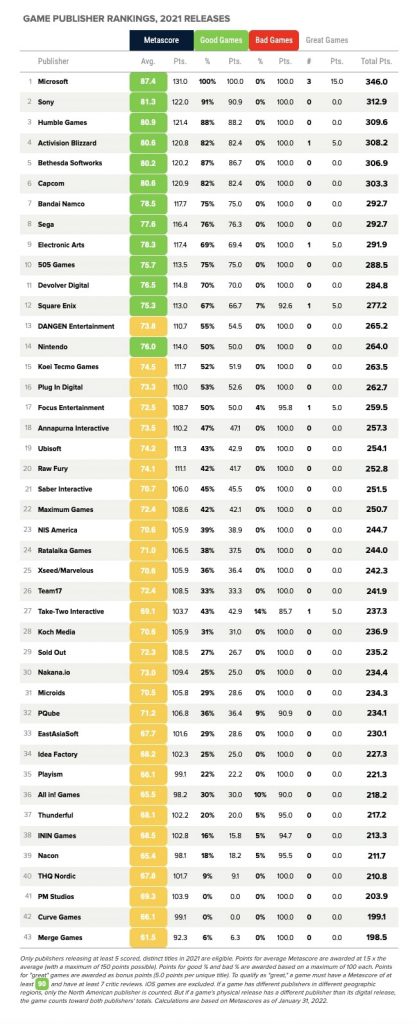 With the Nintendo Switch hardware and its games still dominating the gaming market, how is it possible for Nintendo to land outside of the top ten? As Metacritic points out in its more detailed report, "[Nintendo's] percentage of games receiving positive reviews fell from 67% to 50%." Last year also saw "a lack of games scoring 90 or higher — something Nintendo seems to achieve more consistently than any other publisher." Despite Super Mario 3D World + Bowser's Fury and Metroid Dread both gaining positive reception, even those big hitters landed just below Metacritic's 90 score (receiving 89 and 88 respectively).
Still, it does appear that Nintendo may turn things around drastically this year. 2022 started with a bang with Pokémon Legends: Arceus followed by the recent launch of Triangle Strategy, and on the horizon awaits the Breath of the Wild sequel, Kirby and the Forgotten Lands, Splatoon 3, Bayonetta 3, and Nintendo Switch Sports to name just a handful. We'll be very shocked if Nintendo doesn't reclaim its throne in Metacritic's 2022 publisher rankings!
Leave a Comment