It's that time of year again: We've already reached August and we're approaching the back-to-school season, which means it's time for Nintendo to engage in what seems to have become a yearly partnership with the snack-based brand Lunchables.
Following Lunchables promotions of the past couple years, which featured various Nintendo games on product packaging and offered customers the chance to win Nintendo Switch sweepstakes, the companies are collaborating once again to offer big prize packs. Until September 30th, US shoppers can find Nintendo-branded Lunchables packs with Mario Kart 8 Deluxe artwork, according to Business Wire.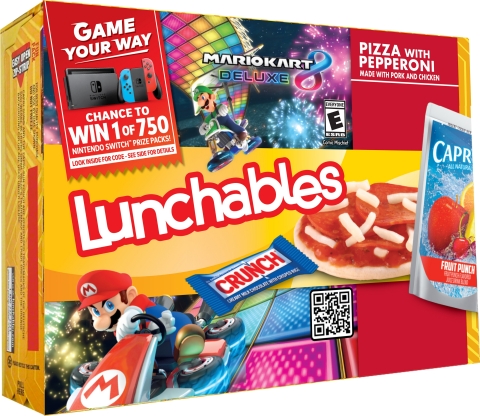 These specially marked Lunchables will include a QR code that customers can scan — or alternatively, you can visit the Lunchables sweepstakes website — and select an exclusive challenge for a chance to win prizes. Up for grabs are 750 Nintendo Switch Prize Packs containing a Nintendo Switch system, two digital game codes of choice, and 5,000 My Nintendo Gold Points. There is also one "Nintendo Themed Mystery Prize Pack" worth $1,000.
As always, best of luck to all the Nintendo-loving Lunchables snackers!
Leave a Comment