During this week of E3 2021, Summer Game Fest, and a slew of livestreams and presentations, Teddy Dief's current project We Are OFK has been making the rounds. Once referred to as the Palmtree Project, We Are OFK is an interactive series following the lives of the band OFK living in Los Angeles, trying to make rent, dream, and date.
Thanks to Wholesome Direct, we got that one-line story summary expanded upon by meeting Itsumi Saito and her friends Luca Le Fae, Carter Flores, and Jey Zhang.
For anyone who lives in Los Angeles or once called the county home, We Are OFK looks like a summer sunset-hued fairytale set in this melting pot of a city. Ditching the smog, but keeping the traffic, Southern California locations are speckled through the trailer. Hollywood & Highland's main shopping center, San Gorgonio Pass wind farm in Palm Springs (Riverside county), and the iconic Colorado Street Bridge in Pasadena were the ones that stood out instantly to me.
Throughout all of We Are OFK's appearances, the game has been presented as coming to Steam and no mention of a console release. After the Wholesome Direct, the Wholesome Games site listed all titles shown off during the presentation as well as what systems they'd be available on. Go to We Are OFK's spot and you'll find an interesting add-on next to Steam, Itch.io, and Epic Games logos – and that is the Nintendo Switch.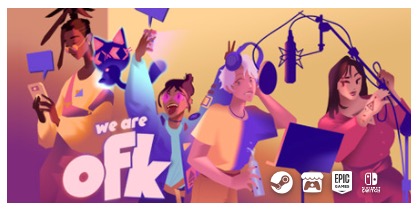 This could be an error, but as it stands this is the first we've seen of We Are OFK listed for Nintendo Switch, and personally, I'm all for it.
Look forward to We Are OFK on PC and Nintendo Switch (hopefully) later this year.
Leave a Comment