Nintendo dropped a hefty trailer earlier today for Animal Crossing: New Horizons' upcoming winter update, revealing a ton of surprises for players to look forward to. Now, Nintendo didn't stop there when it came to teasing the future festive fun, however, as it has gone into further detail over on the company's site.
Franklin's missing ingredients
The first thing we saw in the trailer was Turkey Day. This will take place on Thursday, November 26th, with Chef Franklin visiting your island. Being a highly skilled chef, he will be hosting a large gathering at the plaza, but he is short on ingredients. If you can help him out, he'll reward you with a gift. As seen in the trailer, it seems you can give Franklin some pumpkins as ingredients, so make sure you stock up on your harvest!
You can only initiate this event by having a fully constructed Resident Services building at your plaza, but unless you're a brand new player, this will likely not be an issue for you.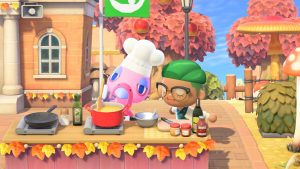 Christmas ornaments, new toys and clothing, and Jingle's gift
As December arrives, your island and plaza will "gradually [become] more festive with holiday-themed decorations over the coming weeks." This includes decorated trees that you can shake, making them drop ornaments that you can then use to craft new, holiday-themed furniture.
Between December 1st to the 25th, there will also be new toys in stock at Nook's Cranny, as well as holiday-themed clothing at the Able Sisters. When Toy Day arrives on Thursday, December 24th, Jingle will visit and offer you a gift if you can help him deliver presents to your fellow villagers. 
Again, you'll need to have progressed far enough with the game's main objectives (have unlocked the Resident Services building) to fully enjoy these events.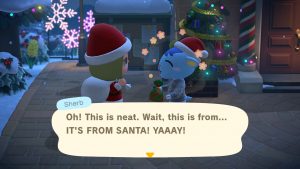 You'll need to fully pay off Nook's debt to obtain the storage upgrade
One of the most exciting additions in the coming update is the home storage upgrade, which will expand your 1,600 slots to 2,400. If you have yet to upgrade your house to its biggest size and pay off Tom Nook's debt, however, you'll need to start saving those Bells first. Once your debt is paid off, you can then speak to Mr.Nook at Resident Services to request the upgrade. At least players will now finally have some motivation to pay off that greedy raccoon.
You can now visit random islands in Dreams
For fans of New Horizons' Dream Suite, which allows you to visit copies of other people's islands just by hopping on a bed, you'll no longer have to acquire endless codes to go adventuring. The trailer left out the fact that the update will allow you to visit dreams at random! According to Nintendo's Japanese website, you can publish your island online if you would like for other players to discover it with the new "random" option.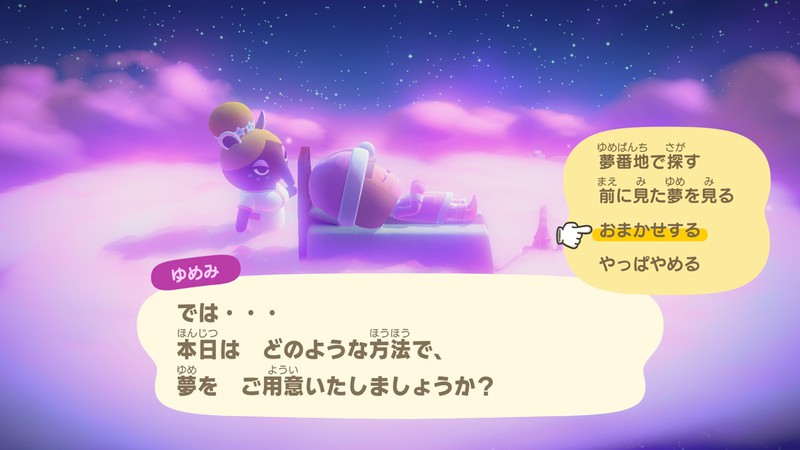 Pocket Camp's third-anniversary collaboration
Mobile title Animal Crossing: Pocket Camp turned three years old recently, and to celebrate, Nintendo is giving New Horizons players a new in-game smartphone model. To receive it, you just need to link both your Pocket Camp app and New Horizons to your Nintendo account.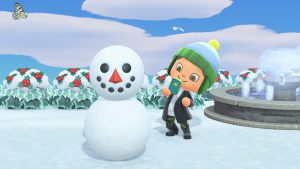 Data transfer details
The trailer briefly teased a new "Save Data Transfer" feature, though it glossed over the details. For starters, this feature is actually two features: the first will allow you to transfer your whole island, including all of your saved data and residents, to another Nintendo Switch system. The second transfer option is for players "who are not the island's Resident Representative," allowing them to perform a single-player transfer to another system.
This will be a very welcome addition to players who receive their own Nintendo Switch this Christmas!
New Year's Eve items and countdown event
Finally, the update has one more offering to players before we bid farewell to the strange year of 2020. Between December 26th and 31st, there will be "several festive items to commemorate New Year's Eve" available at Nook Shopping. The Japanese website says that these will include the Sparkling Cider, Twelve Grapes, Berliner Pfannkuchen, and Toshikoshi Soba Noodles (these names may be changed due to localization).
There will also be a countdown event starting at 7 p.m. on Thursday, December 31st. While most of the world remains quarantined, this should make for a great opportunity to meet friends and family in-game to ring in the new year!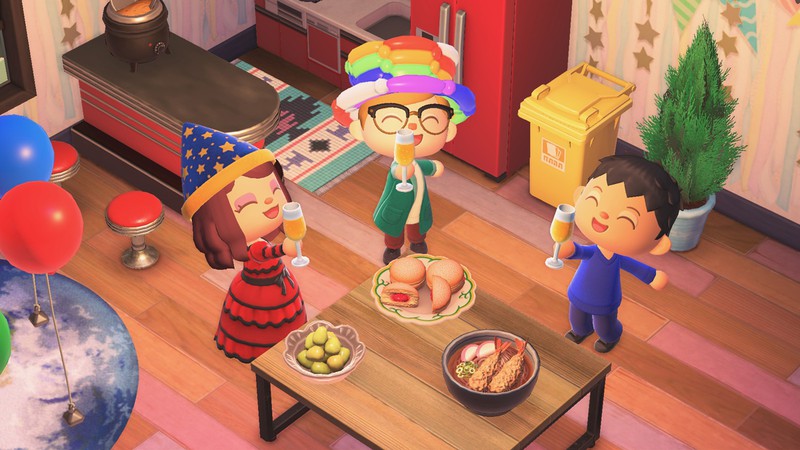 Catalog feature coming to NookLink
New Horizons' companion mobile app, NookLink, isn't being left out either. The Japanese Nintendo website says that a new "catalog" feature will be rolled out in late November. This is only confirmed for Japanese users so far, though we imagine this will also apply to international users sooner or later.
Seasonal Nook Shopping items and free update gift
Missed out on the Winter-Solstice Sweater or the Summer-Solstice Crown this year? These two items will be available to purchase again as well as two new solstice-themed items – the Aurora Wall and Sunflower Rug. While these are geared towards Northern Hemisphere (Winter) and Southern Hemisphere (Summer) island representatives, it could be possible to see both on sale regardless of what hemisphere your island resides in. 
Finally, with every new Animal Crossing: New Horizons update comes a thank you gift from Nintendo. After updating your game to Version 1.6.0, go visit your island and check your mail. You'll find a letter from Nintendo that includes a Yule Log cake!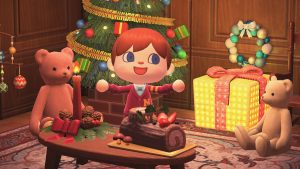 Animal Crossing: New Horizon's winter update will be here soon as it goes live on Wednesday, November 18th at 5 p.m. PT | 8 p.m. ET.
Leave a Comment