Nintendo's latest fiscal report is in, this time covering the six month period ending September 30th, 2020. As expected the Switch has passed the NES's lifetime hardware sales number (and getting close to the 3DS's), while some significant sales data has been posted for certain pieces of software.
Animal Crossing: New Horizons, for example, has tacked on another three and a half million to its total from June, hitting 26.04 million units sold so far. This means it's still the second best selling piece of Switch software, but the gap between it and Mario Kart 8 Deluxe is becoming more and more narrow.
We also have updates on the two Mario games that launched after June. Paper Mario: The Origami King, which launched back in July, has hit 2.82 million units, while Super Mario 3D All-Stars, which had only been out for a few weeks as of the report being finalized, managing an impressive 5.21 million units sold.
Several other legacy titles have also seen impressive sales increases compared to the same April – September period last year, which you can see below.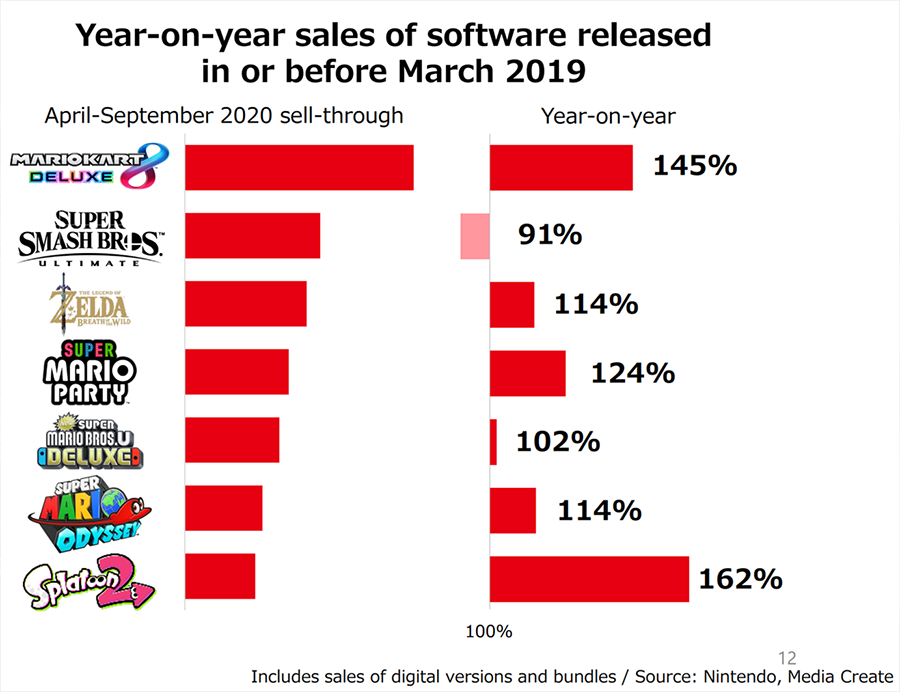 Mobile and IP-related income for the fiscal year so far has also seen an impressive increase of over 33% compared to the same period last year. This includes merchandising and new ventures like Super Nintendo World's new cafe.
Finally, we have confirmation that Nintendo has "various campaigns and collaborations related to Super Mario planned".
We'll just have to wait and see how Nintendo performs over the holiday season when the next report is released!

Leave a Comment