The version 1.4.0 update for Animal Crossing: New Horizons has arrived, and keen dataminers have already sleuthed through the game's files to find references to new features that may be on their way.
Ninji, a Twitter user known for gleaning information from past Animal Crossing: New Horizons updates, discovered "hints" about "possible future things," including references to cooking and sewing DIY recipes, various vegetables and ingredients, a new bush type (plumeria), and a new Gyroid "ItemKind."
So, quick summary of hints about possible future things:

– New '35_Gyroid' ItemKind
– New 'VgtTomato', 'VgtWheat', 'VgtSugarCane', 'VgtPotato', 'VgtCarrot', 'VgtSquash' map Fg items
– New bush type (Plumeria)

They've also hidden some of the references to sewing and cooking DIYs

— Ninji 🇪🇺🏴󠁧󠁢󠁳󠁣󠁴󠁿🇬🇮 B L M / 1312 (@_Ninji) July 30, 2020
According to Ninji's tweet, tomatoes, wheat, sugar cane, potatoes, carrots, and squash may be on their way; coupled with "hidden" references to cooking DIYs may indicate some sort of gardening or cooking mechanic is or was being planned for the game.
This isn't new information — Ninji themself has tweeted about these references before, specifically mentioning these items (while also mentioning pumpkin) are or were planned to be growable and pickable by players.
The return of gyroid items to the game (statue-like furniture from previous Animal Crossing games that would dance and make sounds in-sync with music) has also been mentioned by Ninji in the past, specifically in relation to a museum café.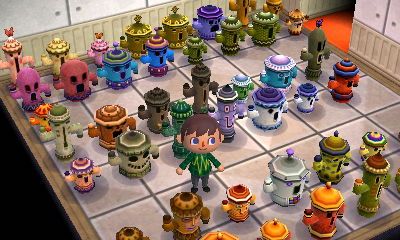 Many features datamined by Ninji previously have come to fruition in updates to the game, like Redd and artwork, bushes, and sea creatures and diving.
Ninji ended his series of tweets this evening about his latest datamine with a reminder that none of these features are confirmed to be on their way to the game.
"Usual disclaimer of course that these changes don't mean a particular feature is certainly coming, or not coming," Ninji writes. "Things change during development! They're almost definitely still working on cooking etc, they've just gone "[…] Ninji tweeted about this, add an #ifdef."
What do you think of the datamined information? Let us know in the comments!
Leave a Comment