Happy Pokémon GO Fest 2020, everyone! Niantic has been slowly releasing details about this year's event over the last few months. Here we've rounded up all announcements released up to this point in time. Here's what you can expect during the two-day "play at home" extravaganza! 
GET YOUR GO FEST 2020 TICKET
To experience all perks of Pokémon GO Fest 2020, you'll want to gather up some funds to buy the GO Fest 2020 Ticket. Priced at $14.99 (or equivalent to your country's currency), Niantic has shared the following steps to purchase a ticket:
How to purchase a ticket
Tickets to Pokémon GO Fest 2020 are now available in the in-app shop! Tickets are USD$14.99 plus any applicable taxes and fees (or the equivalent in your local currency). Tickets cannot be purchased with PokéCoins.
1. In the shop, tap the Pokémon GO Fest 2020 image.

2. Tap the

Buy

button.

3. You'll then see a pop-up indicating that you've received a ticket for Pokémon GO Fest 2020.

4. After you tap

OK

, you can find the ticket in your Item Bag.

5. A few days before the event, you'll receive a medal. When you open the app during Day 1, you'll receive access to the Pokémon GO Fest 2020 experience, including the first Special Research story! Make sure to open the app during Day 2 to receive the second Special Research story.

6. After you've obtained the Special Research lines, you can complete them at any time. Tickets to this event are nonrefundable (subject to applicable law and the exceptions set forth in the Terms of Service).
You can purchase tickets until "July 26, 2020, at 6 p.m. local time. Keep in mind that if you purchase your ticket after the event starts, you may miss out on some of the earlier content."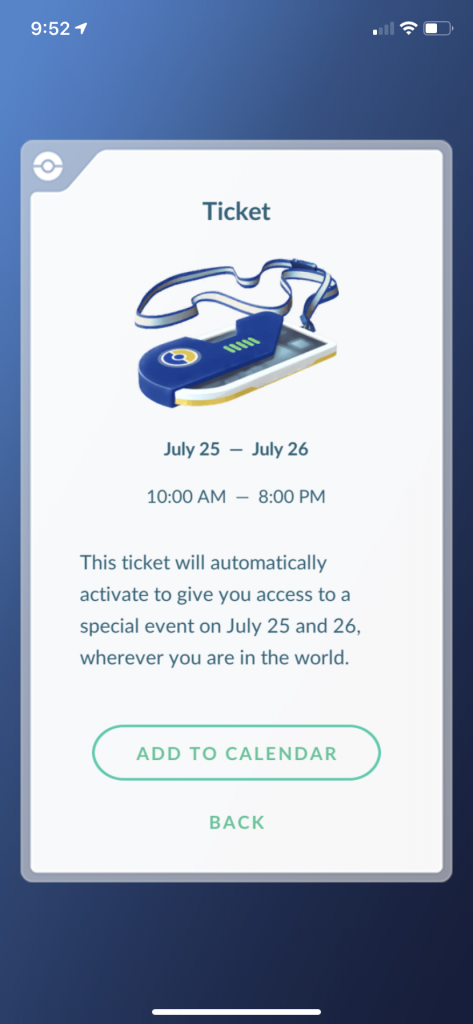 BEFORE YOU GO FEST GO
Taking part in this year's event, Niantic recommends that you hit a few milestones in your Pokémon GO journey and to enjoy what the event has to offer:
Make the most out of your experience by using Incense

: Incense activated during the event will last for one hour and will be even better at attracting featured Pokémon.

Explore all the habitats

: During Day 1, there will be five themed habitats rotating each hour, and each will feature different Pokémon!

Get to level 10

: If you are currently below Level 10, be sure to get to level 10 prior to the event in order to maximize your experience.

Get your Print at Home kit

: Bring the adventure of Pokémon GO Fest 2020 home. With the Print at Home kit, you can assemble crafts, decorations, and more to help re-create the adventure of traditional Pokémon GO Fests, no matter where you are in the world! The kit is available now on the

Pokémon GO Fest website

.

Visit the Virtual Team Lounge

: If you want to take a break from catching Pokémon during GO Fest, join us in the Virtual Team Lounge! Watch live video content, join the chat, check your team's contributions to the Global Challenge Arena, and more! Mark your calendars—don't miss the Pokémon GO Fest 2020 global kickoff keynote by John Hanke, founder and CEO of Niantic, on Friday, July 24, at 2:00 p.m. PDT (GMT −7) .

Dress up with Pokémon GO Fest 2020 avatar items!

Pick them up in the shop Thursday, July 23, 2020, at 2:00 p.m. PDT.
DAY 1 OF GO FEST 2020
When: Saturday, July 25th at 10 a.m. – 8 p.m. (your local time)
Currently, Niantic has released the following details about the day's events:
Trainers can access a Special Research story that they can get only on Day 1.

Note: This Special Research can be completed after GO Fest, but it is encouraged to complete it during the event.

Five rotating habitats—themed around fire, water, grass, battle, and friendship—will feature special Pokémon that go along with that habitat's theme. These habitats will rotate every hour, so each habitat will be featured twice during Day 1.

Note: Niantic

highly encourages

all Trainers to save their gift-giving sprees until the Friendship habitat is active.

Trainers will be able to work together in the Global Challenge Arena! This GO Fest–exclusive feature will be available only to ticket holders. In the Global Challenge Arena, Trainers will have a chance to join forces in order to complete a collaborative challenge each hour. If Trainers complete a challenge, they will earn a bonus for the remainder of the hour. You can check the Global Challenge Arena screen to keep track of global progress!

Note: There will be 32 Global Challenges and completing them will unlock

Ultra Unlock week(s)

. 

Trainers will be able to encounter over 75 species of Pokémon in the wild, in raids, and by completing Special Research tasks.
Note: This includes the following

Pokémon

, which were prizes/incentives during the GO Fest Weekly Challenge timed research tasks: Chimecho, Alomomola, Chansey, Ferroseed, Alolan Grimer, Alolan Marowak, Togetic, Dratini, and Litwick.
DAY 2 OF GO FEST 2020
When: Sunday, July 26th at 10 a.m. – 8 p.m. (your local time)
Currently, Niantic is keeping mum on what will happen:
Trainers will enjoy…something very different! We want the Day 2 experience to be a surprise, so ticket holders will learn what we have in store that very day. There'll also be another Special Research story for Trainers to enjoy.
Note: We will update this roundup once Niantic unleashes this surprise. Hopefully,

Team GO Rocket

and their recent hijinks won't ruin it…
VIRTUAL TEAM LOUNGE & LIVE PROGRAMMING
On the event site for Pokémon GO Fest 2020, there will be dedicated virtual spaces for teams Mystic, Valor, and Instinct. There, you can take part in the following:
Enjoy exclusive Pokémon GO Fest video content and more!

: Rest your catching arm, and watch some videos together with your fellow Trainers.

Stay in the loop with the latest event happenings

: Check out what the Pokémon GO team and Trainers around the world are posting on social media about #PokemonGOFest2020—all without leaving the Virtual Team Lounge!
Niantic will also be hosting multiple livestreams. Kicking off at 2 p.m. PT on Friday, July 24th, and ending after 12:20 p.m. PT on Saturday, July 25th, you can tune in for the following content:
Pokémon GO Fest 2020 Global Kickoff

: On Friday, July 24, 2020, at 2:00 p.m. PDT (GMT −7), join your fellow Trainers and start the festivities together with a kickoff keynote by John Hanke, founder and CEO of Niantic!

The Makings of a Pokémon GO Fest

: Ever wonder what it takes to make a Pokémon GO Fest event happen? Tune in and hear from Liz George, manager of community and social, and Laura Warner, senior game designer, to find out how we make the adventure happen.

Print at Home Kit: How to Build a Gift

: Feeling crafty? Learn how to build a real-life Gift directly from the artist who created it, Craig Kitzmann! Download

the Print at Home kit

now to get ready.

Pokémon GO: Developer Insights

: Hear from Matt Slemon, product lead for Pokémon GO, as he shares some insights and highlights of what's to come.

Getting Started in the GO Battle League

: New to the GO Battle League? Fear not—we're here to help you build a team featuring Pokémon you'll encounter during Pokémon GO Fest.

Social Impact and Diversity

: Learn all about what Niantic is doing in the realm of social impact and diversity.

Pokémon GO Fest 2020 Commercial Behind-the-Scenes

: Filmed and directed remotely with team members in London, New York, San Francisco, Seattle, and Tokyo, our Pokémon GO Fest commercial "Look Closer" was inspired by our global Trainer communities and relationships. In this behind-the-scenes segment, you can learn about how this commercial was made. Plus, you can look forward to an appearance from the director, Rian Johnson, himself!

On-the-GO Update!

: Catch live event updates, and play Pokémon GO trivia for the chance to win prizes! This live segment will be occurring several times throughout the livestream.

Avatar Fashion Show

: Share a screenshot of your avatar's style using #PokemonGOFest2020 for a chance to be featured in this segment!
The full schedule is available here on the Virtual Team Lounge page.
ACTIVITIES
Looking for some Pokémon-themed activities during the event? Niantic has put together papercraft activities and decorations. Available for free for a limited time, all Print at Home kit files are at the bottom of the Virtual Team Lounge page. When you're done, take a picture or two and post it online! Tag your post with #PokemonGOFest2020 and Niantic might just retweet and share your masterpieces to Trainers all over the world!
SWAG IT UP IN-GAME
There are digital Pokémon GO Fest goodies to wear and add to your medal collection. Check it out down below:
Pikachu Visor and GO Fest 2020 Tee can be found for free in the Style section of your Trainer Profile.

If you bought a ticket for GO Fest 2020, you'll see this commemorative medal pop-up on screen and be added to your collection.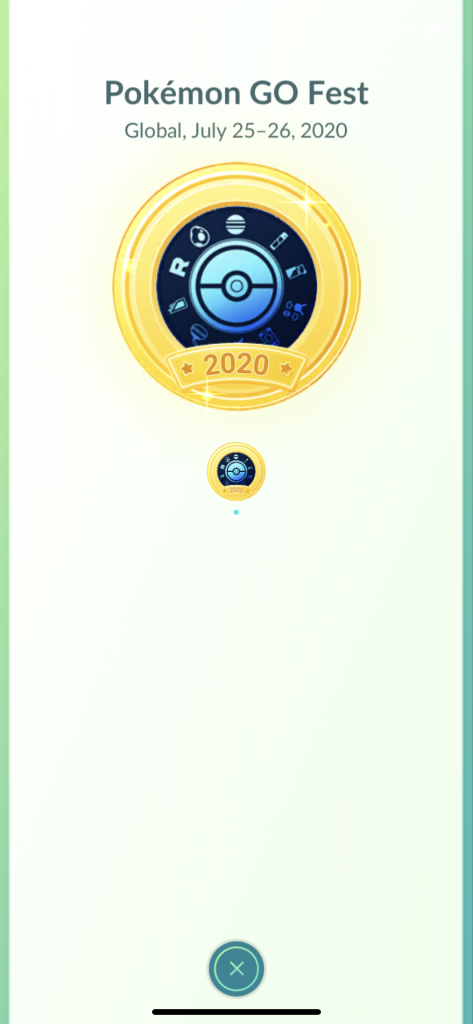 Don't forget about your buddy! They're excited about the event too and might find a Pikachu Visor souvenir or something even more colorful to add to your collection.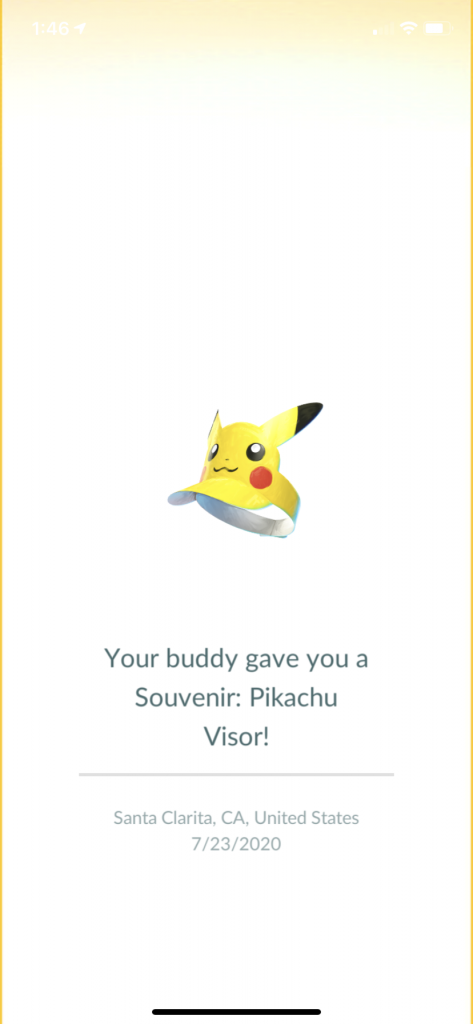 Stickers, a new feature added to the game's gifting, could be getting some special GO Fest 2020 versions. Keep watch and see what designs you can add to your collection! 
Wow! This GO Fest might not be the in-person event that Niantic planned, but it's turning out to be a robust Pokémon GO celebration. Have fun and catch 'em all, Trainers!
Leave a Comment