Niantic and The Pokémon Company are adding another candle to Pokémon GO's birthday cake this week! The mobile game that brought everyone outdoors in 2016 is having to spend its 4th birthday indoors, but that doesn't mean other traditions won't carry over. 
Yūsuke Kozaki, the character designer for Pokémon GO, as well as a number of Nintendo games (Pokémon Sword & Shield, Fire Emblem: Awakening, Fire Emblem: Fates, Fire Emblem Heroes, and more), has illustrated a brand new anniversary wallpaper (birthday, anniversary — it's all the same). Free to download and adorn your desktop, these impressive illustrations tend to hold some easter eggs as to Pokémon GO's future.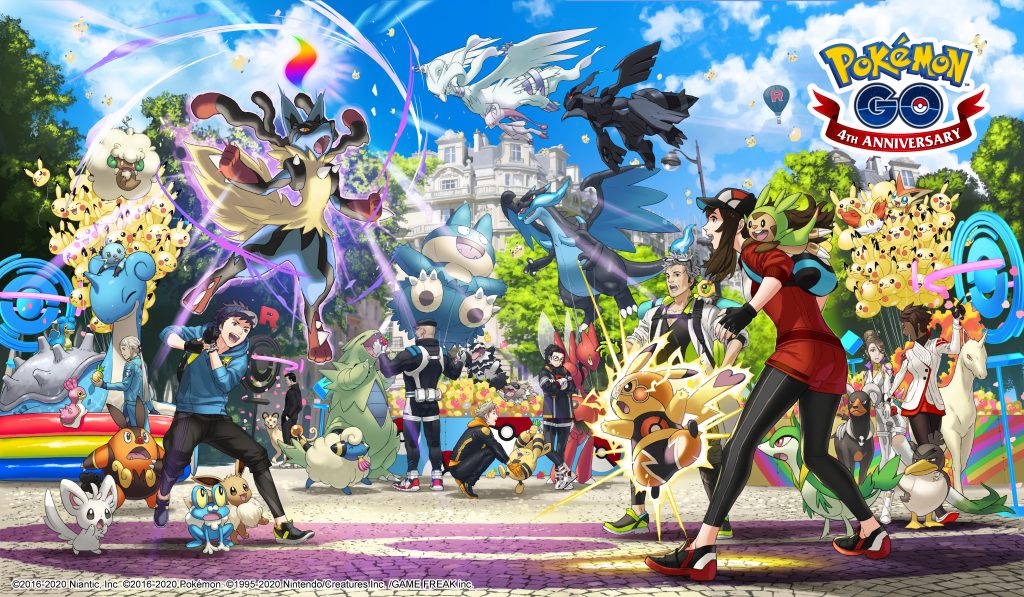 Throwing subtly out the window, Mega Evolution is spotlighted front and center. Featuring Mega Lucario and Mega Mewtwo Y, Mega Charizard X is also there — but as a parade balloon. Looking beyond that, it appears that there are a few more Pokémon from the Kalos region ready to party — specifically Froakie, Chespin, and Fennekin. Following previous anniversary images, it's safe to say Generation 6 is more than likely debuting later this year in Pokémon GO.
Another thing to note is that it looks like a few team leaders are also befriending members of Team Rocket GO… Odd. Wonder if this story will unfurl over the next few weeks and hit a high point during Pokémon GO Fest later this month.
As an extra treat, Kozaki also shared the illustrations for previous GO anniversaries on Twitter — so you can see all four together!
キャラ人数やポケモンの頭数が少しずつ増えてる🤤 pic.twitter.com/S6HoC1e1aw

— コザキユースケYusuke Kozaki (@kymg) July 7, 2020
Leave a Comment