This past weekend, Epic Games hosted another live concert and featured DJs Dillon Francis, Steve Aoki, and deadmau5. Prior to Friday's event, everyone was abuzz over the trailer promoting this Party Royale set — and it wasn't due to the guest list, but the inclusion of a Nintendo character. 
Who am I talking about? It's Kirby! 
If you were watching the trailer on Epic Games' site/Fortnite's YouTube channel, you could clearly see this particular pink puffball for a brief second. Click play on the video hosted under Sony and Microsoft's accounts and you would see a pink blur instead.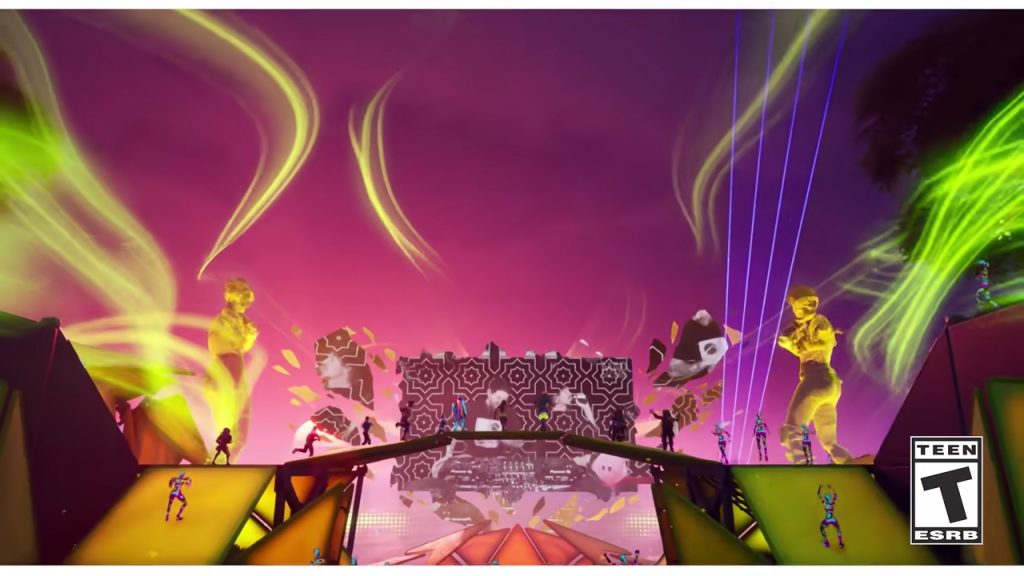 This has spun up the Fortnite and Nintendo communities and has led to speculation of a proper crossover event. How likely is it that we could see a summer season in Fortnite with Nintendo-themed items and skins? Surprisingly, there is some evidence to back up this idea. 
While multiple sites were quick to bring up the My Nintendo rewards goof where the Fortnite logo was accidentally overlaid onto a promotion image of a Kirby's Extra Epic Yarn themed wallpaper, most didn't mention when Fortnite was first leaked about coming to the Switch. Announced at E3 2018 and made playable that same day, Fortnite's port to the Switch was leaked months prior. In the midst of these leaks, there were also rumors of exclusive Nintendo content for the game's Save The World PvE co-op survival mode.
Fortnite x Switch Rumor Summary

General:
-E3 Reveal
-StW and BR may release sequentially

BR
-No substantial differences on Switch
-Features Cross-Play

StW
-Local Co-op implemented
-Exclusive Nintendo IP related content for this mode

— LeakyPandy (@LeakyPandy) April 25, 2018

Save The World wasn't announced at E3 that year and hasn't been released for the Nintendo Switch yet. LeakyPandy even followed up the Twitter thread about Save The World being pushed back and would be considered for release at a later date:
Fortnite x Switch State of Affairs Update

As previously reported, StW and BR are releasing sequentially. This is due to Nintendo's publishing policy regarding Early Access games. Save the World will be revisited by Nintendo PR as its release as a F2P game comes by winter.

— LeakyPandy (@LeakyPandy) June 13, 2018

Now in 2020, we're approaching the 2nd anniversary of Fortnite's release on the Nintendo Switch. Perhaps Nintendo's E3 2020 plans for a pre-coronavirus year included bringing Fortnite's Save The World to the showfloor and releasing the game the same day as the E3 Nintendo Direct… If so, the Kirby tease is extremely smart. Regardless, we'll have to wait on Nintendo and Epic Games to make any official announcements or sneak any other Nintendo characters into future Fortnite trailers.
Leave a Comment