Animal Crossing: Pocket Camp's crossover with Nintendo Switch game Animal Crossing: New Horizons has kicked off, bring New Horizons-themed items and island-garbed Tom Nook, Timmy, and Tommy to the mobile game.
Players who log in during the "On to New Horizons" event period (March 12th, 2020 to March 20th, 2020) will receive log-in bonuses ranging from three different "aloha shirts" based off the Nook family's New Horizons costumes, Nook Inc. flags, and more.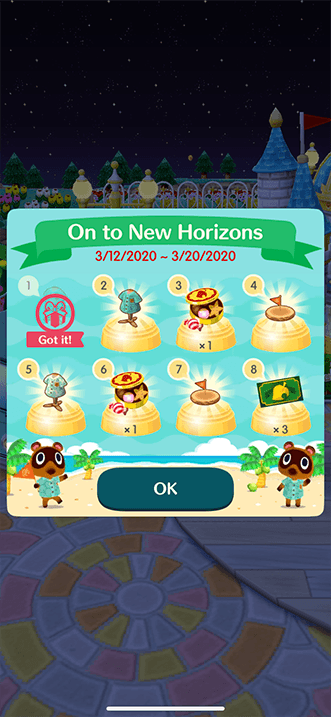 Concurrently, the "Fishing Tourney (Island)" event will run alongside the "On to New Horizons" event; this time, the fishing tourney is hosted by Tom Nook, Timmy, and Tommy in lieu of Chip.
"My new company, Nook Inc., is about to embark on the business venture of a lifetime!" Tom Nook explains to the player at Saltwater Shores. "That's right! I'm here to offer you the chance to take part in this… Deserted Island Getaway Package!"
Players who catch enough fish during the fishing tourney will receive items based off Animal Crossing: New Horizons, like a log stool, island campfire, camping cot, portable radio, clothesline, simple DIY workbench, island tent, Dodo Airlines seaplane, and a Nook Inc. tourney banner.
Tom Nook will also loan the player a flimsy fishing rod based off the item's appearance in New Horizons; with this, they can catch the tourney's island-themed fish, the island horse mackerel, island red snapper, island olive flounder, and island tuna.
Of course, players can also rent the golden rod for 80 Leaf Tickets for guaranteed dual catches each time they fish.
Players can also now craft "Timmy's Nook Inc. banner" and "Tommy's Nook Inc. banner" for 50 Leaf Tickets each; placing them in your campsite or cabin will allow Timmy and Tommy to show up in their New Horizons attire.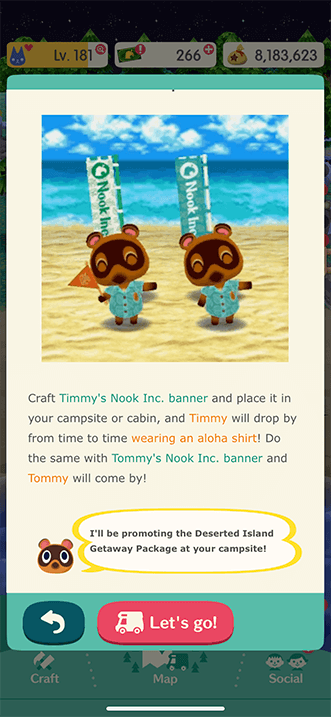 More New Horizons crossover events are planned for this month, including the Island Wall & Floor Collection, Island Excursion Bug Goals, eight new animal maps for animals making their debuts in New Horizons, and a special log-in bonus item on Animal Crossing: New Horizons' release day, March 20th.
A crossover event in Pocket Camp was announced during last month's Animal Crossing: New Horizons Direct; similarly, when New Horizons launches, Pocket Camp-themed items will be available in it for players of both games.
Be sure to log-in each day leading up to New Horizons' launch to get everything!
Leave a Comment