While Sonic the Hedgehog became an icon on Genesis and Alex Kidd made his mark on the Master System, Sega had an even older mascot — and he's finally joining his younger brothers in the Ages line on Switch. Fantasy Zone and its sentient spaceship lead Opa-Opa were pioneers in the cute 'em up genre, being more bright and fantastical than the usual, space based side-scrolling shooters of the time. For that reason alone, it's worth considering picking this arcade classic up off the eShop. Its own unique elements and the expected M2 polish of this version make dipping into your coin stash worth it. 
As mentioned, Fantasy Zone's aesthetics are unique and eye-catching through and through. Opa-Opa himself is simplistic. The presence of wings and even little feet on a spaceship has always stuck with me, and the enemies you'll be shooting down are similarly appealing. That goes for the music as well, full of bumpin' melodies and a distinct sound that manages to stand out from its contemporaries while carrying that arcade era Sega sound.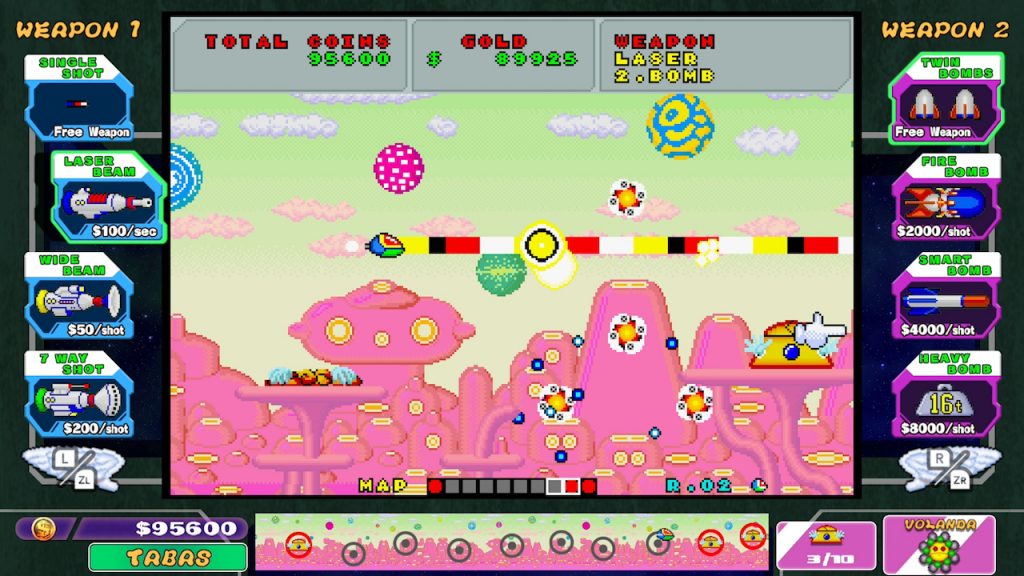 As you progress through you'll be treated to different backgrounds, but your goal remains the same: shoot down enemy generators before facing off with a boss, gathering up coins to purchase upgrades with all the while. From a gameplay perspective, the ability to fly left or right and have the screen scroll either direction is another unique aspect of the game to set it apart from vertical counterparts like Twinbee, and more traditional, one-way titles such as Parodius. Between this and Space Harrier, another Sega Ages title, you get two distinct flavors of arcade shooter that show Sega's versatility. 
Like that game, Fantasy Zone can be deceptively tricky. If you aren't regularly upgrading your ship or maneuvering carefully, you can get poor Opa-Opa blown up pretty easily. If you aren't into the idea of testing yourself either in the standard gameplay experience or on the clock Time Attack mode, there are other options and features to lighten or change the experience. Your money total is tracked in Coin Stock, meaning even if you don't do so well in a given run, your progress goes towards unlocking new setting toggles and options.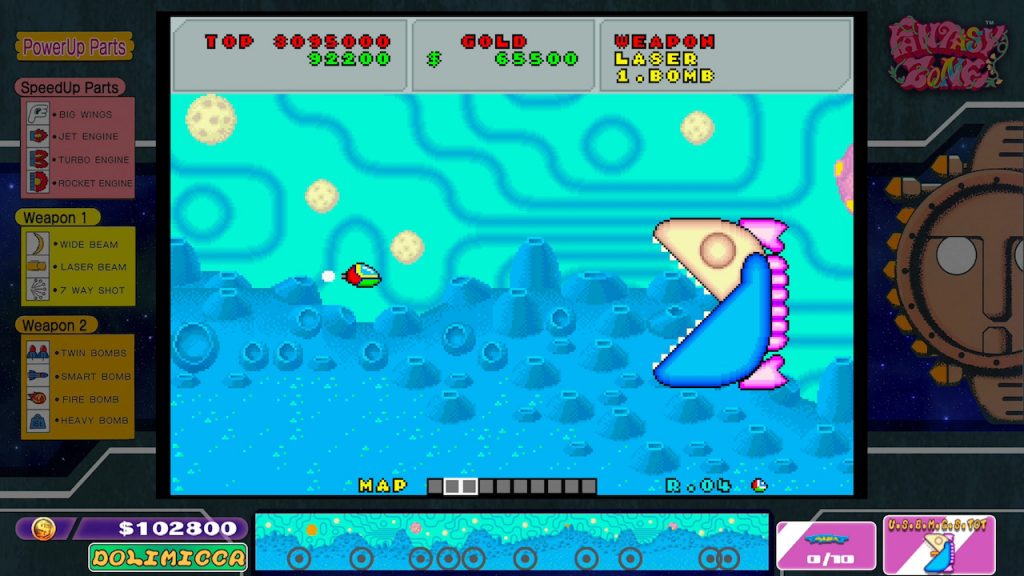 All the extra features of the previously M2 developed 3DS Fantasy Zone release are also here. That means extra bosses from the Sega Master System release, and a mode starring Opa-Opa's brother Upa-Upa that changes how upgrades work fundamentally. How a spaceship has a sibling like this I will never know, but as someone who enjoyed that release (and especially Super Fantasy Zone back on the Mega Drive), it's nice to have a return of the series on Nintendo Switch.
In short, Sega Ages Fantasy Zone is another solid entry in the revival lineup. Though it doesn't bring something fundamentally new to the table (like Puyo Puyo's online multiplayer), it's a fantastic pick-up-and-play title that occupies a unique space in its genre and developer's history. He may not show up as often as in the past, but any chance to fly with Opa-Opa is one worth taking.
Leave a Comment