Previously when it comes to Sega Ages coverage for Switch, I spent a long while gushing over OutRun, both as it's presented in this new lineup and in its place in history of the games and its genre. Its ability to simulate depth and speed while putting your reflexes to the test is legendary, but it wasn't the only one of Sega's arcade endeavors to do so. Dip just another year back to 1985 and you'll be Welcomed to the Fantasy Zone by its Sega AM2 predecessor and groundbreaking rail shooter — Space Harrier.
Growing out of its own predecessor, Hang On, Space Harrier was impressive both on a technical and visual level, and it instantly made an impression in arcades via its unique cockpit cab. To put it another way, it was Sega doing what they did best at the time. You'd play as a human armed with a massive space cannon, flying freely in the field of view as enemies and obstacles made their way from the horizon to the foreground. What you encounter ranges from giant mushroom, to moai heads, to dragons, mammoths, and many more oddities to shoot down and avoid on your way to the next level.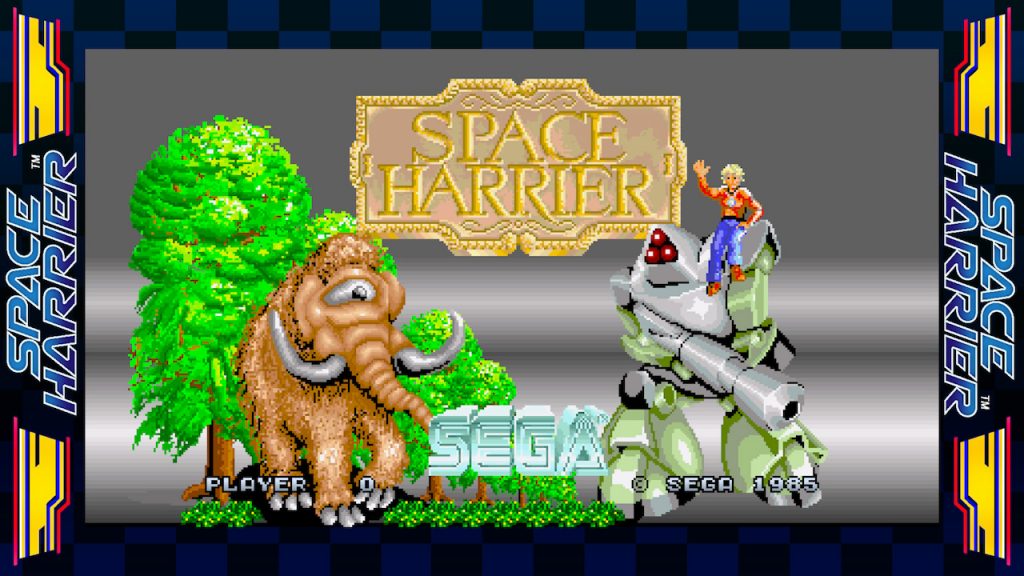 That strangeness is a big part of the game's charm, but what keeps me coming back for more is just how tight and satisfying the game is to control. Your forward velocity is locked at what might seem, at first, to be too fast to handle, but in time that speed helps define this one. Enemy placement and rate is fair, and your shots have a degree of homing based on where they are relative to you. Farther away aim is a bigger factor, but once enemies are up close it becomes a game about timing. Managing that while also avoiding obstacles speeding towards you and shifting your strategy for bosses and special stages is exciting and addicting, making this a great pick-up-and-play kind of game.
There are some features here that set the Ages version apart. On a content level, you're getting what was included in the also great 3D Classics version of Space Harrier on 3DS. The display options and inclusion of an end boss help keep this up to M2's previous standard, though they did add some new things exclusively for this Switch release. For one, you can play using your Joy-Con in place of the arcade cab's joystick controls. It takes some getting used to and I was never able to reach the kind of precision I wanted with the feature, but it definitely works. It's one of the more unique uses of a Joy-Con I've encountered up to this point.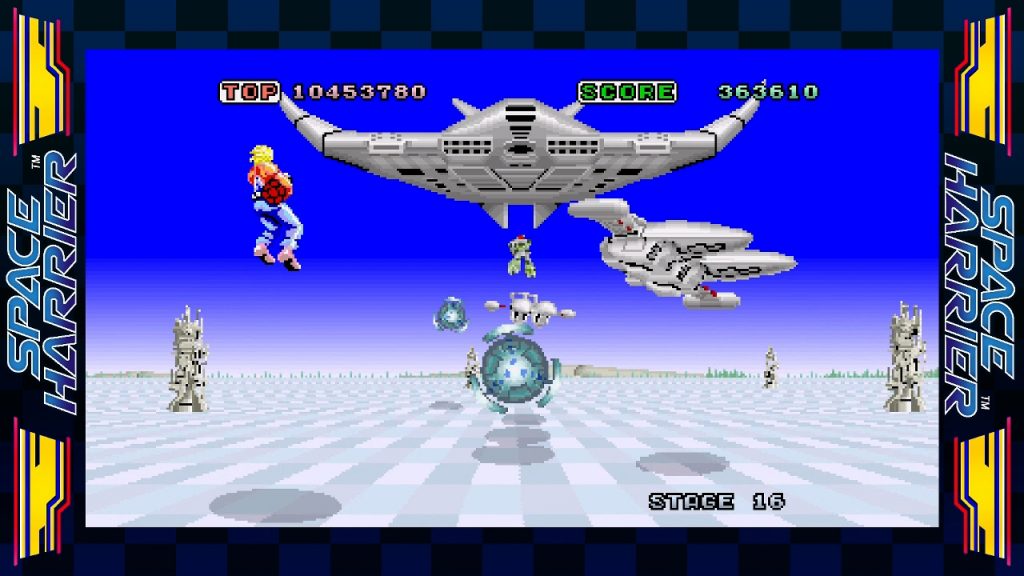 Also included is a new Komainu Barrier Attack mode. Here you're flanked by two Komainu that will destroy anything in your path with the exception of enemy fire. It lets you focus less on positioning and more on firing, making it a great option for anyone that wants a less demanding experience. There's still some nuance to it, though, as the Komainu can be incapacitated if they're struck, making you vulnerable for a brief window. As you're a wider target with them flanking you, even those familiar with the game will have some new nuances to discover. All in all, it's a solid addition for both veterans and first-time fliers.
While I haven't found myself as addicted to it like I was to OutRun, Sega Ages Space Harrier is easily one of the stronger additions to the line and one I fully recommend. As a high speed, high score driven arcade game it's practically made for grabbing your Switch and seeing how well you can do on a run. That's not even getting into the excellent soundtrack, which you can listen to at your leisure in the menu. You can grab it (as well as Sega Ages Puyo Puyo) starting tomorrow, August 22nd.
Leave a Comment