Animal Crossing: New Horizons was officially revealed this summer during E3 2019, but since the initial information dump, we haven't received a ton of news about the game. Enter the game's "Welcome to Island Life!" video, which aired during the later half of last week's September Nintendo Direct.
Although the new footage was definitely nice, the video didn't reveal a ton of stuff we didn't already know about thanks to developer interviews during E3. Regardless, there were still a few items we could glean from it! Check out everything we learned from Animal Crossing: New Horizons' "Welcome to Island Life!" video below.
Dodo Airlines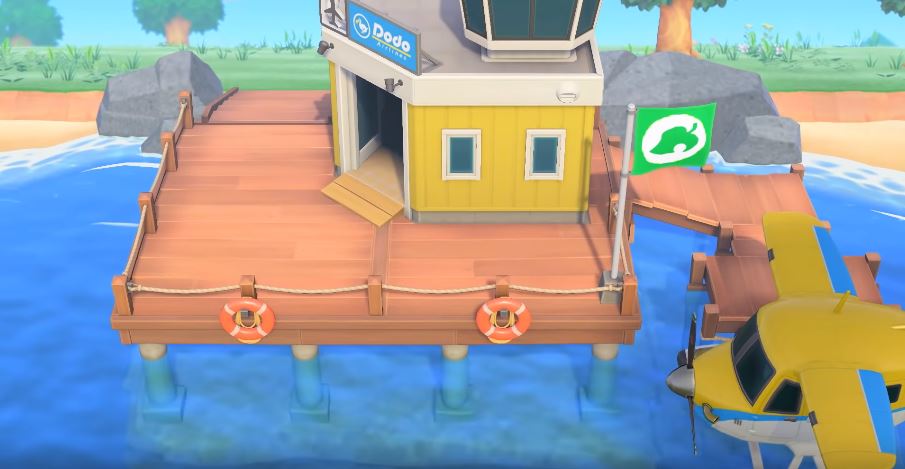 A "Dodo Airlines" dock appears at the beginning of the video, where it looks like the player and two animals will arrive at the onset of the game via seaplane. Here's where the town flag is, indicating this dock is the replacement for the train station, town gates, and bus stop from previous Animal Crossing games.
New music
Several new tracks can be heard during the video, and since these tunes all sound like renditions of the main theme, we're guessing this is our first taste of some of the hourly songs that'll play during the game.
Buried items and fossils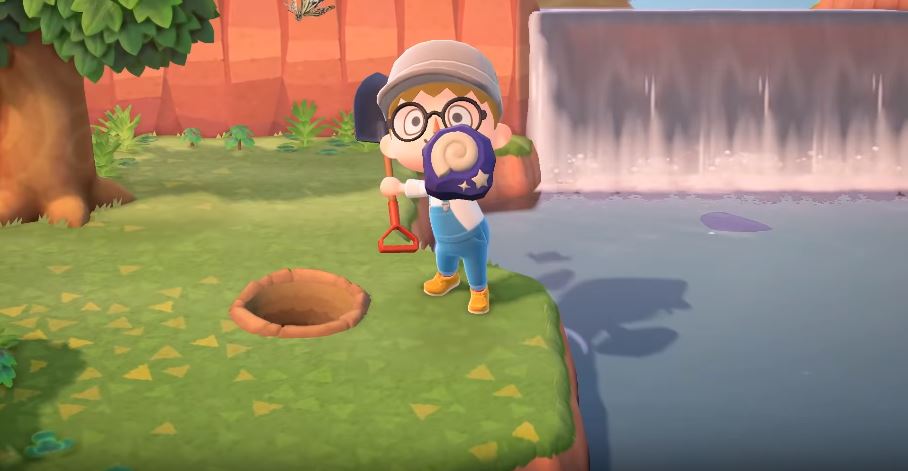 Buried items, marked by a star in the ground, as well as fossils have been confirmed for the game. Does this mean the museum and by association, Blathers, are not far behind?
Cedar trees anywhere you want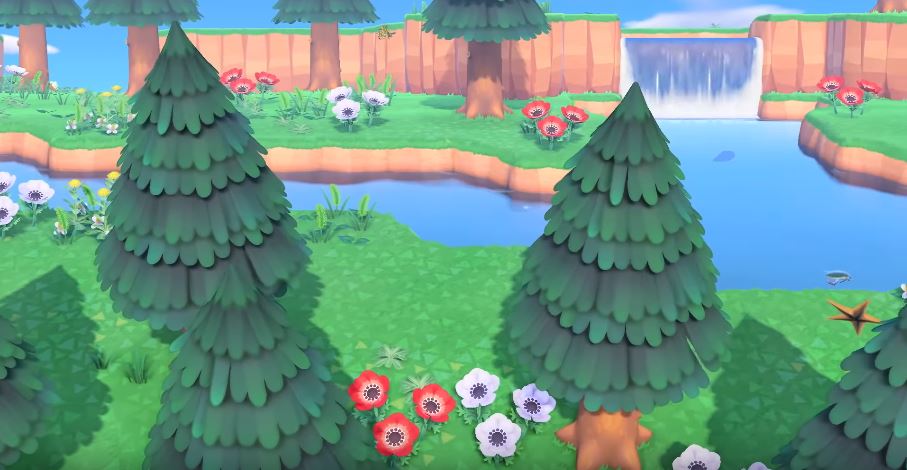 It looks like cedar trees can now be placed in a town wherever you want. Up until now, cedar trees could only be grown north of a town's river (in Wild World and New Leaf), on the upper level of a town (in City Folk), and in the top two acres of a village (in the GameCube version).
Grass patterns
It looks like patterns now cover the entirety of the grass, like in all previous Animal Crossing games. In earlier New Horizons footage, patterns only appeared in some small sections, with most grass area having a more "realistic" look.
Birds on the bulletin board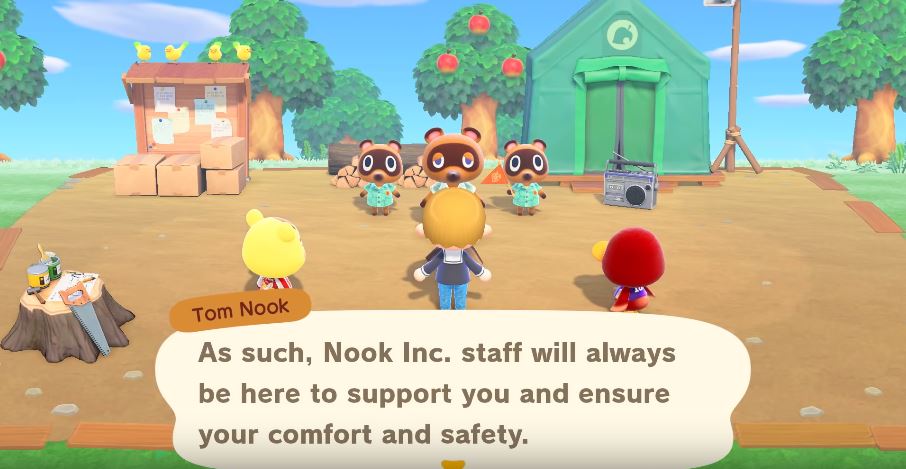 Outside of Tom, Tommy, and Timmy Nook's tent, we can see four yellow birds atop a bulletin board. In past games, a single yellow bird (or owl at night, at least in New Leaf) is indicative of a new bulletin posting. With four yellow birds here, could that mean there are four new postings to read?
Setting up your tent
In Animal Crossing: New Horizons, it appears Tommy will be the one to hand the player their tent to set up wherever they want on the island. Interestingly, Tom Nook no longer follows the player around to tell them where they can and cannot place it like he did in New Leaf.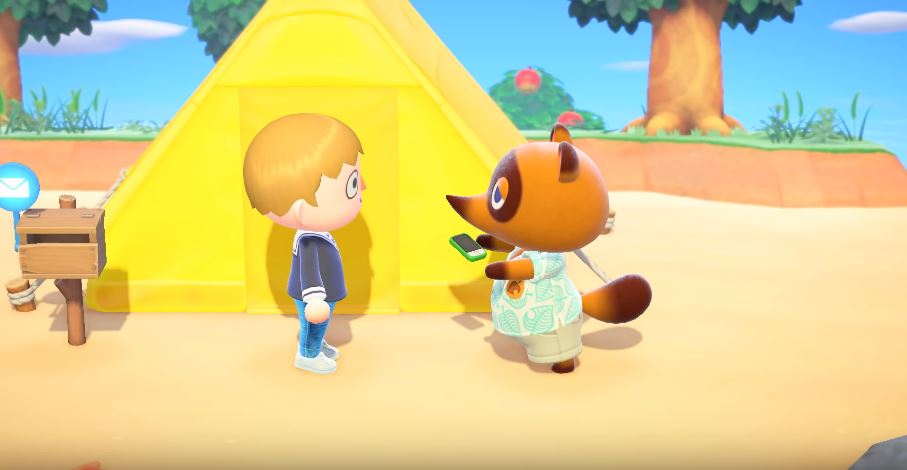 However, it looks like we haven't ditched him completely yet, as he soon reappears to hand over a NookPhone. The timing of when this occurs in-game has us a bit confused, though: In the video, a clip shows the player has just set up their tent and has no mail in their mailbox, but in a following scene where Tom Nook presents them with the NookPhone, there's a mail notice. We're thinking something happens between setting up your tent and receiving the NookPhone—perhaps running errands for Tom and the Nooklings like in previous games?
Mystery NookPhone apps
During the video, we get a look at the NookPhone in action. We can see the player's cell reception, the time, a location tracking indicator, and six different apps: "Camera," "Nook Miles," "DIY Recipes," the "Map" app in the bottom middle, and two never-before-seen apps: one with an icon of a shirt with a pencil, and one with an icon of a book with a face on it.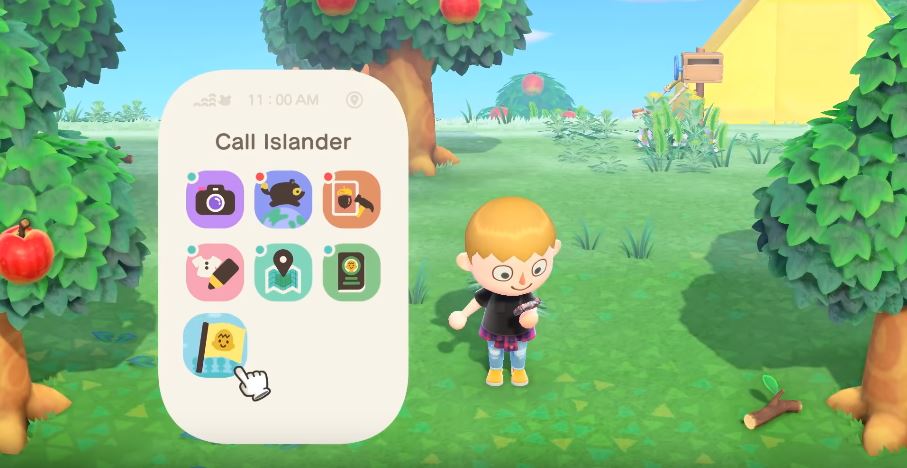 We're guessing the shirt-and-pencil app will be used for designing patterns like in past games, but we're not totally sure what the last one is. In previous footage shown during E3 2019, though, a similar-looking icon can be seen with a similar-looking face on a flag. This app has been identified as the "Call Islander" app, so our first guess was that this one's just had a bit of a redesign since the summer. However, later on, we can see both these apps coexisting—so what is this mystery book-icon app?
"Pockets"
In the "DIY Recipes" app, we can see the interface has had a bit of a redesign, as well. Each craftable item name now has an icon indicating the type of item it is next to it, plus some information about how much room it takes up on the grid. There's also some "Pockets" text that replaced the "Inventory" and "Wardrobe" measures from previous footage.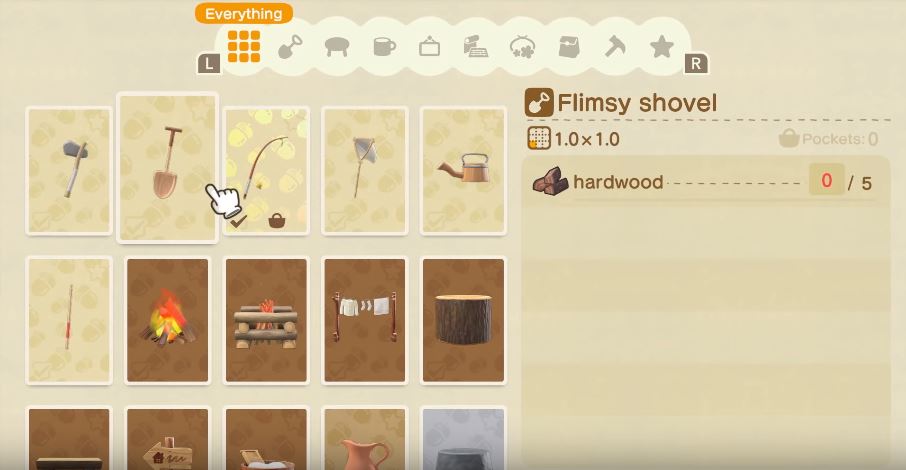 We're not totally sure what this means, but given that the flimsy fishing rod has a checkmark along with the same basket icon on its card, we're thinking this is just used to tell the player if they already have this item and how many copies of it they have. Changing "Inventory" and "Wardrobe" to "Pockets" is curious, though… Will players have more than one inventory in New Horizons?
Cardboard box
A "cardboard box" item can be seen as purchasable from Tom Nook and his nephews for 100 bells. What could this be used for?
"Island clean-up plan"
Players can now sell weeds and any other unwanted items to the Nooklings as part of their "island clean-up plan."
New hairstyle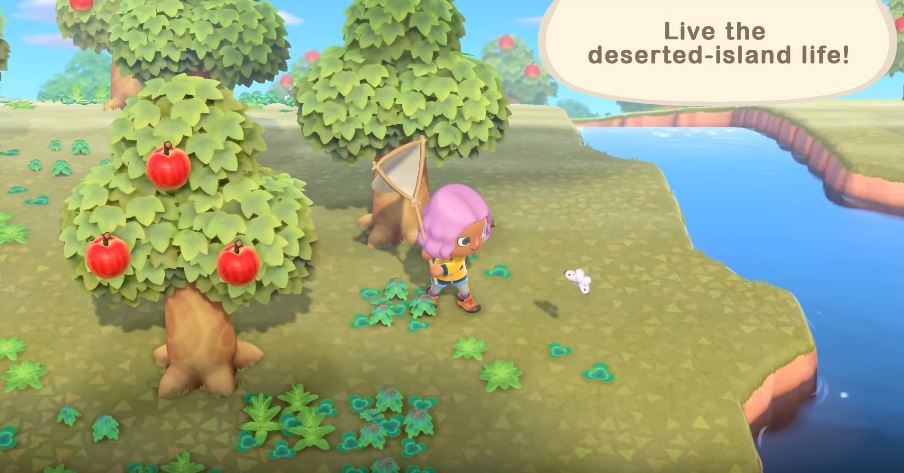 A new hairstyle can be seen on a girl character in a bright, purple color.
Leaf umbrella
The leaf umbrella, which has made an appearance in every Animal Crossing game so far, is seen in the video and is implied to be craftable by using weeds picked from across the island.
Hold-able items
During the video, Filbert can be seen holding a picnic basket while later on, Antonio is spotted with a book and Rosie is spotted with a bundle of wood.
Eating fruit and digging up trees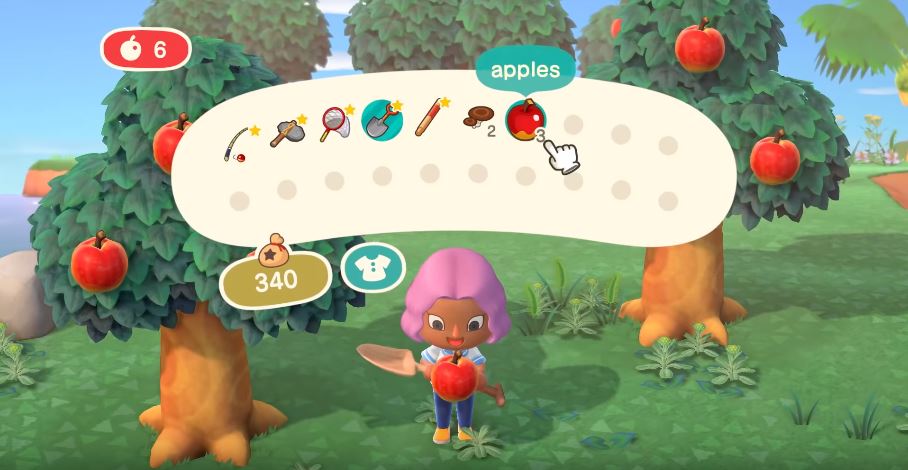 Eating fruit seems to serve a purpose now, as an indicator on the upper left of the screen appears to measure how many fruits the player has eaten. The narrator suggests that by eating fruit, the player is awarded enough strength to unearth entire trees and replant them wherever they want.
Humorous catch text
The humorous text that appears on-screen when a bug or fish is caught will make a return in Animal Crossing: New Horizons!
Mushroom bundles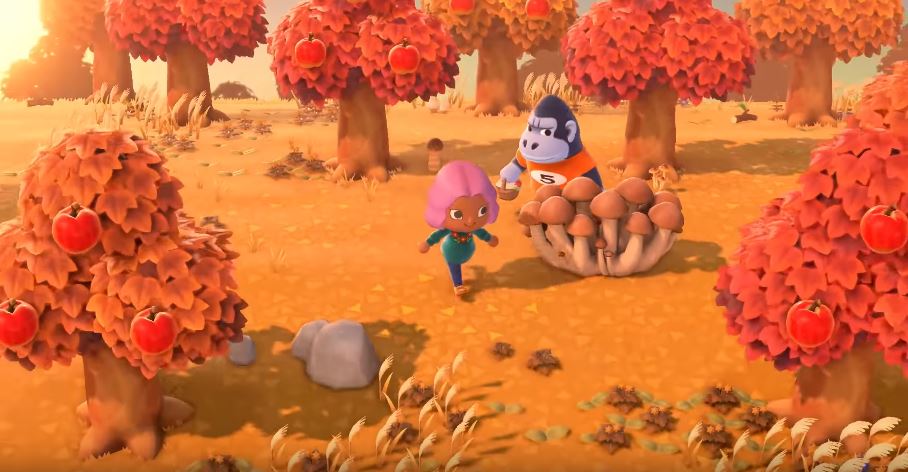 During a scene in which Peewee is wandering about, we can see a mysterious bundle of mushrooms never-before-seen in an Animal Crossing game. Is this an outdoor decoration you can place, or some new type of spawn?
Catching snowflakes
The ability to catch snowflakes with a net returns from Animal Crossing: New Leaf. In that game, players could hand these over to the buildable Snowmam to receive special Ice series furniture. Could we see the return of these or similar features in New Horizons?
Fishing bait
A player character is seen tossing bait into the ocean to attract fish — an entirely new feature to the mainline Animal Crossing series.
Returning villagers
The following villagers have been confirmed to return in Animal Crossing: New Horizons thanks to this video:
Bill
Tammy
Filbert
Lily
Butch
Roald
Antonio
Peewee
Fauna
Peanut
Angus
Wolfgang
Lopez
Fish
The following fish are seen during the video:
Bugs
The following bugs are seen during the video:
Tiger butterfly
Unknown water bug
Raja Brooke butterfly (?)
Red-and-green beetle
Common butterfly
Unknown butterfly species
Fruit beetle
Firefly
Unknown cicada
Unknown dragonfly
Monarch butterfly
Grasshopper
---
So, yeah, not a whole lot we didn't already know about thanks to E3, but still just enough to wet our whistles. The game's launch is still a few months out, unfortunately, but from what we can see, it's looking fantastic so far. We're especially curious to see some later stages of gameplay in future footage, especially the ways in which fan favorites like Isabelle and other special NPCs make their returns.
Anyway, that's it for the analysis! Animal Crossing: New Horizons is set to launch March 20th, 2020, so be sure to stay connected to Nintendo Wire for even more great content as we gear up for its release!
Want to know everything you can about the next Animal Crossing? Be sure to check out our comprehensive guide to absolutely everything we know about Animal Crossing: New Horizons!
Leave a Comment