Welcome to Speedrun Sunday: that sadistic time of the week when we dare to challenge both your D-pad's durability and sanity's stamina with the ultimate test in video game bragging rights.
Ushering in the New Year after our totally tubular Breath of the Wild shield surfing challenge comes yet another ruthless run that will leave you rusted by fear and begging for an oil change. That's right, fans of robo-rabblerousers and steampunk spaghetti westerns: We're polishing off our pickaxes for a devious descent down Red Rock Passage in search of the most adamant archaeologists El Machino has to offer.
THE CHALLENGE
Who can unearth 10 Artifacts the fastest in SteamWorld Dig 2's malicious mineshaft?
Our claim to fame is 00:26:15, which is sure to impress even the most tenacious of treasure hunters among you. The diamond digging rustbucket with the fastest time by Monday morning will win a digital download code (North America) for SteamWorld Heist on Nintendo Switch, courtesy of the good folks over at Image & Form – along with the illustrious title of Bravest Bag 'o Bolts in the West.
THE RULES
Any 10 of the game's 42 artifacts will do! Participants are encouraged to dig freely to their hearts' content. Found a better route or know of an exploit we've yet to discover? Use it!

All submissions must be made with the Switch's capture button, more specifically an image of the save select screen showcasing both your total play time and the required number of artifacts (as shown in the image below).

The deadline for submissions is left intentionally vague to discourage last minute lurking. Make sure to share your times the moment you get them so you don't miss out on the prize!

Don't forget to scribble your online alias alongside your submissions using the Switch's editing feature so we know it was you.

Feel free to improve upon and submit new scores as many times as you like.

Switch version only.
Follow @NinWire and @cityw0k on Twitter and retweet this post to qualify for today's digital download. After that, simply share your snapshot in the Twitter comments and we'll personally send the prize and a social media shoutout Monday afternoon.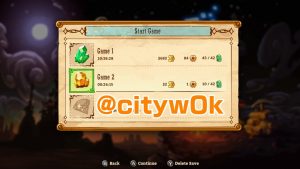 We'll be keeping score right here in the article all day, too, so you can easily keep track where your top rivals rank. Also, feel free to tune in to our SteamWorld Dig 2 livestream at 4:00 p.m. PST where I'll personally be contending alongside today's top competitors for fame and glory.
So whaddya say? Ready to dust off those spurs and embark on a robo scavenger hunt the likes of which the world has never seen? In the wise words of El Machina's leading archaeologist Davy Bittenborough, "Who know's what's waiting around the bend?"
---
Bravest Bag 'o Bolts in the West
1. @NinjaFrogtron [00:16:10]
Sorry Saviors Turned Scrap Metal
2. @cityw0k [00:23:26]
3. —
4. —
5. —
Leave a Comment